Mike Pence: Talking About Defunding the FBI is Just Like Talking About Defunding the Police
Except that the FBI is a rogue agency which is acting as the Armed Paramilitary of the Democrat Party.
And also: "Defund the FBI" is a parody of the left's "Defund the Police." But the actual suggestions for destroying the FBI
involve breaking it up into a bunch of smaller, less powerful component organizations -- the crime lab, the crime statistics lab, etc. -- and devolving some of its functions to other agencies and local police forces.
Liz Wheeler offers a similar take on
abolishing the FBI.

It's time to abolish the FBI. The raid on Mar-a-Lago revealed the agency to be a political hostaet man for the Left disguised as law enforcement. People have rightly lost their trust that it will operate as a neutral enforcer of law. Now, half the country is looking over its shoulder wondering whether a "Don't Tread on Me" flag will bring federal agents to their door in pre-dawn hours.
Farm out the vital functions of the FBI and raze the rest. RIP to the FBI, an organization that died the way it was founded in the J. Edgar Hoover era--as a political tool for the elite and powerful, weaponized to spy on their enemies.

People are not insane. They acknowledge that some of the functions of the FBI are worth doing. We just no longer trust anyone in the FBI to do them, nor do we trust anyone in the FBI to reform themselves.
They have already been ordered by an IG to undertake reforms,
and have apparently refused to do so. So the agency must be abolished, and made into smaller ones, each with less political power, and, crucially, each employee must be made to re-apply for his old job. With Maximum Vetting. Meanwhile, this very reasonable, very judicious agency which is totally not just a bunch of Smug Twitter Liberals with Guns is putting out the most hairy-scary panic messaging to get the public to support them: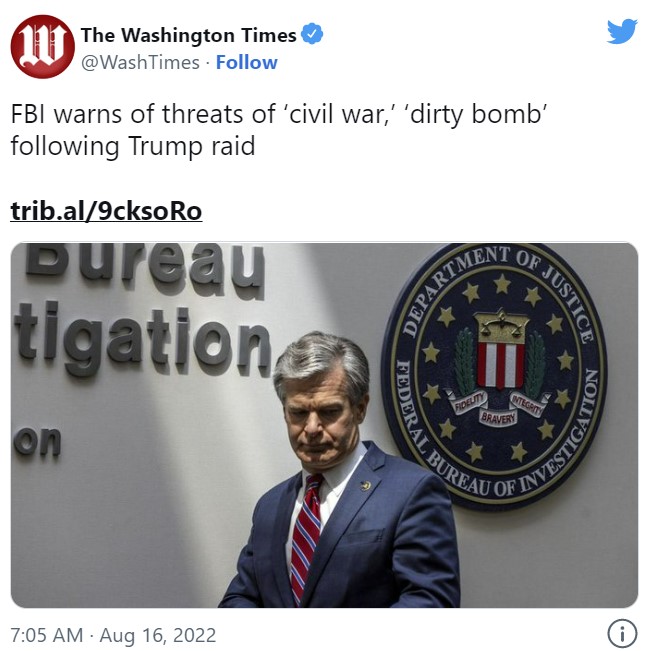 Via
Twitchy,
the Washington Times reports on
the FBI's New and Improved Russiagate Fearporn offerings:
The FBI is warning of calls for civil war and a dirty bomb threat against its D.C. headquarters following its raid on former President Donald Trump's Mar-a-Lago estate in Florida. In a leaked bulletin, the FBI and the Department of Homeland Security said they have seen an increase in "violent threats" against law enforcement, government officials and judges in the week since the agents executed the search warrant at Mr. Trump's residence. The bulletin warned of talk to place a dirty bomb in front of FBI headquarters and "general calls" for a civil war and armed rebellion. Investigators also are monitoring threats against the federal judge who approved the warrant to search Mr. Trump's residence.
Linking this article -- and the FBI's efforts to cast itself as the poor put-upon victim while attacking its political enemies as "terrorists" and "DVEs"
for posting the Molly Ross flag
-- Kyle Shideler observes:

Kyle Shideler
@ShidelerK Nor is it insignificant they do so w/ patented left-wing Cry-bullying. That the bureau founded by J. Edgar Hoover to hunt down anarchists & communists turned into a Federal Bureau of Taylor Lorenzes manages to be terrifying & embarrassing all at once.
Note that the FBI
refused to arrest people intimidating Supreme Court Justices in direct violation of federal law.
But they want you to know that they're
a-scared
by your free speech and so you should stop speaking freely. Ruth Sent Us, on the other hand? Their free speech is sacrosanct. Even when it literally violates federal law.
Ben Weingartner discusses the War on Wrongthink at The Federalist.
[P]erhaps most insidious will be the effort by the regime, already begun, to cast itself as the victim of the raid rather than the aggressor, and to use its victimhood status to persecute its political opponents ever more viciously. Since even before Jan. 6, the regime has been pushing the narrative that Trump poses a unique danger to "our democracy," not only as a political figure but in effect as the leader of a domestic terrorist army, and that those who support his agenda are inciting terror. Hence the pronounced effort in the immediate aftermath of the raid to focus on how it unleashed a reported torrent of threatening rhetoric on social media. None other than Daniel J. Jones, the former Sen. Dianne Feinstein staffer who played a central role in the Russiagate and post-Russiagate information efforts, was the key source of corporate media outlets in analyzing this rhetoric. ... The regime has cleverly cast its critics as posing the most lethal to the homeland by intentionally conflating their dissenting views with "racial or ethnic animus" and/or "anti-government or anti-authority" sentiments. So it will use the furor over the Mar-a-Lago raid to further pursue them under a National Strategy for Countering Domestic Terrorism explicitly aimed at them.
Antifa and BLM are obviously "anti-government" as well, but the FBI supports their speech, and refuses to classify they as "domestic violent extremists." Because they support antifa and BLM using violence to push the country to the
political left.

...
At a minimum, we can expect a bevy of threat assessments from the national security apparatus, aided by a hysterical media, identifying grave and imminent threats to the homeland as emanating from those who criticize said apparatus, and would dare call to defund if not abolish/reorganize its various elements. The regime has shown it will do what it can with whatever it has to demonize and hunt down opponents of its agenda in service of its power and privilege -- not "democracy." Time will tell whether Americans know what time it is and choose to replace it. Either way, the costs will be significant.
And so of course Mike Pence -- supposedly a "religious" man, but one
who gutted the religious freedom laws in his own state in order to please the left, the gay lobby, and his corporate allies
(he's religious in the sheets, but not in the streets) -- comes riding to the FBI's rescue. Dave Reaboi calls Pence a "BoomerCon." I know that some have a problem with the word "Boomer" used as a slur. Apologies for that. I think it can be useful for describing a "it's perpetually 2003 and I don't know What Time It Is" mindset, but I do understand the objections to it. Even though it's used to describe people regardless of actual age, yeah, I understand, if you actually are a Boomer, even if not a "Boomer" in the insult sense, it's going to feel like a slight. Almost all NeverTrumpers are "BoomerCons," even though many are pretty young. They just... they really just think they're rah-rahing for George Bush's re-election.
David Reaboi, Late Republic Nonsense
@davereaboi There's a massive--but, thankfully, shrinking--BoomerCon segment of the GOP that's so braindead with sentimental, heart-thumping reverence for the Heroic G-Man, they refuse to do the slightest thing that would hold the FBI accountable for its crimes.
This mentality -- that there is nothing more to be done in the conservative project but some minor tinkering -- is central to neocon thinking,
because the neocons were very happy with a "conservative" party that accepted all the key assumptions and claims of the leftwing Democrat Party.
Actual conservatives do not accept these key premises, but rather dispute them completely, and therefore see the need not for minor tinkering but for major changes and huge overhauls of how the government operates.
Connoisseur of Cruelty Victor David Hanson disagrees with Pence:
Victor Hanson: 'We Don't Have Rule of Law in Washington ... FBI is Beyond Redemption' - When asked about the FBI raid on former President Donald Trump's home in Palm Beach, Fla., professor, author, and political commentator Victor David Hanson said, "right now, we don't have the rule of law in Washington," and added that, "The FBI is beyond redemption." ... Cain asked Hanson why the FBI raided Mar-a-Lago and why were they targeting Trump. "Well, they're afraid in the short term," he said, in reference to the Democrats and the left, "but in the long term they believe they're morally superior to America, and therefore any means necessary or justifiable for their morally superior ends." "And right now, we don't have the rule of law in Washington," said Hanson. "Whether you're targeted or exempt depends on your ideology." ... He continued, "So in the past when there was a dispute over the Archives or presidential papers, Barack Obama just said, 'I'm not going to turn them over to the Freedom of Information. He spent $30 million resisting efforts to do that. George Bush had an Executive Order and said, 'You know what, I'm not going to do this.' And that was adjudicated." "Now we go after a president and go to his house with 30 agents," said Hanson. "In the past, when a high official was called for a congressional subpoena, Eric Holder just said, 'I'm not going and I'm not turning over any of this fast and furious.'" "The idea that you would put him in shackles or you confront him with his family and grab his phone is just ridiculous," said Hanson. "But this is what we're doing on an ideological basis." "And when you start to do that, you don't have a democracy anymore," he added. "And I don't think we do." Hanson went on to criticize the Jan. 6 committee, comparing it to the authoritarian committees of the French Revolution headed by Robespierre. "To be on that Committee, you have to have one criteria and you have to vote to impeach Donald Trump," said Hanson. "If you're a Republican there was one other qualification, you had to be politically inert with no future and it was deductive." "It started with the premise that we're going to destroy Donald Trump and then we're going to bring in witnesses and we're going to allow narratives for that end," he added. "There is going to be no cross examination." As for the FBI, Hanson remarked, "I never thought I would say this: The FBI is beyond redemption. It is -- all of its bureaus and its institutions that have to be farmed out and broken up. If you have a warrant, an FBI warrant, there is no guarantee that that has not been altered. If you subpoena and you want FBI records on phones ... they will be wiped clean." "We just saw [FBI Director] Christopher Wray and he just stonewalled every question and then he flew on an FBI plane, our plane, a luxury jet because he had to go to his own vacation spot. He took over, remember, from Andrew McCabe -- what did he do? He lied four times to federal investigators, and his wife was running for an office with Clinton-related PAC money while he was investigating Hillary Clinton's e-mail scandal." "[McCabe] took over from James Comey who leaked confidential memos written on FBI devices to the media," added Hanson, "and then when he was called before Congress, on 245 occasions, he said, he didn't know or didn't remember." "All of this is destroying this country," said Hanson. "And it comes from the people who warned us democracy dies in darkness, and they have descended upon us, the greatest cloud of autocracy and illiberality in the history of this Republic. ... [L]et's pray to God the Republicans can save us."
And never forget the FBI's greatest triumph: Burying the Clinton Email Scandal.