Amy Curtis: The "Washington Generals of Punditry" Still Have Not Given a Single Moment of Reflection to Their Own Failures or Betrayals -- Or Their Own Starring Role in Electing President Donald John Trump
(No discussion of dicks allowed in this thread. This is a dick-free zone.)
A rant.

Amy Curtis
@RantyAmyCurtis I'm gonna go off because I'm just that fed up. For years, the GOP pundit class pushed weak, ineffective candidates. Guys who talked about taxes while letting the left steamroll education, culture, news media, social media. Those candidates lost. Repeatedly. 2012 was a very WINNABLE election. And what did Romney do when they accused him of giving a woman cancer and other horrible, not-true things? He shrugged. He didn't fight. He just took it. "Dignity." Fighting back was beneath him. Or something. Every Republican, for as long as I can remember, has been the reincarnation of Hitler every election cycle. The left HATED Dick Cheney from 2000-2008. And now? He's their hero for speaking out against Trump. But when he sheds this mortal coil, they'll dance and spit on his grave. Every single member of the Washington Generals of Punditry has betrayed every principle they claimed to have. On abortion. On taxes. On foreign policy. Every last one. And why? Because hating Trump is more important and lucrative than those principles. They have literally endorsed Democrats -- including the barley sentient vegetable currently occupying the Oval Office -- because of their unhinged hatred of Trump. And his voters. And instead of trying to figure out how they got Trump in the first place -- because they had a HUGE HAND in it -- they double down on calling voters stupid and deplorable & a slew of other pejoratives because it gets them head pats from the media/left. Who still hate them anyway. Because while they were fawning over absolutely milquetoast candidates the left was making headway in schools and culture. Now? Your white kid is likely to learn he's a horrible racist simply because of his skin color. Your daughter could be brainwashed into thinking she's a boy because her teacher told her so. Good luck trying to be a white, cis, hetero person trying to break into publishing these days. Good luck trying to find kids books that don't show fellatio or other woke garbage. Parents were labeled terrorists -- TERRORISTS -- for speaking out at school board meetings. By the federal government. While Antifa and BLM and Jane's Revenge burn your cities to the ground. If you had your business shut down, couldn't visit your dying loved ones, couldn't have a funeral while you watch George Floyd get multiple ones, and BLM/Antifa march through the streets during COVID, thank the GOP pundit class. Who did NOTHING to defend your rights. Like every other social/cultural issue, they expected you to bend over and take it. And when someone tries to stand up to the nonsense -- DeSantis -- they whine about dictators and the breakdown of norms. When what they mean by norms is "doing things our way, even if it sucks." And when a candidate like DeSantis comes along, who is an alternative to Trump -- they say he's just like Trump because they want to go back to the McCains and Romneys and Jebs. News flash: we aren't. So if you want to get rid of Trump, stop obsessing over your hatred of him. Start endorsing Republican candidates who aren't Trump. Instead of, you know, Democrats. And for the love of God, spend ten minutes reflecting on how we got here today, and how you played a big part in it. Maybe talk to normal people outside the Beltway about life and politics.
Via Twitchy,
which had commentary as well.
On this very subject,
Dave Reaboi has written Liz Cheney's political Oh, Bitch-uary.
Liz Cheney's martyrdom is catnip for a dwindling number of Republicans who, unable to recognize what time it is, prioritize performative virtue in politics. These people--nearly all suburban, moderate, establishment Republicans employed as conservative columnists--seek their reflection in the politicians they support, because their heroes' supposedly superior virtue reflects back on them. This allows them to flatter their own egos without feelings of shame or self-aggrandizement. "Mitt Romney is a good man," they've repeated, mantra-like since the Utah Senator's spectacular loss in 2012--even as that assessment is based solely on a carefully-crafted media campaign that hardened, through much repetition, into conventional wisdom. (Of course, Romney is a stand-in for any number of political figures the media has assured us are "good, honorable men," from Volodymyr Zelensky to John McCain. Just ask them.) It's no accident that, like French and Bill Kristol, most of Cheney's once-Republican fans and defenders came of age professionally during the George W. Bush administration--and it's clear that they'll go to their retirements with the strong imprint of the politics of that time. While Bush's GOP will always be known for the unwon wars in the Middle East, it was nevertheless a "compassionate conservatism," prioritizing virtue-signaling and heroic posturing rhetoric as policy, regardless of its absurdity. For some liberal Republicans terrified and confused in the current moment in American political life, a frenzied hatred of Donald Trump masks issues that seem intractable. Not only is there no danger of being canceled by hostile reporters, editors and cable news hosts, these faux-dissidents can bask in media coverage usually reserved for the most progressive Democrats. But these are benefits that accrue to anyone willing to abandon conservatives. Cheney has a seriousness and sobriety about her, which is key to her appeal as a martyr. The martyr fetish is something that overlaps with the sexual or political cuckold: the humiliation that comes from rejection is the thrill. This is best exemplified by performative martyr David French, the Atlantic writer who, for the last half-decade, has seemed eager to play out his psychosexual fantasies publicly. Since 2016, he has lashed out in vicious and brutal columns about Trump voters, especially Christians--and then, of course, he gets to wave his own bloody shirt, writing almost erotically about people saying nasty things to and about him on the Internet. Like a martyr or a cuckold, the hatred he engenders proves the rightness of his cause and, more importantly, his superior virtue.

@davereaboi
David Reaboi, Late Republic Nonsense
@davereaboi "Honor," my ass. It's David French's cuck honor--a gimp's mixture of limitless self-regard, an intense martyr fetish, and grotesque, lickspittle devotion to a party and movement that's defined half the country as less-than-human terrorists.

Replying to:


Jeff B. is *BOX OFFICE POISON* @EsotericCD Make no mistake: Liz Cheney *chose* this fate. She was not squeezed by circumstance or the vulgarities of politics or need for private gain. She could have remained Representative (and maybe then Senator) for life from Wyoming if she'd said nothing. She chose honor instead.

... No, it didn't begin with January 6th. For four years on the Hill, Cheney--together with the remnants of the failed Weekly Standard--relatively quietly indulged in the Democrats' most absurd Russia conspiracy theories. They circulated now-discredited opposition research, listened to maniacs hawking books and podcasts to Democrat hyper-partisans, and nodded sagely when discussing absurdities like Jon Chait's 4000-word claim that the ex-president has spent nearly four decades as a deep cover KGB agent of influence. Cheney and the boys who send her love notes at the Dispatch and Bulwark aren't necessarily dumb or unsophisticated people; they're just broken. They are blinded by a hatred that deforms their ability to properly assess situations. The bottomless evil they saw in Trump, they believed, made him capable of anything. And, if he was capable, he was surely guilty of anything the most fevered imagination could concoct.

Well, you know: It's not just Trump they're repulsed by. It's Trump's voters -- and they are determined that Trump's Voters must
never
have a say in electoral politics. The cvcks spent 50 years conning, duping, sabotaging, undermining, gatekeeping, bullying, Hobbitting, and silencing Trump Voters from ever having any say in the Republican Party. What they're really angry at is that their greatest achievement -- Making the Republican Party Safe for Liberal Democrats -- was undone by a single boorish man talking about putting up an uncouth wall at the Mexican border. And they are determined that the Underpeople will
never
be permitted to have their votes counted again. I'm glad all of these filthy interlopers have gone back to the Democrat Party that they came from. And, let's face it, the Democrat Party is a lot close to the their Dream Party now that they're all on the same side as far as censoring the opposition, controlling thought, punishing dissidents, officially ensconcing a neo-feudal Professional Managerial Class as an aristocracy with rights and privileges beyond those allowed the commoners, using the FBI and even the CIA against the opposition, going to war promiscuously to show we can still get it hard on a national level, etc. Asa Hutchinson, who, as Tucker remarked, is has been taking powerful hormones to transition into a liberal Walmart board member, confirms every nasty thing said about the Establishment Corporate Traitor class:
Jeff B. is *BOX OFFICE POISON*
@EsotericCD Make no mistake: Liz Cheney *chose* this fate. She was not squeezed by circumstance or the vulgarities of politics or need for private gain. She could have remained Representative (and maybe then Senator) for life from Wyoming if she'd said nothing. She chose honor instead.

Mollie
@MZHemingway
There is nothing honorable about denying your enemies due process, running a kangaroo court, pushing the country into poorly thought out wars, or joining with the left in its republic-destroying hysteria. Stop calling seething hatred honorable.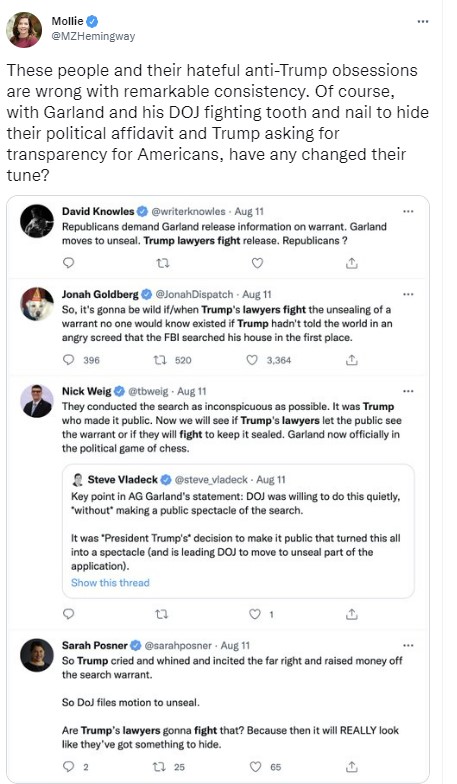 MuNuvians
MeeNuvians
Polls! Polls! Polls!
Real Clear Politics
Gallup
Frequently Asked Questions
The (Almost) Complete Paul Anka Integrity Kick
Top Top Tens
Greatest Hitjobs
News/Chat