NPR: Illegal Aliens in NYC and DC are the Responsibility of the Governors of Texas and Arizona, You Know
Texas Governor Greg Abbott wasn't sending illegals to New York City -- but after Eric Adams accused him of sending them, he's sending them now.
From last week:

Greg Abbott
@GregAbbott_TX Governor candidate, TX
The 1st bus of migrants has arrived in NYC. Biden refuses to do his job, so Texas continues to take unprecedented action to secure our border. NYC is the ideal destination for these migrants. They can receive the services Mayor Adams has boasted about w/in the sanctuary city.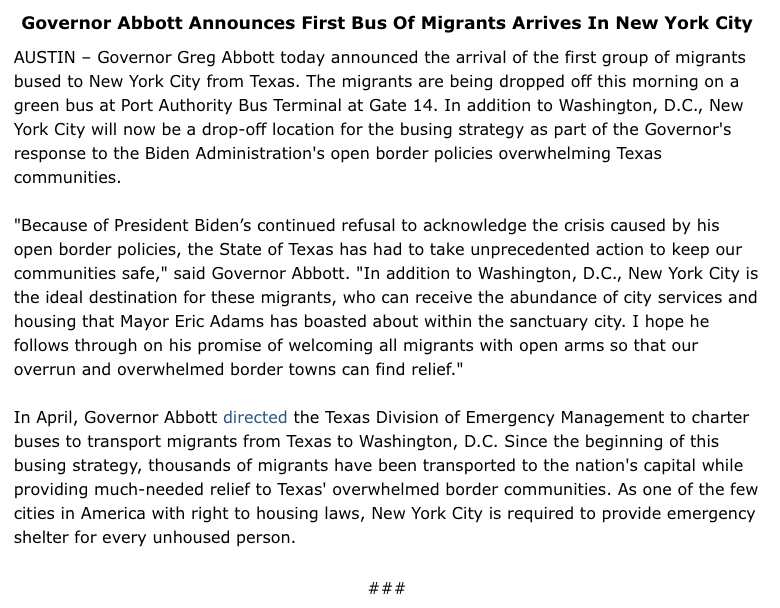 This
might
be TMI but I'm literally hard enough to crack walnuts. Meanwhile,
NPR believes that it's Abbott's and Ducey's job to greet illegal aliens at the borders of DC and NYC, and to have a "plan" for them once they get there.
Isn't that Joe Biden's job? Isn't that the job of the leftwing mayors of these sanctuary cities?
GOP governors sent buses of migrants to D.C. and NYC -- with no plan for what's next

NPR
@NPR Texas and Arizona governors continue to send buses full of migrants and refugees to Washington, D.C.'s Union Station, just a few blocks from the Capitol building. Upon arrival no government officials are there to meet them.
NPR is picking up that complaint from NYC Mayor Eric Adams, who is looking for any excuse to say "stop sending me illegal aliens" without
quite
saying it. Here was Eric Adams in October, 2021:

Eric Adams
@ericadamsfornyc "We should protect our immigrants." Period. Yes, New York City will remain a sanctuary city under an Adams administration. #EricOnNBC
And now?

"Horrific!" Remember the gasps and outrage when Trump said "they're not sending their best"! And now --
"Horrific!"
My parody from
last week was dead-balls accurate!
(Don't comment on old posts or you'll get autobanned.)
NYC Mayor Eric Adams is hopping mad about these "horrific" illegals!

Chron
@chron "It is unimaginable what the governor of Texas has done." @GregAbbott_TX's ongoing practice of bussing migrants detained near Texas' southern border to metropolises in other states has touched a new nerve with
@NYCMayor ... Adams says that more than 4,000 asylum seekers have attempted to seek refuge at the city's homeless shelters since May. "This is horrific, when you think about what the governor is doing," Adams said while meeting a bus of arriving migrants at the Port Authority bus terminal.
Buh buh... buh what about the poem on the Statute of Liberty, Eric? That didn't say that immigrants were "horrific"!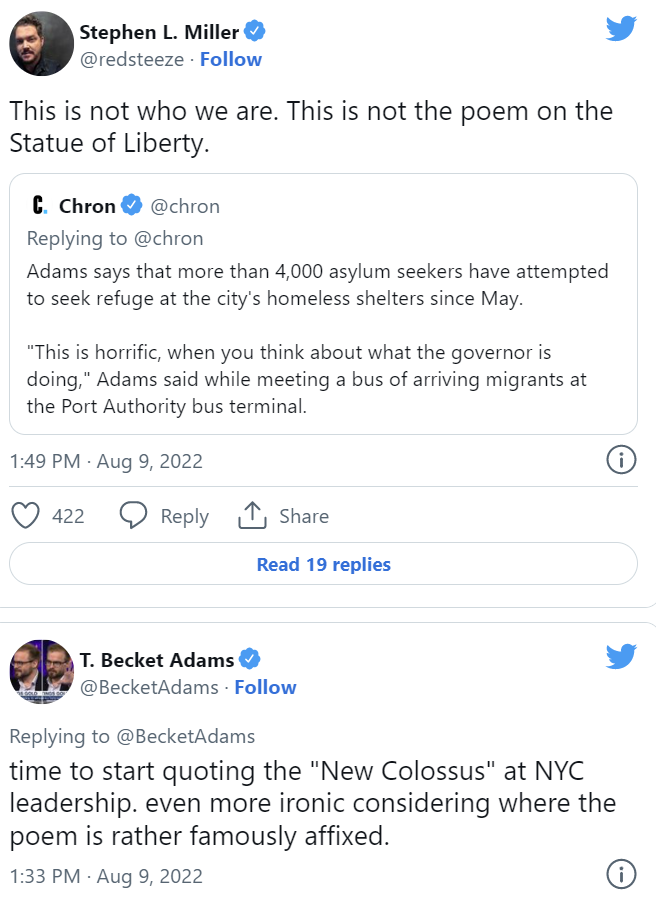 I guess it did call them "wretched refuse," though.
New Yorkers seem to understand that this is Biden's crisis, not Abbott's or Ducey's:
Meanwhile, Eric Adams has a super-plan for stopping these "horrific" illegals from coming to his formerly sanctuary city: He's going to fill up a bus with obnoxious New York leftwingers to bring them to Texas, to campaign for Robert Francis O'Rourke. Yeah... Texans will love that. Is Eric Adams... retarded?
It should be remembered that Biden was covertly flying immigrants all over the country on secret night-flights -- including to New York. But that was to little town in more conservative areas of upstate New York, not New York City. So that was okay.
Note that, while Eric Adams is claiming that Governor Abbott's Friendship Buses (that's their new name, tell a friend!) are bad because no one called him in advance to tell him when they're coming -- Joe Biden's secret nightflights were all unannounced, too. The small towns who were the Sudden Beneficiaries of hundreds of New Undocumented Citizens weren't even told they were on the list of this unexpected bounty of new, needy humanity.