Quick Hits
I've had real doubts about Kari Lake, but... this is promising.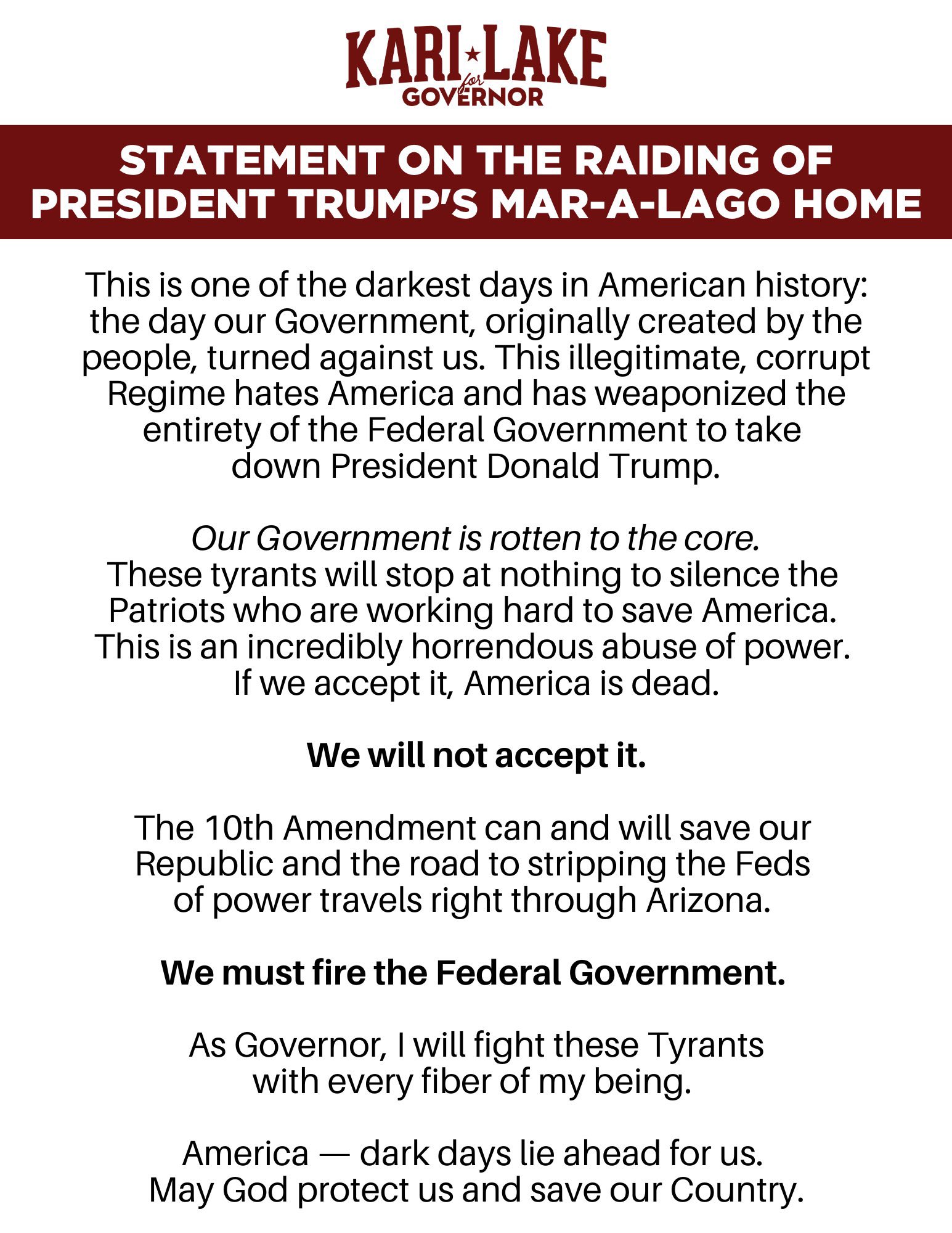 And this is also promising.
In Arizona last week, Kari Lake won the GOP nomination for governor on a pledge that Arizona will act where the federal government has failed. It was a big victory--Lake netted over 48 percent of the vote to secure the nomination. "As governor," Lake promised, "I will issue a declaration of invasion, finish President Trump's wall, blow up the cartels' drug tunnels and surveillance drones, and deploy the Arizona National Guard to stop illegals from entering. Arizona is our home and I will do everything in my power to defend our families." Finish President Donald Trump's wall? Blow up drug tunnels? Deploy the Arizona National Guard? Can a governor really do all that? She can. Though securing the border is the federal government's responsibility, the Constitution empowers state governments to act when our federal government refuses.
Of course, she has to actually get elected to do anything like this. I sure hope she knows the electorate and is playing to them, and not just playing to
me.
As has been pointed out, the media sold the "Inflation Reduction Act" as, well, reducing inflation up until the moment it passed... and then stopped claiming it would reduce inflation at all, and instead sold it as doing other things. Paul Krugman lists what the Inflation Reduction Act will do. HINT: He's forgotten to mention "reduce inflation."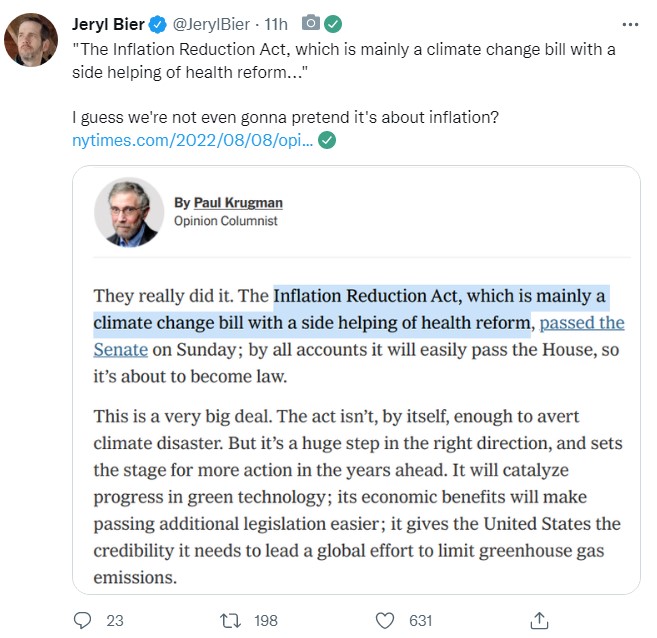 SPOILER: He didn't actually forget; this is part of the left's coordinated messaging.
They know this won't reduce inflation so now they're trying to pretend the Inflation Reduction Act was never really about Inflation Reduction at all. Craven liberal Chris Christie sought the David French Vote by
immediately declaring that of course this warrant was perfect, just like the FISA warrants were perfect.

The search of Donald Trump's personal safe in an unprecedented federal search at the former president's Florida compound was "fair game," former New Jersey Gov. Chris Christie said in an interview Tuesday morning. During his seven-year stint as U.S. attorney for New Jersey, Christie had to make "analogous decisions" to the Monday search of Trump's Mar-a-Lago residence, he said in an interview with Sirius XM's Julie Mason. The search warrant aims to determine whether the former president mishandled White House records, according to two people familiar with the matter.
"I have concerns this morning about it," Christie, a onetime staunch Trump ally, said. "This is not something you should be doing willy-nilly. This is something that should be backed up by grave concerns."
When he issued similar warrants, Christie explained, he needed to be confident there would be enough evidence to charge the person being investigated. If nothing was found, the search would be "unjust," he said.
We've never used a warrant to raid the home of a politco for a mere document recovery -- despite the example of Hillary Clinton concealing her emails from the government, and then destroying them. And despite Sandy Berger
stuffing top secret documents into his socks and stealing them from the confidential archives of the United States.
These matters were handled without raids. Don't worry, lefties and NeverTrumpers (but I repeat myself): In the future, we'll be availing ourselves of this power to strong-arm our political enemies that you've now mainstreamed. If you don't have anything to hide -- what do you have to fear from yearly IRS audits and FBI raids?!
Harmeet K. Dhillon

@pnjaban

This FBI:
* Pushed Russia collusion hoax
* Spied on law-abiding Americans
* Lied to FISA court
* Ignored Hillary's server escapades
* Ignored Biden Family criminal activity
* Persecutes journalists at Project Veritas
* Treats J6 trespassers like terrorists
* Goes after PTA moms
* Ignores drug crimes at border
* Allows drug cartels to operate freely in the US
... I could go on. Our FBI has become a total disgrace, and Merrick Garland is so deeply lacking in judgment that he is unfit to serve as AG. Americans deserve better that this shameful crew.
Further escalation: The FBI seized the phone of a
Congresman.
We're just taking notes about what we'll be doing in 25 months. Do go on. You're giving us lots of ideas.
Republican Rep. Scott Perry of Pennsylvania says that the FBI has confiscated his cell phone. Perry, in an exclusive statement, told Fox News on Tuesday that while traveling with his family earlier in the day, he was approached by three FBI agents who handed him a warrant and requested that he turn over his cell phone.
Muh Norms, huh?
Democrats urge Wyoming Democrats to change their partisan affiliation to vote for Liz Cheney.
This is what galls me about AllahPundit's
But whyyyyyy?!
whining about why the party is ejecting Liz Cheney. Pretty simple, really, Genius: It's because she has telegraphed that she intends to run as the Democrat against the Republican Harriet Hageman for half a year. All of the NeverTrumpers continue supporting the Democrat Party. They have supported Democrats, as I keep noting, four four election cycles in a row, supporting Hillary Clinton in 2016, then Democrats for Congress to rebuke Trump in 2018, then Joe Biden, then Democrats for Congress again to rebuke Trump in 2020. They're preparing to support the Democrats
again
in 2022... again as a rebuke to "Trumpism." Trumpism, now, notice -- not Trump. Now they're dropping the mask that this is about Trump; this is about
punishing Trump's voters
and telling them that they are not permitted to win elections, because they are,
yes!
, Deplorable, just like the candidate they supported in 2016 said. And of course they will support the Democrat, whoever it is, in 2024, if Trump runs. Or even if
DeSantis
is the nominee. Because this is about the Neocon Establishment Restoration Project. And they'll keep joining the Democrats until we hand the party back over to these sick, wormy liberals. But AllahPundit and the rest of them keep whining,
But whyyyyyy can't you let us be paaaaaart of the paaaaartyyyyyy?
Because you're not part of the party; you're Democrats. Why don't we let Adam Schiff be part of the party, too? And Pierre Omidyar, and all the rest of the Democrats you take money from? How many election cycles do you get to support Democrats and still claim "But I'm really a Republican, you know, the moment this 'Trump fever' breaks and we get back to nominating neocon establishment squibs like Jeb Bush and Nikki Haley and Chris Christie" ? You're out of the party. A party has the right to patrol its own membership. And you, fucker, are G O N E. Go to The Bulwark, Allah. They're (almost) open about just being a Democrat front organization now. Not completely open, of course; they are all sneaky lying worms, like yourself. They have to do
some
lying. They think lying about their intentions and their affiliation makes them "clever." You'll fit in perfectly!
NeverTrump
Once we purge every single actual conservative from the party, we'll be ready to both re-join and lead the party again as a respectable and reasonable junior partner to the Glorious Democrat Party.
Worth the listen:
Yeah, it's time for this guy to go. He can take Lindsey Graham with him and they can go have a romantic dinner together on the veranda. And I'm sure they'll claim whatever they find is "incredible." A friend said he expects the Coordinated Messaging deployment of the keywords "TREASURE TROVE" within a week.