A Federal Judge Would Never, Ever Show Political Bias In Authorizing a Raid on a President
* Except It Wasn't a Federal Judge-- It Was a Mere Magistrate
* Who Was an Obama Donor
* Who Was an Epstein Lawyer

David Axelrod

@davidaxelrod


One thing is very clear.
Garland would not have authorized this raid, and no federal judge would have signed off on it, if there weren't significant evidence to warrant it.
We heard that all with the FISA warrants too, obese schlub c*cks*cker. It's incredible how quickly we are Demanded to Forget in this Empire of Lies. And he wasn't a federal judge. Rather than getting a federal judge, the Corrupt Merrick Garland went to a mere federal magistrate -- a lesser official who signs warrants and handles lesser judicial functions -- and instead of getting a federal magistrate without any conflicts of interest, he made sure he shopped this to an Obama donor and partner in The Regime. He walked out of the US Attorney's office which was prosecuting Epstein to create a defense law firm,
and began representing Epstein's employees the day after quitting the government.
So you know he's
tight with The Regime.
A Florida magistrate judge who reportedly signed off on the FBI's raid of former President Donald Trump's home has ties to convicted sex offender and pedophile Jeffrey Epstein, who was found dead of an apparent suicide in August 2019. Sources told The New York Post that Judge Bruce Reinhart approved the search warrant that authorized the raid of the former president's home. That judge had previously represented Epstein employees who had received immunity in the investigation of Epstein's sex trafficking, according to the Miami Herald. Reinhart reportedly resigned from the South Florida U.S. Attorney's Office on January 1, 2008, and the next day went to represent the Epstein employees. He told the Miami Herald that he represented Epstein's pilots, Epstein's scheduler Sarah Kellen, and Epstein's reported "Yugoslavian sex slave" Nadia Marcinkova.

He was representing Epstein's employees but have no doubt, Epstein was paying the bills, to keep them from turning on him. I don't think that worked, because they were later immunized.
He would later be named in the 2011 Crime Victims' Rights Act lawsuit, accusing him of violating DOJ policies through the job change in the midst of the Epstein investigation, according to the Herald. Reinhart denied this allegation, claiming he "never learned any confidential, non-public information about the Epstein matter," according to the Herald, and denying that he participated in the Epstein case while at the South Florida U.S. Attorney's Office.
Oh, Heaven forfend! There was a full 10 hours before stopping work at the one and beginning work for the other. And it is alleged he is lying about that, too.
His former colleagues contradicted this in a 2013 court filing that said Reinhart had learned "confidential, non-public information about the Epstein matter," the New York Post reported. In response to this accusation, Reinhart reportedly told the Herald that the Justice Department had dismissed a complaint that an Epstein victim's lawyer had filed against him.
He was appointed to in 2018. I wrongly said that Trump must have appointed him in a big batch, but McCool says Presidents don't appoint magistrates at all. And he's right -- they're appointed by all
active judges
in the circuit.
He donated to Obama twice in 2008,
and then decided he was a fan of Jeb! in 2015, and donated to him. So this Democrat donated to a Republican -- for probably one of the few times in his life -- to oppose Trump. And this is the "federal judge" -- except he's not a federal judge; he's, at best, an assistant judge who looks over subpeonas and records requests and records submissions -- that Merrick Garland got to sign his warrant.
Symone D. Sanders, former spokesbimbo for Kamala Harris, is demanding the media -- and I'd imagine,
social media
-- stop permitting people to call the raid on the president's home a raid.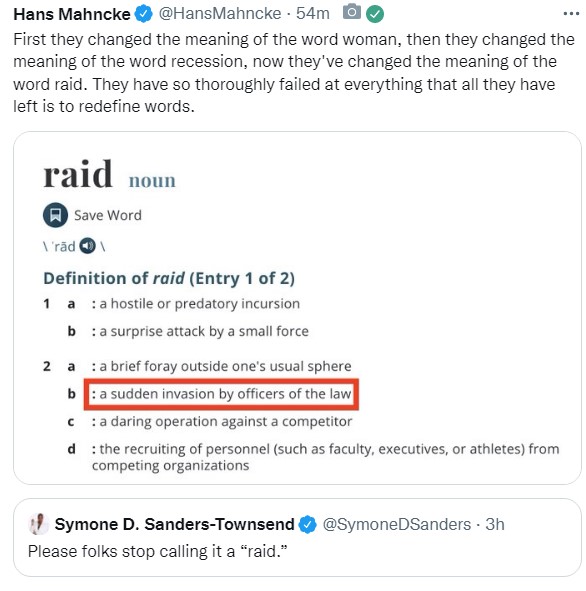 How long do you think it will be before the social media monopolies begin slapping a "Misleading Claim" on to any post describing the raid accurately as "a raid"? The fact that Merrick Garland used a "mishandling of official documents" pretext to order an FBI raid on a former president's home -- for the first time in history! And that's not even a major charge you'd even consider breaking out such a major response for -- is troublesome. Merrick Garland, stopped by Republicans from getting on the Supreme Court by Trump's election, is using fairly minor federal no-no's as a pretext for federal raids on political enemies, and the likely opponent of his boss in 2024. Which, The Atlantic magazine tells us, only proves that the Department of Justice is... independent from Biden!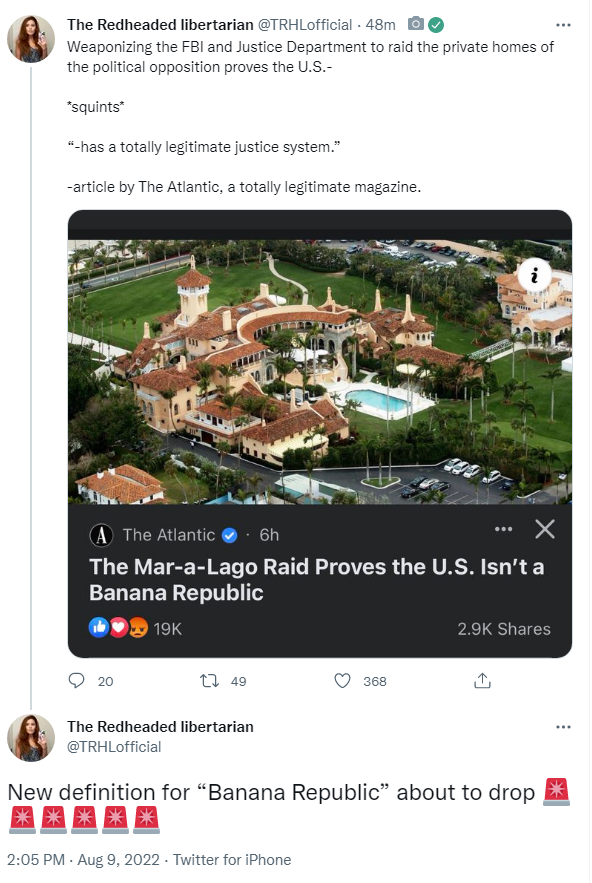 Andrew Yang
@AndrewYang
It looks increasingly like the FBI raid was to find mishandled classified documents and not some other DOJ investigation which was my first thought. Mishandling documents doesn't seem like raid material. It does however seem like excellent campaign material for Trump.
"If they raided his home just to find classified documents he took from The White House," one legal expert noted, "he will be re-elected president in 2024, hands down. It will prove to be the greatest law enforcement mistake in history."
Virtually everyone agrees that this is
yet another
pretext warrant -- the pretext is that the FBI is raiding his home to get documents, which apparently were so sensitive they let them sit at Mar-a-Lago for almost two years. The reality is that the warrant was just used as a pretext to search his home to find anything that might incriminate him as far as January 6th. They have "taint teams" separating the documents they're permitted to look for
from his private, personal correspondence and his communications with his lawyers.
Do you think that maybe, Whoops!, the ham-and-eggers of the taint team might just accidentally slip some of the non-covered documents into the covered pile? Or maybe write down notes about the documents they weren't allowed to see but, Whoops!, did see?

Neil Stevens
@presjpolk
You wanna know why limited government is becoming less popular in the GOP? Because it's viewed as capitulation.
If you want to make limited government more palatable, do something about the Democrats. Non-negotiable. If your answer is "Oh well" then you are going to sound like you're out of touch at best, or siding with the Democrats at worst. This is a loss of faith in the institutions, and it must be repaired by constructive acts that rebuild trust. This is big tech all over again. When major corporations are using corporate welfare to attack their political opposition, and your answer is just to shrug and say 'free markets,' then you cede the field to those with answers. That's why Ron DeSantis wins, and others lose. The burden of proof is on the side of limited government to show how people like President Biden, Attorney General Garland, and FBI Director Wray will be held accountable for abuses of power. Clinton committed perjury and obstruction and walked. Obama and Holder ran guns to Mexican cartels and walked. It can't go just one way, folks. Not if you want buy-in into the rule of law.