The Government, Media, Corporations and Institutions Constantly Lying to the Public Continue to Wonder Why The Public No Longer Trusts Them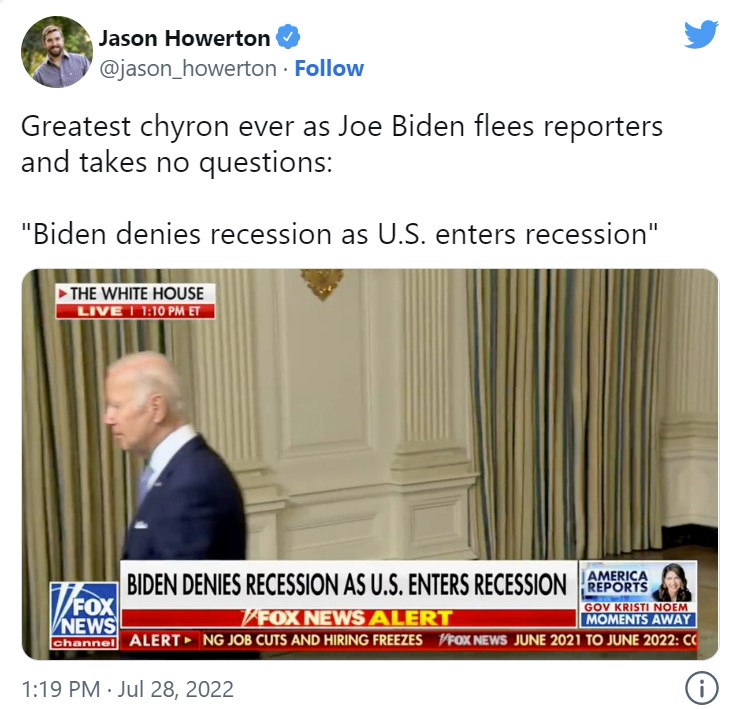 The non-recession -- which the cow-eyed imbecile says is just a "transition" from an economy fueled by fossil energy to a Mad Max style apocalypse not fueled by fossil energy (and can't wait to cut those campaign commercials!) --
hit another 40 year record for inflation,
and the inflation continues accelerating, despite the large increases in interest rates. Furthermore, consumer spending continues weakening, a warning that the recession, which is already here, may be on the way.
An inflation gauge that is closely tracked by the Federal Reserve jumped 6.8% in June from a year ago, the biggest increase in four decades, and leaving Americans with no relief from surging costs. Friday's government figures underscored the persistence of the inflation that is eroding Americans' purchasing power, dimming their confidence in the economy and threatening Democrats in Congress in the run-up to the November midterm elections. On a month-to-month basis, prices rose 1% from May to June, faster than the 0.6% rise from April to May and the biggest such jump since 2005. A separate government report Friday reinforced the fact that the economy remains gripped by inflation pressures. A measure of employees' wages, excluding government workers, jumped 1.6% in the April-June quarter, matching a record high reached last fall. Higher wages can fuel inflation if companies pass their higher labor costs on to their customers, as they typically do. The government also reported Friday that consumer spending managed to just outpace inflation last month, rising 0.1% from May to June after adjusting for price changes. Consumer spending, the main driver of the economy, has weakened in the face of high inflation. But for now, it's still helping fuel inflation, with demand still strong for services, ranging from airline tickets and hotel rooms to restaurant meals and autos. Many retail and consumer goods chains, though, say inflation is squeezing shoppers and limiting how far their money goes -- a sign that consumer spending could further weaken. ... Inflation has been rising so fast that despite the pay raises many workers have received, most consumers are falling behind the pace of cost-of-living expenses. High inflation and interest rates are also hampering the U.S. economy, which shrank in the April-June quarter for a second straight quarter, intensifying fears that a recession is looming.
It's looming so much it is in fact already present.
Two quarters of declining growth meet an informal rule of thumb for when a recession begins...
You don't say?
...although robust hiring suggests that the economy still maintains pockets of strength and isn't yet in a downturn.
Sure, super robust hiring.
Glenn Reynolds has a wild theory about why people have this irrational distrust of government and other formerly trust institutions:
It's because they're not worthy of trust.

Why don't Americans trust the government and other institutions? Maybe it's because the government and other institutions aren't trustworthy. There's certainly plenty of evidence for both the lack of trust and the lack of trustworthiness. And if the trend continues, it bodes poorly for America. The news is bad on the lack of trust. A recent University of Chicago Institute of Politics poll found that a majority of Americans think that the government is "corrupt and rigged against people like me." Two-thirds of Republicans and independents felt that way, but things weren't much better among liberals, 51% of whom agreed. So this isn't the usual sour grapes from the party out of power -- it's a general sentiment. Why do people feel that way? Well, that's a real poser, but I'm going to offer a suggestion: They feel that way because they've noticed that the government is corrupt and rigged against people like them. Those in government live in a world of revolving doors and no consequences. Fail in protecting or serving the public? You'll likely get off scot-free and land in a cushy private-sector position after your "public service" is over. Then, next time your party is in power, you'll likely move back into another government position that will set you up for an even cushier private-sector job later. Did you champion a policy that failed spectacularly, spread misery around the globe or got people killed? No matter! The chance that you'll face anything worse than a critical op-ed is tiny. As Peggy Noonan says, our society is divided into the "protected" class, which makes policies, and the "unprotected" class that has to live with the policies and their consequences. Your kids may lose their jobs because of green-energy policies; the protected class' kids will find lucrative positions as green-energy consultants or private-equity partners. Inflation makes food and gas expensive? You'll feel it, but they will barely notice. War overseas? Their kids won't be the ones fighting. And they've become shameless. Note this week's effort to redefine recession before Thursday's bad gross-domestic-product announcement. Previously, as investment expert Jeffrey Carter notes, a recession meant two consecutive quarters (six months) of economic decline. Now it means . . . something else. What else? Whatever is convenient. Treasury Secretary Janet Yellen went on TV and said that even if this quarter's numbers print negative (they did), it's not a recession because . . . well, just because. As Carter says, "She's wrong. She knows it. Plus, she told a pretty big fib for a political spin and didn't do it convincingly. " When asked to define a recession, White House spokeswoman Karine Jean-Pierre wouldn't be specific but said we're not in one. Or even in a "pre-recession," whatever that is. Other administration mouthpieces claimed it won't count as a recession until the National Bureau of Economic Research pronounces it one, a year or more after the fact. (And conveniently after the midterms, too.)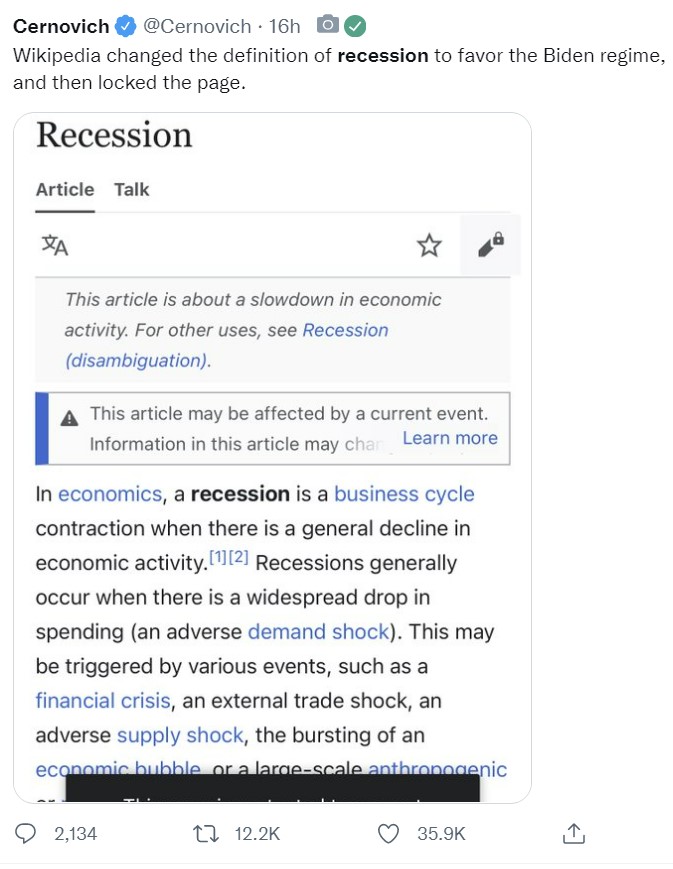 Tucker Carlson titled his opening monologue "Reimaging Recession," and documented the media and the Democrats (but I repeat myself) repeatedly defining a recession as two quarters of negative growth --
until two weeks ago, when the Great Reset-shen (as Instapundit called it) began.
He also assailed Biden's competency and branded the "press conference" -- really, the messaging coordination meeting with his staff in the various "news" bureaus -- one of the most bizarre he's ever seen.