Quick Hits 2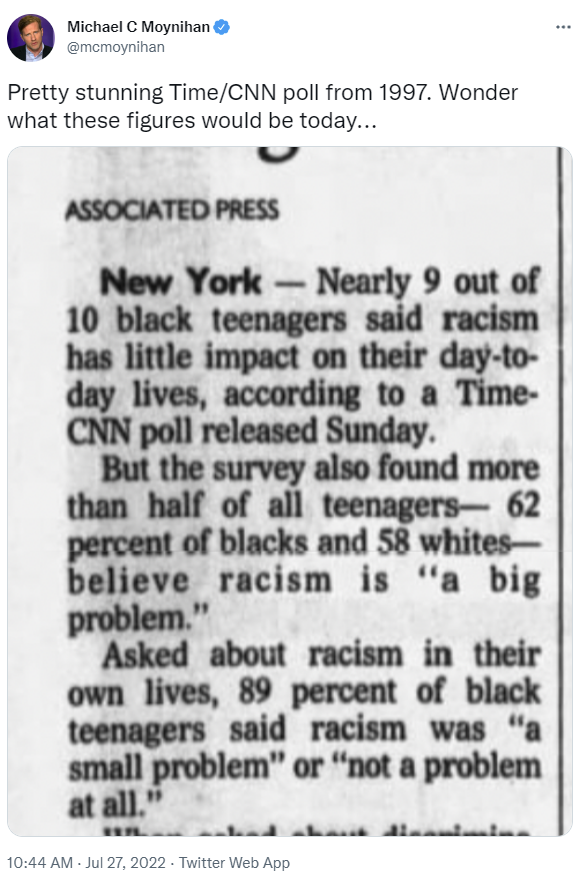 Universities -- the flowers of intellectual achievement -- are now officially offering
"Fat Studies" courses to explore Fat Oppression and Fat Grievance.
Many of these "Fat Studies" are being offered under the generous folds of, you guessed it, Women's and Gender Studies programs.
Fat Studies is an academic field that "confronts and critiques cultural constraints against notions of 'fatness' and 'the fat body," the Popular Culture Association states on its website. Fat studies courses promote the concept peddled by left-wing academics that normalizes fatness and accredits physical wellbeing to right-wing rhetoric, Campus Reform Editor in Chief Zachary Marschall explained in his latest editorial. Below is a list of sample Fat Studies courses taught last academic year and offered for the 2022-2023 year. ... Southern Oregon University (SOU) will offer "Fat Studies: Bodies, Culture, and Politics" for the 2022-2023 academic year. According to SOU's course catalog, the "Fat Studies: Bodies, Culture and Politics" class will be an introduction to the "burgeoning area of Fat Studies, with a focus on fatness in the U.S. today."
Burgeoning
? Oooh, you're wicked. Someone just earned an extra Twinkie! Do they teach people at college what words mean any longer or nah? Nah, right?
The description further states that students will "interrogate the war on obesity, moral panics around body size, the construct of fitness, health at every size models, and fat-positivity in order to deconstruct the meanings of fatness." SOU's four-credit Fat Studies course will also look into the ways that "gender, sexuality, race, class, and disability intersect in relation to fatness," and "the interrelationships between feminist and queer politics and fat activism." ... Washington University in St. Louis The Washington University in St. Louis Women, Gender and Sexuality Studies Department offered "Queering the History of Health" during the spring 2022 semester. This class used an "intersectional lens" to examine the circumstances that produce "false binaries" such as "healthy" and "slender" versus "fat, and irresponsible." The course description states that "these binaries have created and maintained social, political, and cultural inequalities and have been used as a powerful ideological weapon against queer and trans people of color, people with disabilities, people living with HIV/AIDS, fat people, and other people who do not/cannot embody normative race."
Obesity is being recategorized as a race?
DePaul University The "Contested Bodies" course description from DePaul University states that students will consider "the experiences of bodies that don't fit the norm: queer bodies, fat bodies, transgender bodies, bodies of color."
Yes, apparently, there is a determined push from fat people to see if they can recategorize themselves as a sort of a race or gender or sexual orientation. There are a lot of benefits to being categorized as a protected race, gender, or sexuality. And I'm pretty sure these Chunky SJWs have noticed. They want to be compensated for the "emotional labor" of being fat in a fit person's world.
The saggy whores of The View fake-apologize for libeling Turning Point as "N@zis" after Turning Point threatens to sue.
The ABC daytime talk show "The View" apologized Wednesday for "defamatory statements" co-host Whoopi Goldberg made about Turning Point USA after the the young conservative group threatened to sue.
The controversy started Monday, When Goldberg said on air that neo-N@zi protesters had been "let in" to the Florida Student Action Summit last week in Tampa, Florida, by members of Turning Point, which was hosting the event.
Turning Point never "let in" the N@zis, and in fact they probably weren't even N@zis -- there's a strong chance they were prop actors hired to discredit Turning Point.
Turning Point and its supporters hit back by filing a cease-and-desist ordering ABC News to "retract the defamatory statements" or face legal action and launching a "Sue the View" social media campaign.
After fake apologizing, Whoopie Goldberg then libeled Turning Point
again.
"My point was more metaphorical," said Goldberg, who also said she thought Turning Point "embraced" the protesters.
Sounds like she wants to get sued. Whoopie Goldberg, everyone should remember,
denied the N@zis were racist.
She actually said they weren't racist. Because, she said, the Jews weren't actually victims of racism, because see, they're white, and only black people can be victims of racism. N@zis? Not racist, according to Whoopie Goldberg, Defender of N@zis. You think she'd learn to just shut the f*ck up about this subject.
How to fabricate a climate emergency: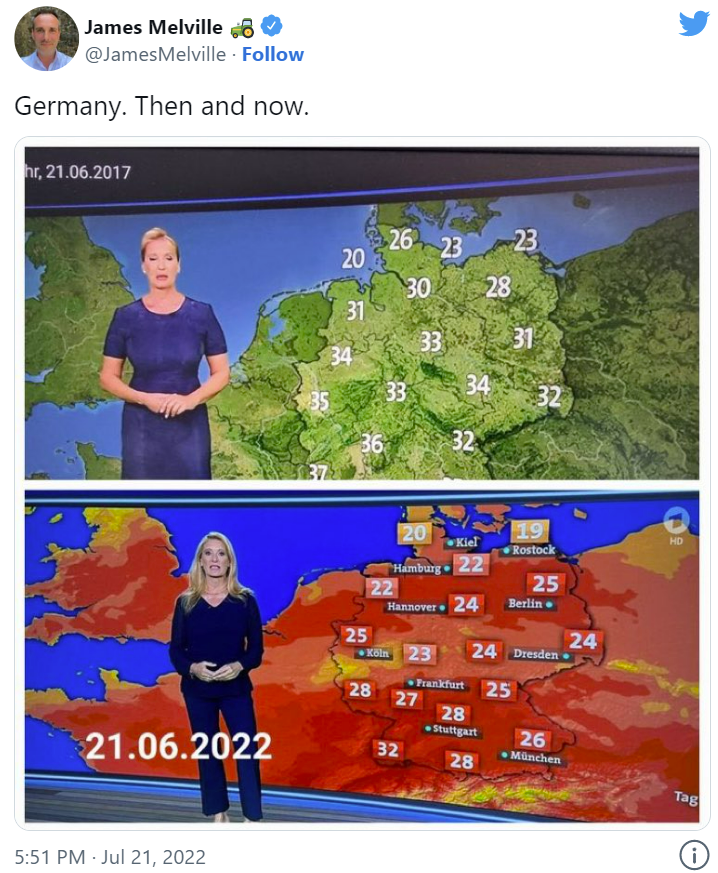 Notice that the temperatures in the earlier picture are actually
hotter
-- and yet the map is colored normally. Now the temperatures are
cooler
, but the map is colored
LAVA HOT.
Via Jim Thompson at
RedState.
CNN's weather geek shrieks "The fate of life on earth is at stake"! He actually says that. And he says that in arguing for the president to declare he has unilateral power to re-order the economy as he sees fit to fight the enemy of Global Warming. He ends his screed by noting that the American democracy, in 2022, cannot fight global warming. And you can tell that his priority is fighting global warming,
not
retaining democracy. Thanks, NeverTrump! You sure did whoop up on those "authoritarians!" You learned them a lesson somethin' fierce with your big strong manly muscles!
This. Must. Happen:
Poetry in Motion:
They hate the world because they first hate themselves.