The Pritzker Billionaires and Synthetic Sex Identities
Well, some new and useful terminology has emerged for the fast-expanding forms of sexual identity we are expected to suddenly understand: Synthetic Sex Identity or sometimes Synthetic Sexual Identity. Perhaps you have wondered how to classify the sex identity of someone who uses fish pronouns, for example. That person likely has a synthetic sex identity, for example.
But ya never know: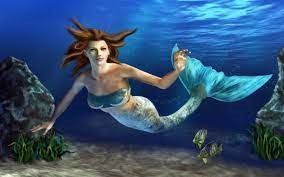 Okay, what do the Pritzker Billionaires have to do with Synthetic Sex Identities? Jennifer Bilek
wrote the following in Tablet:
The wealthy, powerful, and sometimes very weird Pritzker cousins have set their sights on a new God-like goal: using gender ideology to remake human biology
One of the most powerful yet unremarked-upon drivers of our current wars over definitions of gender is a concerted push by members of one of the richest families in the United States to transition Americans from a dimorphic definition of sex to the broad acceptance and propagation of synthetic sex identities (SSI). Over the past decade, the Pritzkers of Illinois, who helped put Barack Obama in the White House and include among their number former U.S. Secretary of Commerce Penny Pritzker, current Illinois Gov. J.B. Pritzker, and philanthropist Jennifer Pritzker, appear to have used a family philanthropic apparatus to drive an ideology and practice of disembodiment into our medical, legal, cultural, and educational institutions. I first wrote about the Pritzkers, whose fortune originated in the Hyatt hotel chain, and their philanthropy directed toward normalizing what people call "transgenderism" in 2018. I have since stopped using the word "transgenderism" as it has no clear boundaries, which makes it useless for communication, and have instead opted for the term SSI, which more clearly defines what some of the Pritzkers and their allies are funding--even as it ignores the biological reality of "male" and "female" and "gay" and "straight."
Homophobia!
The creation and normalization of SSI speaks much more directly to what is happening in American culture, and elsewhere, under an umbrella of human rights. With the introduction of SSI, the current incarnation of the LGBTQ+ network--as distinct from the prior movement that fought for equal rights for gay and lesbian Americans, and which ended in 2020 with Bostock v. Clayton County, finding that LGBTQ+ is a protected class for discrimination purposes -- is working closely with the techno-medical complex, big banks, international law firms, pharma giants, and corporate power to solidify the idea that humans are not a sexually dimorphic species -- which contradicts reality and the fundamental premises not only of "traditional" religions but of the gay and lesbian civil rights movements and much of the feminist movement, for which sexual dimorphism and resulting gender differences are foundational premises.
Through investments in the techno-medical complex, where new highly medicalized sex identities are being conjured, Pritzkers and other elite donors are attempting to normalize the idea that human reproductive sex exists on a spectrum. These investments go toward creating new SSI using surgeries and drugs, and by instituting rapid language reforms to prop up these new identities and induce institutions and individuals to normalize them. In 2018, for example, at the Ronald Reagan Medical Center at the University of California Los Angeles (where the Pritzkers are major donors and hold various titles), the Department of Obstetrics and Gynecology advertised several options for young females who think they can be men to have their reproductive organs removed, a procedure termed "gender-affirming care."
The Ronald Reagan Medical Center!
In 2012, J.B. Pritzker and his wife, M.K. Pritzker, worked with The Bridgespan Group--a management consultant to nonprofits and philanthropists--to develop a long-term strategy for the J.B and M.K. Pritzker Family Foundation. Their work together included conducting research on developments in the field of early childhood education, to which the foundation committed $25 million. Ever since, a motivating and driving force behind the Pritzkers' familywide commitment to SSI has been J.B.'s cousin Jennifer (born James) Pritzker--a retired lieutenant colonel in the Illinois Army National Guard and the father of three children. In 2013, around the time gender ideology reached the level of mainstream American culture, Jennifer Pritzker announced a transition to womanhood. Since then, Pritzker has used the Tawani Foundation to help fund various institutions that support the concept of a spectrum of human sexes, including the Human Rights Campaign Foundation, the Williams Institute UCLA School of Law, the National Center for Transgender Equality, the Transgender Legal Defense and Education Fund, the American Civil Liberties Union, the Palm Military Center, the World Professional Association of Transgender Health (WPATH), and many others. Tawani Enterprises, the private investment counterpart to the philanthropic foundation, invests in and partners with Squadron Capital LLC, a Chicago-based private investment vehicle that acquires a number of medical device companies that manufacture instruments, implants, cutting tools, and injection molded plastic products for use in surgeries. As in the case of Jon Stryker, founder of the LGBT mega-NGO Arcus Foundation, it is hard to avoid the impression of complementarity between Jennifer Pritzker's for-profit medical investments and philanthropic support for SSI.
There is much more information in the Tablet piece, plus links to even more information. Maybe the fusion with tech is the creepiest part of this whole thing.
. . . Pritzker also created the first chair in transgender studies at the University of Victoria in British Columbia. The current chair, Aaron Devor, founded an annual conference called Moving Trans History Forward, whose keynote speaker in 2016 was the renowned transhumanist, Martine Rothblatt, who was mentored by the transhumanist Ray Kurzweil of Google. Rothblatt lectured there on the value of creating an organization such as WPATH to serve "tech transgenders" in the cultivation of "tech transhumanists." (Rothblatt's ideology of disembodiment and technological religion seems to be having nearly as much influence on American culture as Sirius satellite radio, which Rothblatt co-founded.) Rothblatt is an integral presence at Out Leadership, a business networking arm of the LGBTQ+ movement, and appears to believe that "we are making God as we are implementing technology that is ever more all-knowing, ever-present, all-powerful, and beneficent."
Anybody getting a World Economic Forum vibe here? What would we do without billionaires? Bilek is not the only one pushing back. While she uses "synthetic sex identities" as a descriptive umbrella term for all these new identities coming down the pike, Chris Rufo has been using the terminology "Synthetic sexual identities". Choose your favorite. Here's another example, concerning the Portland School District, first and second grade:
City Journal report:
In Portland, the Sexual Revolution Starts in Kindergarten
The Pritzkers and Democrat Politics There are some signs that Governor Pritzker of Illinois is looking toward a presidential run in 2024. He recently said
good riddance to "GOP" billionaires
leaving his state for Florida. Tax cheats like himself are apparently free to stay as long as they vote Democrat. Who else removes toilets from a mansion to avoid taxation? NBC reports that he also aims to
oust the Illinois Democratic party chair
in what they frame as a test of power vs. Dick Durbin. More interesting to me is the Chicago Tribune report that he gave 24 million dollars to a dem group to help fund
ads to help nominate his preferred GOP opponent.
Vox is getting a little huffy about
dems pushing right-wing extremists,
too.
Democrats' assumption that it's easier to beat a more extreme right-wing candidate is a risky one. Former Democratic presidential candidate Andrew Yang, who has since left the party, called it "bad for the public and a symptom of how perverse our current system is." Certainly, it might be easier for a Democrat to run against a candidate who has been endorsed by Trump, who proved an effective villain in 2020, and especially so in left-leaning states like Illinois, Colorado, and Maryland. The strategy could pay off as a shrewd investment that will avert the need for heavier spending in the general election, freeing up funds that could be put toward more competitive races elsewhere. But as history has shown, there's still a risk that these far-right candidates will put up a fight and even get elected. In 2016, Hillary Clinton's campaign made the mistake of seeking to elevate Trump and other "Pied Piper" Republican presidential candidates with extreme conservative views in the primaries over the more establishment Republicans then perceived as her true rivals.
They have a narrative in mind to demonize the right as "Nazis" and "Christian Nationalists". This brings us back to the Portland School District: So, what kind of theocracy is this, from the Tablet piece above?
Rothblatt is an integral presence at Out Leadership, a business networking arm of the LGBTQ+ movement, and appears to believe that "we are making God as we are implementing technology that is ever more all-knowing, ever-present, all-powerful, and beneficent."
An Alternative
Walter Kirn:
They shouldn't call it "home schooling" anymore. It's not amateur & it's not insulated. It has at its disposal the entire Internet & vast numbers of the finest textbooks, literary works, films, & off-site tutors. Its resources would make a Renaissance philosopher jump for joy.
What would
you
like to call it? Suggestions at the link. Music Something real:
Bach Cello Concerto No. 1
* * * * *
Hope you have something real planned for this weekend.
This is the Thread before the Gardening Thread.
Serving your mid-day open thread needs
* * * * *
Here's last week's post, with comments:
Saturday Short Subjects, July 23
If the Titanic sunk in 2022. Timely quotes. Airport notes. News: Finance woes in China, War in Ukraine, Machine Gun Robot. World Economics: ESG, farms Music and Dance: Tango with pointy elbows. I closed the comments on this thread so you wouldn't ban yourself by trying to comment on a week-old thread. But don't try it anyway.
Posted by: K.T. at
11:18 AM
MuNuvians
MeeNuvians
Polls! Polls! Polls!
Frequently Asked Questions
The (Almost) Complete Paul Anka Integrity Kick
Top Top Tens
Greatest Hitjobs
News/Chat