Manhattan's Soros DA Alvin Bragg Won't Prosecute Actual Killers -- But Charges a Bodega Owner With Murder For Daring to Defend Himself Against a Criminal Attacker
This is intentional. This is not accidental. This is what they intend.
The bodega owner is an older man, and defended himself with a knife against a much younger attacker, killing his assailant. And Soros DA Alvin Bragg finally had a murder case he was interested in prosecuting to the full.

Fury at woke Manhattan DA Alvin Bragg for prosecuting hardworking bodega employee, 62, who stabbed career criminal to death in self defense: GoFundMe REMOVES the man's $20k legal fund as he languishes in Riker's on $250,000 bond Jose Alba is sitting in Rikers Island awaiting his next court date on murder charges Last Friday, he killed Austin Simon, a 37-year-old ex-con who attacked him Simon's girlfriend couldn't afford a bag of potato chips in Alba's Harlem bodega When he tried to reclaim the chips, she pulled a knife out of her purse then called for her boyfriend's back-up Simon then confronted Alba in the store and Alba stabbed him in self-defense Simon died in the hospital and Alba was arrested on murder charges His family started a GoFundMe for his defense but it was removed last night after raising $20,000 Now, there is a growing campaign to #FreeJoseAlba amid fury at Alvin Bragg Bragg's office routinely awards no or low cash bail to violent offenders in NYC The case is due to be presented to a grand jury on Thursday By JENNIFER SMITH, CHIEF REPORTER FOR DAILYMAIL.COM
There is mounting anger over woke Manhattan DA Alvin Bragg's decision to charge a 62-year-old bodega employee with murder for killing a career criminal in self-defense after the thug attacked him in his store. Jose Alba is in Rikers Island this morning awaiting his first court appearance on charges of murder. His bail has been set at $250,000 - an exorbitant amount compared with the low-or-no cash bail that is routinely given to repeat offenders by Bragg's soft-touch office. On Friday night, Alba stabbed Austin Simon to death after Simon attacked him in the Bluemoon Convenient Store in Harlem. Alba, who is beloved in the local community, has worked there for decades and has no criminal record. His family launched a GoFundMe page to help pay his legal expenses - but the page was removed on Wednesday night after raising $20,000. GoFundMe is yet to explain the decision. Over the weekend, Alba was arraigned on a second degree murder charge and Bragg's office asked the judge to set Alba's bail at $500,000 - which the judge deemed too high. Alba has not yet been indicted; his case is going before a grand jury on Saturday.
Alba was first wounded with the
girlfriend's
knife. Then she called her boyfriend over to finish Alba off. So Alba was not the first to introduce knives into the fray. The girlfriend who stabbed Alba, because Alba correctly told her that if she couldn't afford potato chips she couldn't just take the potato chips,
has not been charged.
Of course she hasn't! This is New York City, where murderers are set free and innocent men are jailed for defending themselves against the murderers the DA sets free! And the supposed tough-on-crime mayor Eric Adams refused to criticize his leftwing Partner-in-Crime Bragg over this. Adams offered a vague
statement in support of "hard-working" bodega owners--
but refused to "second-guess" the Soros DA Bragg.
Mayor Eric Adams on Thursday stood up for the "hard-working" Manhattan bodega clerk languishing on Rikers Island on $250,000 bail after he fatally stabbed a violent ex-con while trying to fend off an attack. "My heart goes out for this hard-working, honest New Yorker that was doing his job in his place of business, where a person came in and went behind the counter and attacked him," Adams said about 51-year-old Jose Alba at a press conference. The mayor -- who later paid a visit to the Hamilton Heights bodega -- stopped short of criticizing Manhattan District Attorney Alvin Bragg's office for charging Alba with second-degree murder and requesting a whopping $500,000 bail at the worker's arraignment Saturday. "The DA has a non-mandate, where we cannot dictate or mandate how he determines how he's going to prosecute crimes," Adams told reporters. "That is up to the district attorney, and I'm not going to second-guess the district attorney for his actions."

Everyone who voted for Adams, believing his "I Back the Blue" bullsh!t: You got got. You been bamboozled. You been run amok.
The Bodega Defense League, which is supposed to stick up for bodega owners in cases like this, is also silent. Alba's family has had to reach out to... the National Rifle Association for help, even though this case has nothing to do with guns.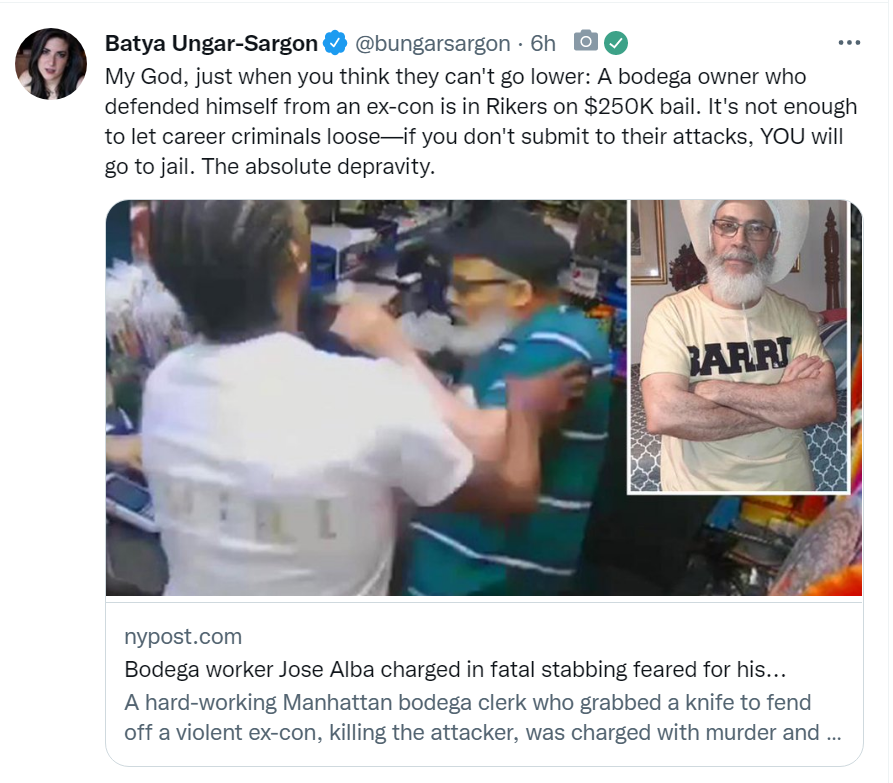 Note that Batya Unger-Sargon was until recently a card-carrying red-diaper baby, as leftwing as you could want. She may still identify that way, but she increasingly sounds like an Extremist Far-Right Conspiracy Theorist. Because the left is driving a lot of people running and screaming away from the left. They are depraved. They have removed the masks and have shown that their true object is the total literal destruction of society, and as big a pile of bodies as that will take. And this is not mere rhetoric; they intend to kill people to achieve their dream of a Year Zero reset. In fact, killing people isn't even a necessary evil; it's kind of the whole point. The Year Zero reset is kind of just a justification for the murders these psychopaths are drooling to commit.