Quick Hits
Uvalde report: Sniper had gunman in his sights before he entered the school, but waited for permission to shoot him.

Tony Plohetski
@tplohetski BREAKING: A rifle-armed Uvalde officer sighted in to shoot the Robb Elementary attacker before he entered the school but instead waited for supervisor permission -- one of many new revelations in a report obtained today by national experts about the May 24 police response.
The report by the Advanced Law Enforcement Rapid Response Training cites 3 missed chances to slow the gunman before he entered the building. It says officers who tried to stop him in the classroom "lost momentum" after taking fire as more weapons, including tear gas arrived. The report says officers could have tried to breach the classroom through sheetrock, windows, and other means. "While we do not have definitive information at this point, it is possible that some of the people who died during this event could have been saved." The report also is striking in that while much criticism has been leveled at Uvalde schools police chief Pete Arredondo, the experts appear to condemn the work of rank-and-file offers who converged on the campus.
Robert "Awake" Crimo's father
helped him buy his gun,
despite his history of threats and suicide attempts.
Crimo was a prolific social media user with numerous posts featuring violent content. He was known to law enforcement. His mental health issues date back as far as middle school. Crimo also had a disturbing family incident, which Spencer will dive into later this morning. So, how did Crimo get his weapons? They were all purchased legally, but in Illinois, you need a Firearm Owners Identification card (FOID) to own guns and ammunition. Crimo's father co-signed for his son's card in 2019, even after his past behavior. I have a feeling that this whole family is going to land in hot legal water. If they knew this kid was a problem, did nothing, and then signed a firearms card for him--they deserve to be charged as well.
See video below the fold for the incident in 2019 for which all of Crimo's knives were taken away. And yet the father still co-signed his FOID card. And red flag laws did nothing to stop him from buying a gun. Democrats and the media -- but I repeat myself -- are
calling for a Code Red on Biden.

Debra Messing was fed up. The former "Will & Grace" star was among dozens of celebrity Democratic supporters and activists who joined a call with White House aides last Monday to discuss the Supreme Court overturning Roe v. Wade. The mood was fatalistic, according to three people on the call, which was also co-organized by the advocacy group Build Back Better Together. Messing said she'd gotten Joe Biden elected and wanted to know why she was being asked to do anything at all, yelling that there didn't even seem a point to voting. Others wondered why the call was happening. That afternoon, participants received a follow-up email with a list of basic talking points and suggestions of Biden speech clips to share on TikTok. The call, three days after the decision eliminating federal abortion rights, encapsulates the overwhelming sense of frustration among Democrats with Biden. It offers a new window into what many in the President's party describe as a mismanagement permeating the White House. Top Democrats complain the President isn't acting with -- or perhaps is even capable of -- the urgency the moment demands. "Rudderless, aimless and hopeless" is how one member of Congress described the White House. Two dozen leading Democratic politicians and operatives, as well as several within the West Wing, tell CNN they feel this goes deeper than questions of ideology and posture. Instead, they say, it gets to questions of basic management.
White House counsel Dana Remus had assured senior aides the Supreme Court wouldn't rule on abortion that day. A White House press aide assigned to the issue was walking to get coffee when the alert hit. Several Democratic leaders privately mocked how the President stood in the foyer of the White House, squinting through his remarks from a teleprompter as demonstrators poured into the streets, making only vague promises of action because he and aides hadn't decided on more. Then, Biden's July 1 meeting with governors to talk about their efforts to protect abortion rights was planned so last minute that none of those who attended came in person, and several of those invited declined to rearrange their schedules to appear virtually. Multiple Democratic politicians who have reached out to work with Biden -- whether it's on specific bills, brainstorming or outreach -- often don't hear anything back at all. Potential appointees have languished for months waiting to hear if they'll get jobs, or when they'll be done with vetting. Invitations to events are scarce, thank you calls barely happen. Even some aides within the White House wonder why Biden didn't fire anyone, from the West Wing or at the Food and Drug Administration, to demonstrate some accountability or at least anger over the baby formula debacle. Inside the White House, aides are exhausted from feeling forever on red alert, batting at a swarm of crises that keeps growing -- enough for White House press secretary Karine Jean-Pierre to make an offhand joke about the constant "eleventh hour" decision-making in the building when under fire at a recent daily briefing. Several officials say Biden's tendency to berate advisers when he's displeased with how a situation is being handled or when events go off poorly has trickled down the ranks in the West Wing, leaving several mid-level aides feeling blamed for failings despite lacking any real ability to influence the building's decision-making. That's contributed to some of the recent staff departures, according to people familiar.
Democrats worry the lack of decisions and authority are deepening their own midterm problems and feeding a sense that the President couldn't truly handle the extra complications of a run for reelection in 2024 -- and along the way, reinforcing narratives that he's an old man not fit for the moment. The President who campaigned on putting America back together again after four years of deep divisions appears to have stopped trying, supporters say. "There's no fight," another Democratic member told CNN.
The Democrat Mayor of North Las Vegas has changed his affiliation to Republican, calling the Democrat Party
"totally anti-American," "elitist," and "socialist."
"The party moved past me. In fact, Democrats are now leaving that party in droves because of the socialist agenda that has taken place in the Democratic Party," Lee began. "They're totally anti-American. There was nowhere for people who thought and felt like I did about the virtues and values and morals of being a good American. It was time to leave. They have destroyed the Democratic Party now." Lee argued the Democrats' "elitist" and "socialist" agenda is not one he "can stand with anymore." "They had an election recently for leadership, and four of the five people were card-carrying members of the Socialist Party. It's not the party that I grew up with 25 years ago in this environment, and it's not the party I can stand with anymore," he said.
A 29 year old biological man beat a 13-year-old girl in a "women's"
skateboarding tournament.
Relatedly, Bette Midler ranted about the "erasure" of women.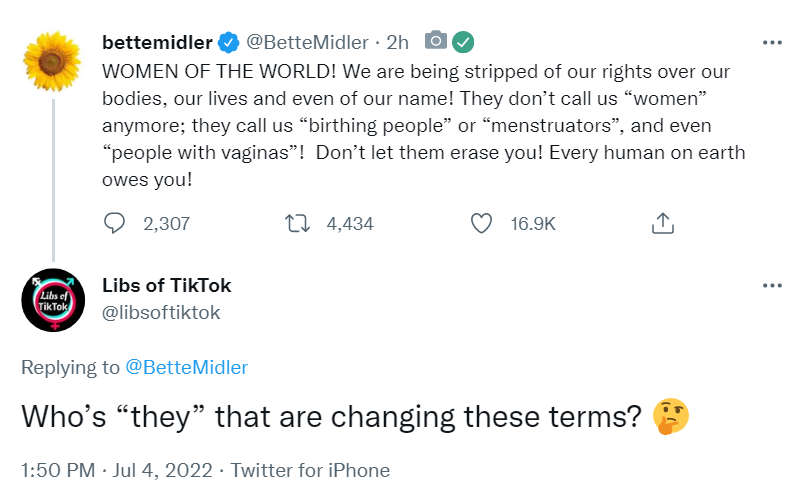 Bette Midler is now apologizing, explaining that her rant was written in response to a NYT article claiming that both the far left
and
the far right
agreed that "Women Don't Count."
I sort of believe her; this brain-dead NPC would of course only rant about something her leftwing media programmers blamed on "The Far Right." It is interesting that she's basically saying "It's okay if my far left 'marginalized group' allies erase women. I just don't like it when 'the far right' does it." Speaking of, NPR reports that Democrats no longer like the "My Body, My Choice" catchphrase, as they feel that
conservatives who don't want a mandatory vaccine for themselves or their children have sullied the motto.
Celinda Lake, a Democratic strategist and pollster based in Washington, D.C., said "My Body, My Choice" is no longer polling well with Democrats because they associate it with anti-vaccination sentiment. "What's really unique about this is that you don't usually see one side's base adopting the message of the other side's base -- and succeeding," she said. "That's what makes this so fascinating." Jodi Hicks, president of Planned Parenthood Affiliates of California, acknowledged that the appropriation of abortion rights terminology has worked against the reproductive rights movement. "In this moment, to co-opt that messaging and distract from the work that we're doing, and using it to spread misinformation, is frustrating and it's disappointing," Hicks said. She said the movement was already gravitating away from the phrase. Even where abortion is legal, she said, some women can't "choose" to get one because of financial or other barriers. The movement is now focusing more heavily on access to health care, using catchphrases such as "Bans Off Our Bodies" and "Say Abortion," Hicks said.
MuNuvians
MeeNuvians
Polls! Polls! Polls!
Real Clear Politics
Gallup
Frequently Asked Questions
The (Almost) Complete Paul Anka Integrity Kick
Top Top Tens
Greatest Hitjobs
News/Chat