A Well Regulated ONT, Being Necessary To The Security Of A Free Blog
LAAADIES AND GENTLEMENNN! Hobos and tramps! Cross-eyed mosquitoes and bow-legged ants! I come before you to stand behind you to tell you something I know nothing about! Admission is free, so pay at the door! Pull up a chair and sit on the floor!
One bright day in the middle of the night, two dead boys arose to fight! Back to back they faced each other, drew swords and shot each other! A deaf policeman heard the noise and came to kill those two dead boys! If you don't believe this lie is true, just ask the blind man...he saw it too!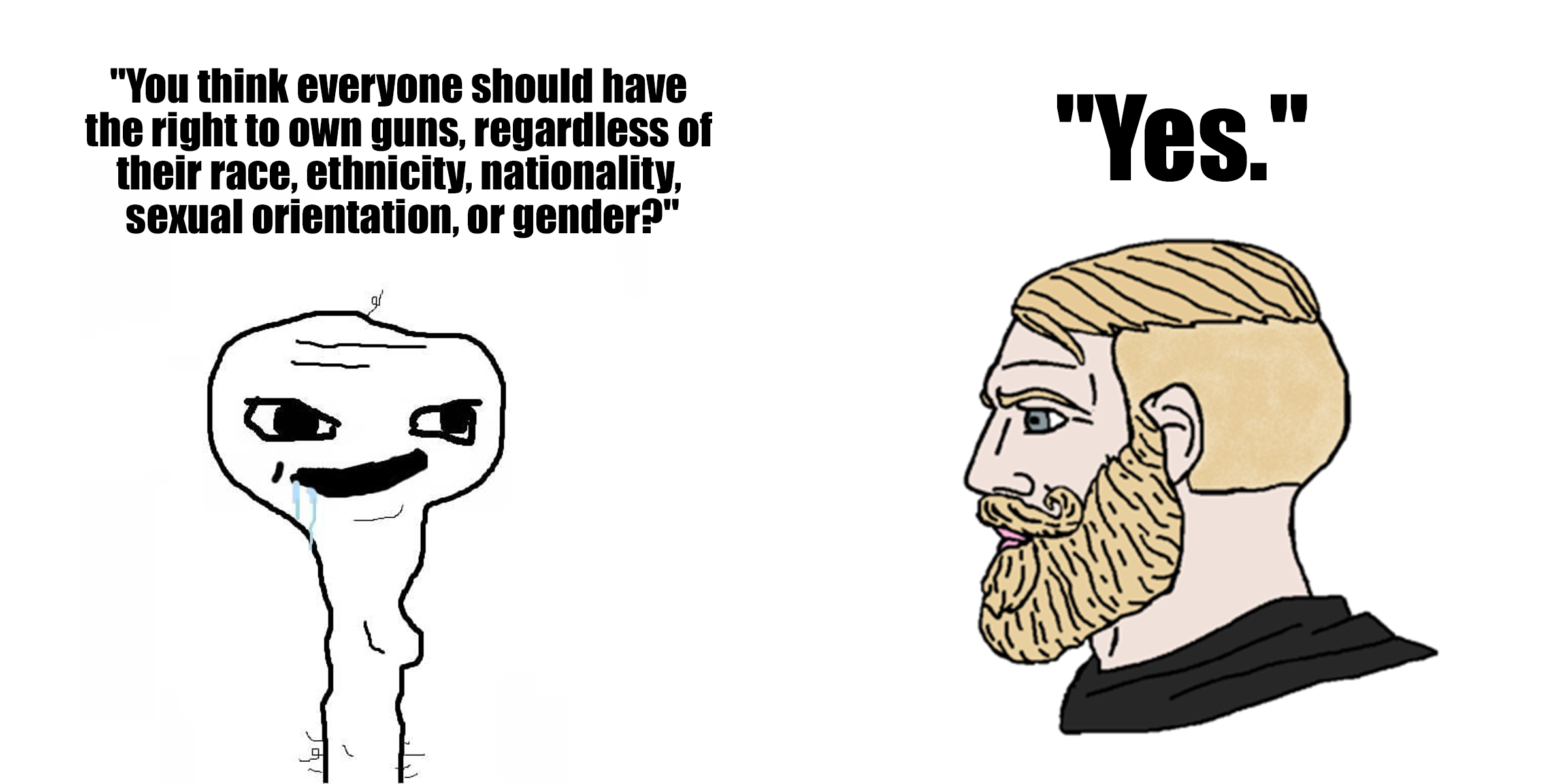 When I Was A Kid
I learned the opening from a family friend when I was about 10 years old. He was a teenager, and he was kind enough to keep repeating it to me while I wrote it down so I'd remember, then he was slightly annoyed that I'd managed to memorize it through his repetition while I was writing. Sadly he died of leukemia a few years later but Bruce, if you're looking down on this ONT, I still remember, all these years later. Speaking of being a kid, I was digging through some old, old, OLD files this week, and I came across this "dream house" that I designed when I was, I dunno, maybe 10-12. Couple of thoughts after the blueprint.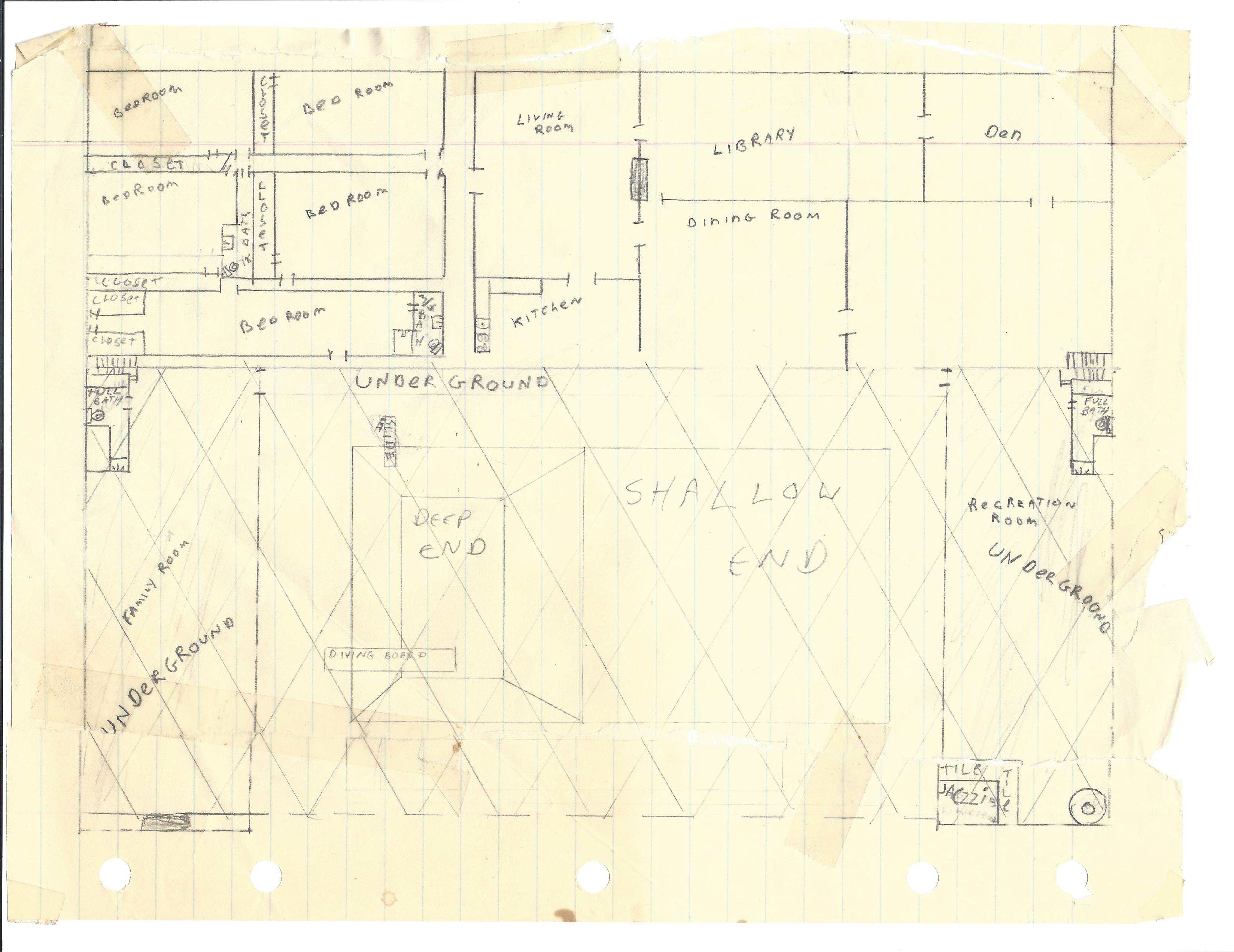 Right click and open in a new tab to embiggen
1) Why was I designing a ranch style house? I could do so much more if I added a second story.
2) That kitchen is WAY too small. Punch it out into the room labeled "dining room" and make the unlabeled space to the right the DR.
3) Library. Way cool. Hardwood paneling, a place to sit in my smoking jacket, sipping a tawny port while puffing a pipe and admiring my scantily clad wife basking in the warmth from the fireplace on the bearskin rug.
4) Not nearly enough bathrooms. And was I thinking of the long skinny bedroom as the master? At least I remembered closets. Wife is mad they're not walk-ins, but that's easy enough to fix.
5) Having an underground pool and pretty much all of the entertainment spaces be underground is way cool, although humidity and mold would be a problem.
6) I think I envisioned having a glass ceiling like the Louvre for the underground areas. Again, that would be way cool.
7) I have no idea what the nested circles in the bottom right are supposed to represent, but I suspect it might have been a 70s style floating fireplace.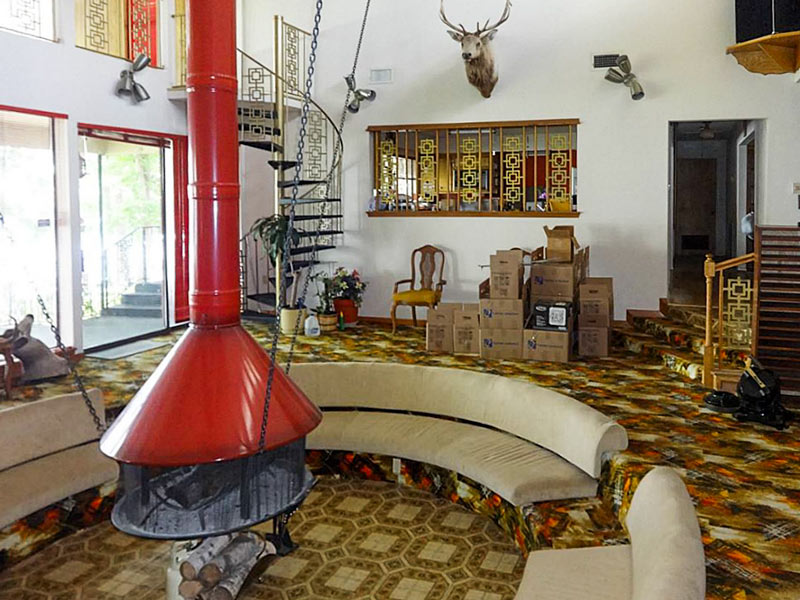 (And BTW, I still love mid-century modern. Maybe this is the genesis of that? I dunno.) 8 ) An underground pool. I know I'm repeating myself, but how cool is that?
9) There's not nearly enough storage space. And where is the garage?
10) I guarantee you the rec room would have been full of cabinet video games. As the Lord intended.
11) Anyone want to lend me hundreds of thousands of dollars to make this vision of Utopia a reality? So, what are some things you had/did/made as a kid that still seem cool today?
Thread Of Threads
Folks, if you come here because this is a smart military blog, you aren't going to want to skip this link:
Dreadnought Holiday
DH is a Twitter account that likes to dig deep into the stories around historical events, mostly nautical. Things like the time he Venezuelan patrol vessel Naiguatá was chopped in half by a cruise ship or when U-1206 sank because of a malfunctioning toilet. Whoever writes it is hilarious and demonstrates a Muldoon level genius with words. For example, this is how he concludes the later tale "However 46 men made it safely to shore, and the wreck of U-1206 was rediscovered in the 1970s. And it remains, as far as I know, the only vessel to have been sunk by the captain's log." The link goes to his "thread of threads" where you can scroll down and read all of the different threads he's done. Warning: This will be a giant time suck, but it's well worth it.
Guys, Airplane! Was A Parody
Transplant a success after donated heart retrieved from LA helicopter crash
There's video at the link, but it doesn't show the whole thing. They pull the heart from the wreck, a doc turns to rush it to surgery and trips, sending the heart skittering across the roof. Thankfully it was OK and the surgery was successful. Full video
here
.
V'ger
Record-Breaking Voyager Spacecraft Begin to Power Down
45 years into a planned 4 year mission, the first man-made objects to travel to interstellar space, Voyager 1 and 2 are still going. They have less computing power than your key fob and record their data on 8-track tapes before transmitting it through a transmitter that emits about as much energy as the light bulb in your refrigerator. Truly one of the most remarkable engineering feats mankind has ever pulled off. Godspeed little probes, just don't come back at the heart of a giant cloud and kill us all.
Engineering, Part II
New Penny Plan
Reduce by Six Pennies? Rand Paul Promises a Plan to Save America's Budget
I remember the original "penny plan". Now it's a six-penny plan. And it makes sense. None of that matters. Shaving six cents off of every dollar the Federal Government spends could balance the budget in 5 years and pay off a huge chunk of the debt in 15. They'll never do it. They are
institutionally
incapable of even considering shrinking the budget, they'd try to breathe water first. I could do it. You could do it. The government? No chance in hell. (Cue Monty's Doom posts)
Doom, Part II
A Tyranny Brews In Washington
This is a variation on a theme to chill speech that the ruling class and party don't like. This administration has already asked the private sector to be its agent in censorship. Before that, congressional Democrats were using hearings "to exert control over the content on these online platforms," independent journalist Glenn Greenwald wrote last year, because they wanted the country to believe that "misinformation and disinformation" was "plaguing online platforms." The First Amendment doesn't specify what speech can and cannot be uttered, and says no law can be made to abridge it. The Democrats want to circumvent this protection by using the executive branch and private companies to purge opinions, comments, and information that threaten their power. We make no apologies in saying that this is tyranny.
Related:
Saying The Quiet Part Out Loud
Can Ron DeSantis Displace Donald Trump as the G.O.P.'s Combatant-in-Chief?
The article is from the New Yorker, but what I found most interesting was this passage:
"There was always an element of the Republican Party that was batshit crazy," Mac Stipanovich, the chief of staff to Governor Bob Martinez, a moderate Republican, told me. "They had lots of different names—they were John Birchers, they were 'movement conservatives,' they were the religious right. And we did what every other Republican candidate did: we exploited them. We got them to the polls. We talked about abortion. We promised—and we did nothing. They could grumble, but their choices were limited. "So what happened?" Stipanovich continued. "Trump opened Pandora's box and let them out. And all the nasty stuff that was in the underbelly of American politics got a voice. What was thirty-five per cent of the Republican Party is now eighty-five per cent. And it's too late to turn back."
"He just...said it out loud. 50+ years of gaslighting our base and he just...said it out loud" - GOPe, probably
Who Would Have Thought The Old Man To Have So Much Blood In Him
Content Warning: Graphic
Video from a robbery. The robber is hit immediately, and not just a glancing wound, it's an arterial shot. And he still keeps fighting and stays mobile for a good 20 seconds before he does the right thing and lays down and dies.
Survival Tips
Most Important Survival Facts Its Never Too Late To Learn
From "Don't punch a shark in the nose" to "Dandelions are edible", it's a mixed bag. Some good stuff in there, however.
Question Of The Day
What is something that you do that almost nobody else does, but it makes perfect sense. I'll start. I eat baked potatoes with a spoon. After you've mixed in all the butter, salt, pepper and other good stuff, you're scooping that delicious potato flesh into your mouth. Why not use the utensil that is a scoop? Everyone else seems to use their fork, however. Any of you have something similar that you seem to be the only one doing?
Tonight's ONT has been brought to you by, as the kids these days say, "an absolute King":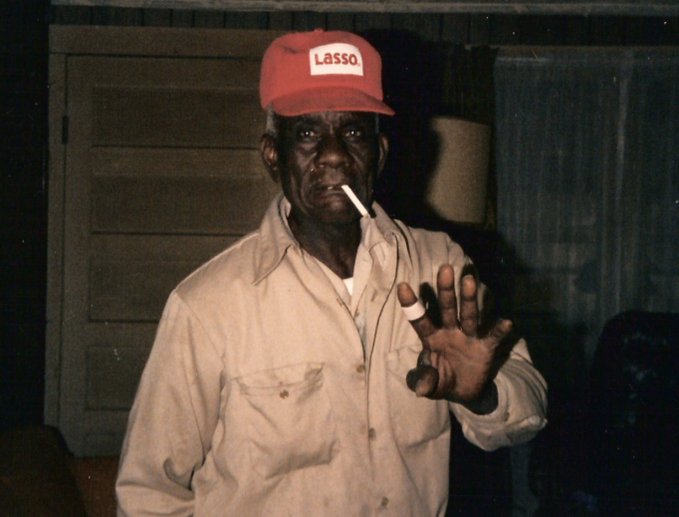 His grandson will tell you I'm right.
Posted by: WeirdDave at
09:55 PM