Ace of Spades Pet Thread, June 11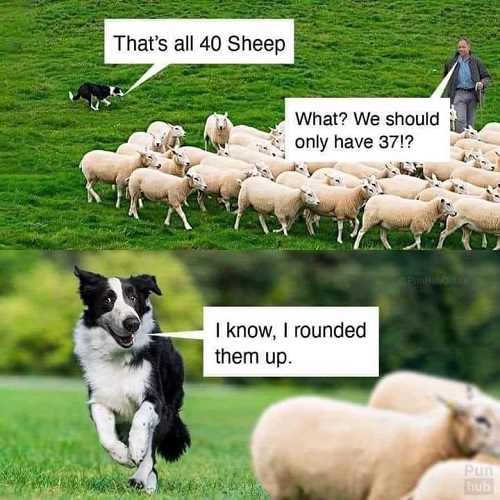 * * *
Good afternoon and welcome to this weekly respite from most of the outside "civilized" world --
the Ace of Spades Pet Thread.
Thanks for stopping by. Ask someone for a treat, kick back and enjoy the world of animals. Reminder:
For current events and politics, the Thread before the Gardening Thread (a couple of threads below) is almost always an Open Thread.
* * *
Intellectual Pets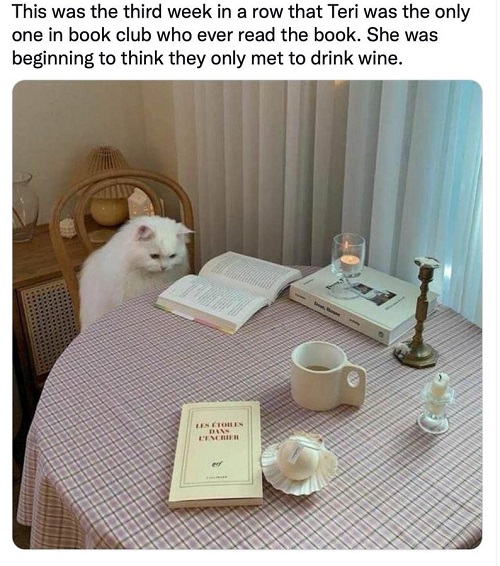 From
Cat Food Breath.
* * *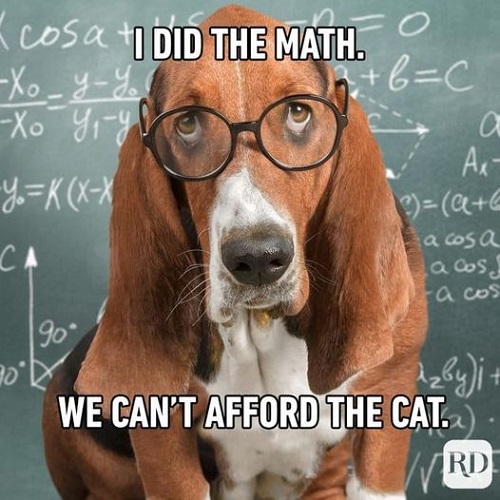 h/t
Misanthropic Humanitarian
* * *
Cat subjected to civilization
News anchor meets swimming cat
* * *
Meet The PetMorons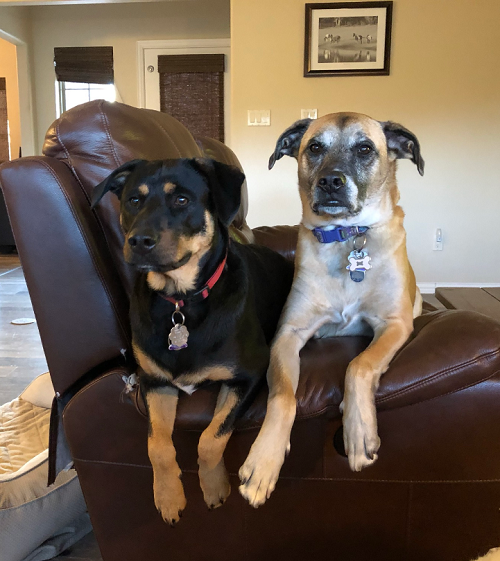 Here are Maggy (Yellow Dog Two) and Molly (Black Dog Three) submitted by Mister Scott. We had to color code the dogs for our BIL who had a stroke and can't remember names.
They look like sweethearts. I might remember their color codes better than their names, too.
* * *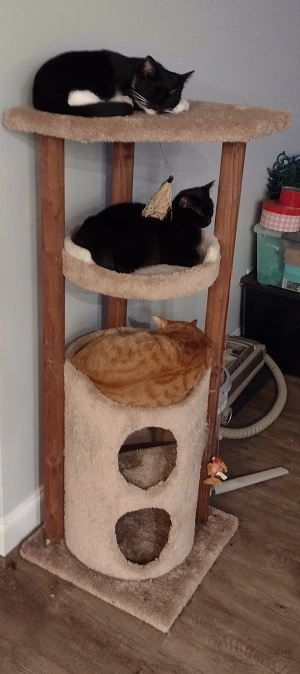 &&&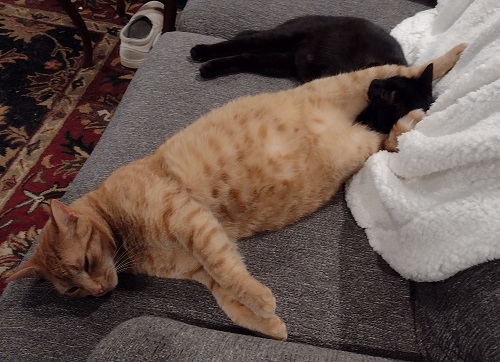 &&&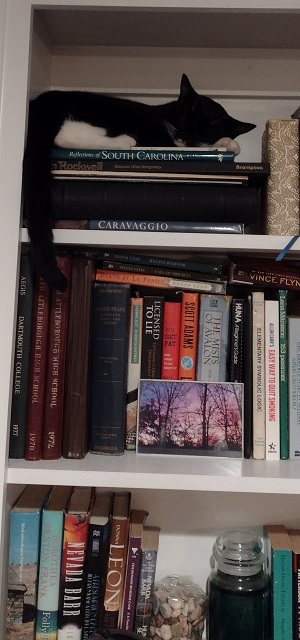 Hi KT, Thought I'd share a few photos of the cats at Chez Publius. The first is a photo of all 3 in their accustomed places on the cat tree. Lower level is Jake the Uncouth, a ginger who weighs in at 17 pounds and is crammed into that space, but he likes it. Mid level is Della, who fell in love with Jake the first time she met him (and she weighed only 1 1/2 lbs at the time). They have a weird relationship. He won't allow her to suck his nipples anymore, but is otherwise indulgent. On top is Purry Mason, aka the Purrbox (a tuxedo cat), in one of his favorite spots. The second photo is an illustration of The Jake-Della thing, and the third is Purry getting really high. Since that photo was taken, I've had to remove all of the books on that shelf to give him room. The Pet Thread was a fabulous idea. Thanks for maintaining it! While the head Ewok does the lion's share of making it all happen, the and it wouldn't happen without cobs who are willing to donate the time and attention. Miley the Duchess and Publius
What personalities!
* * *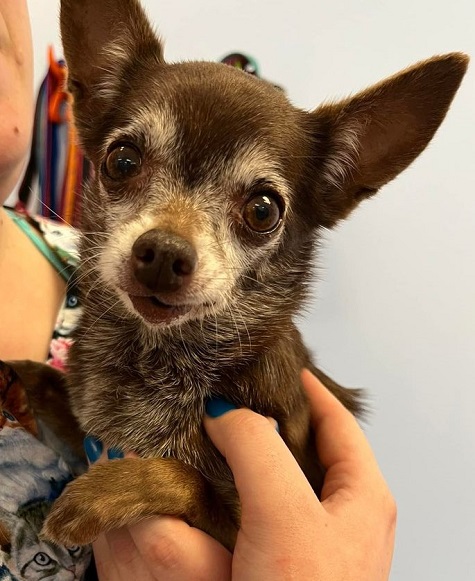 &&&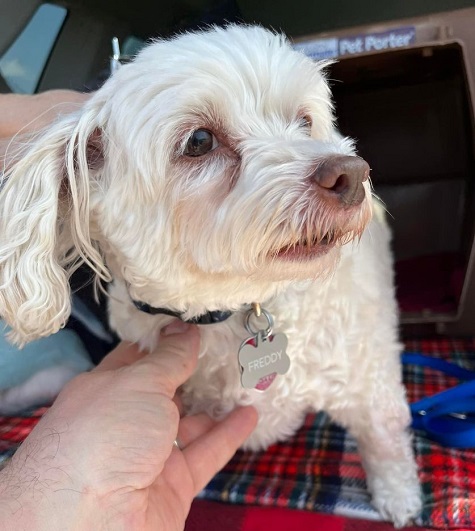 From
Jewells:
We got 2 new pups a few weeks ago. Jelly Bean is a 10 year old chihuahua and she may only be 6 pounds but she is full of spunk! She was surrendered after her owner had to enter a nursing home. She only has one tooth left lol! She's very sweet but when she starts singing the song of her people she can be LOUD! Then we have Freddy a Bichon mix who is 13 years old. Her owner got cancer and could not take care of him anymore. He's a sweet boy who craves attention. They both seem to be settling in at Shep's and in fact we may already have a home for Jelly Bean.
Yay for cute little dogs finding new homes!
* * *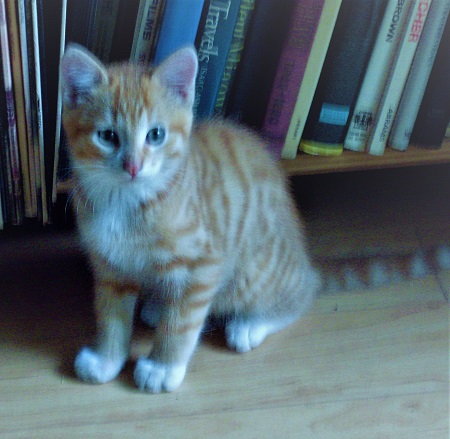 &&&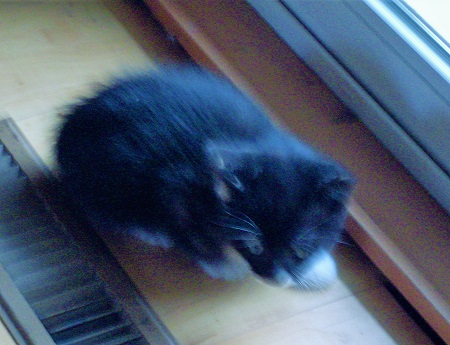 &&&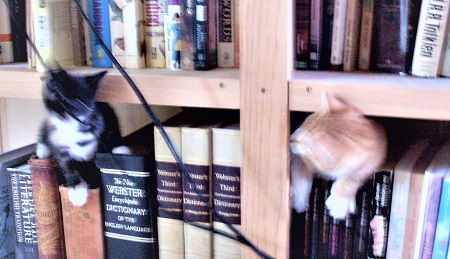 Photos are a little blurry, but you try photographing kittens. So, I haven't been a kitty daddy for nearly five years, and my friends kept urging me to get a cat. Well, recently, the barn cats of a friend of a friend littered, and I committed to getting the brother and sister. I was informed that someone else had made a prior request, maybe, about the cats. Since the kittens were in an indeterminate state, I decided that, if I got them, I would name the boy kitty Schroedinger and the girl kitty Madame Curie (aka "Maddie"). I learned that the other people had bowed out but that, alas, Schroedinger's sister had died. Fortunately, there was another litter a couple of weeks younger, composed of Schroedinger's cousins, so I picked a female out of that litter. They've been here six days as of this writing and are charming and active. Schroedinger is the robust orange kitty who is really into roughhousing. Maddie, the teeny black calico half his size, gives as good as she gets. And, as you can see from the library photo, they both into books. Captain Obvious
More intellectual pets! And they are just babies!
* * *
Love those PetMorons! Thank you for sharing your pets with us. We have a few more left for next week.
If you would like to send pet and/or animal stories, links, etc. for the Ace of Spades Pet Thread, the address is: petmorons at protonmail dot com
Remember to include the nic or name by which you wish to be known at AoSHQ, or let us know if you want to remain a lurker.
Until next Saturday, have a great week!
* * *
If you start feeling nostalgic, here a link to
last week's Pet Thread, June 4.
It includes a great story about the recovery of a lost PetMoron, some other great pet photos and stories, and some memes about pets who sometimes annoy. Heh. The comments are closed now so you won't accidentally ban yourself by trying to comment on a week-old thread, but don't try it anyway.
Posted by: K.T. at
03:18 PM