Gardening, Puttering and Adventure Thread, June 11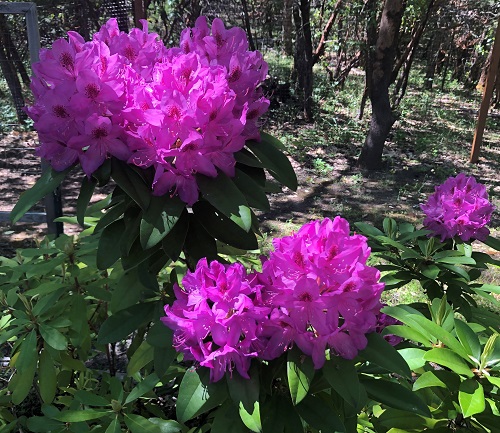 Welcome to the Gardening Thread!. The photo of Rhododendrons in part shade looks inviting to me today, with our forecast of 104 degrees. How is the weather treating your
garden?
The photo above, and the two below, are from
Halfhand:
Spring is in full swing here in southern Oregon.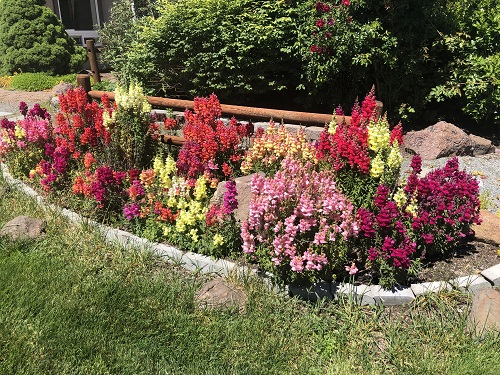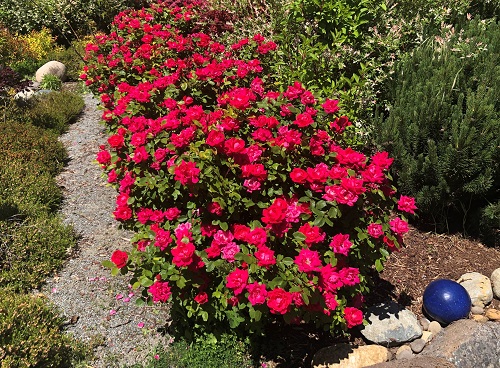 Edible Gardening
Dear K.T., Here in Kenosha, in SW Wisconsin, it's been an unusually cool, grey
spring. But with the calendar flipping over to June, we're now having
days of bright, warm sun, made pleasant by the cool breezes off Lake
Michigan. In my backyard, the fruit trees and plants have set very
nicely, with what promises to be nice crops of peaches, pears,
raspberries and strawberries. I've attached a photo of some infant pears
and strawberries; the berries should be ready to eat by Independence
Day, and the pears will need until late September to be ready. As for
the peaches, this is my first go-round with them, so I'm not sure;
perhaps late July. My next job is to spread polypropylene mesh over them
all, to keep the birds and the tree rats from feasting on the fruits and
berries. Regards, Nemo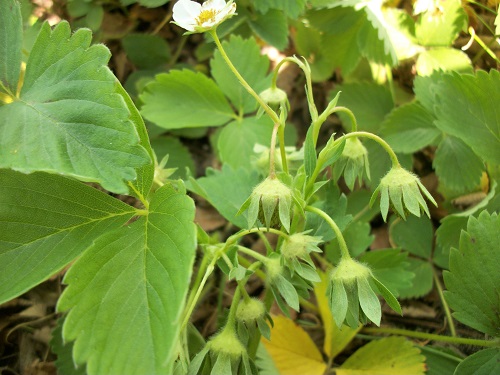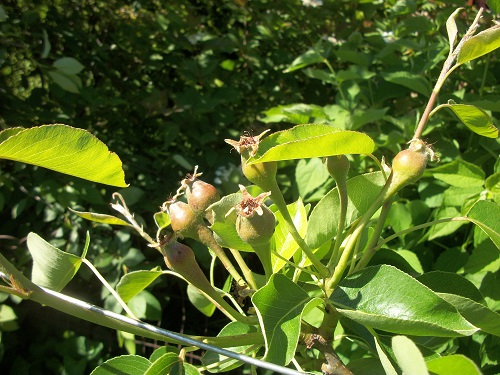 NICE.
Wildlife
Back at the end of April,
Naughty Pine
sent in a photo of an Eastern Gray Squirrel (a black one) that has taken up residence, serving as a substitute thosta rake. Here is the squirrel again, ready for action: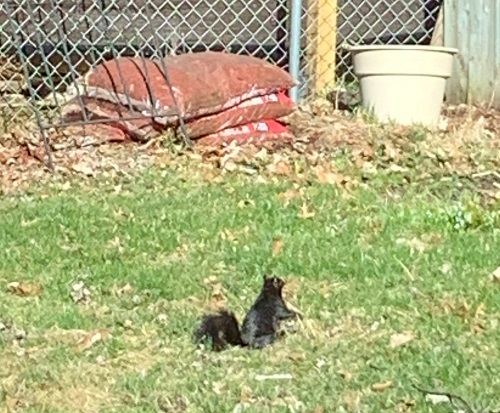 Preparedness
Not everyone has positive experiences with rodents in the yard. Last week,
Farmer
wrote this in the comments:
Late as usual, but I'll still share my frustrations. Some d--- critter ate all my planted taters out of the VegTrug, I suspect a ground squirrel that lives in our gravel driveway. Then something was eating my sweet corn as it sprouted. I'm trying the square foot gardening thing w/ sweet corn. I miss growing it from when I farmed so this is an experiment, as we have little room here w/ sufficient sun. There's enough left to pollinate so this may work.
For those frustrated by squirrels, this is one possibility: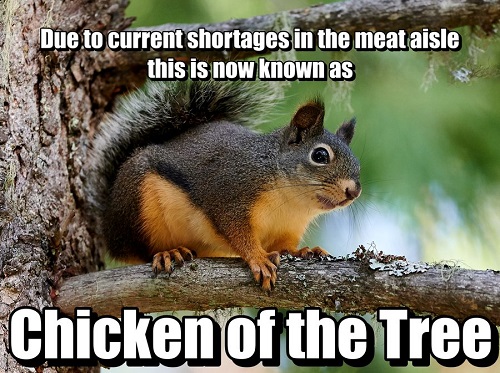 Got a recipe? Any other preparedness or preservation tips to share this week?
Rodent Pests
We have had some problems with rodent pests over the years - ground squirrels and gophers in particular. Something ate the wiring in our truck. We think some sort of rodent took up residence in a nearby over-grown rosemary hedge, which we planted because it is gopher-resistant. Avoid one rodent, attract another. Anyway, not long ago, our wonderful Garden Kitty, Jack of Spades, brought us a vole as an offering. A big, fat one. It looked quite a bit like the rodent caught by the blue heron in
last week's thread.
Voles look a lot like mice or rats, but have short tails. Pest of the Week - Voles Got voles? Here are some tips from people who have struggled to control them.
Plants voles will avoid
How to protect flower bulbs from voles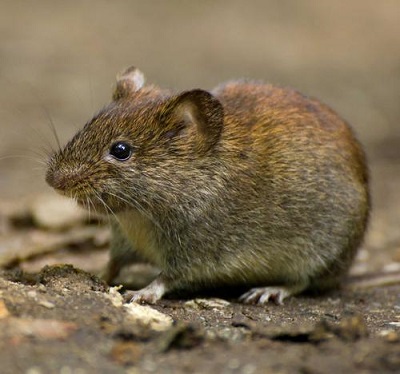 California meadow voles:
a sustainable gardener's nightmare
Garden control methods for voles
Young voles reach maturity at one month of age and can have up to 10 litters a year with five to 10 in each litter. They can multiply very quickly if they find an area that can provide enough food. To avoid predators, voles limit their time above ground by burrowing near the base of a plant and feasting on the roots until there is nothing left. Voles can live from two to 16 months. Pine voles or woodland voles nest underground and meadow voles nest above ground.
Environmental Benefits Although voles can be pests, they do have a role in nature. Their habits and behaviors ensure that nutrients are spread and integrated into the upper layers of soil. Mycorrhizal fungi, a soil nutrient, is dispersed by the vole. Voles are a food source for many predatory birds, snakes, foxes, and cats.
Puttering Adventure
From
Tom Servo:
I know this isn't gardening, and it doesn't really fit the subject matter. But I don't
know who to ask about these photos of a very unusual fossil I found on the banks
of the Trinity River, in an Austin Chalk bed full of ammonites and echinoids. I'm not bad at identifying fossils, having hunted them many times, but this has
me stumped; I cannot identify it at all. As you can see it looks like it is made of
hundreds of tiny tubes (see the detail on the end) but it does not look like any
bone I've ever seen. tiny worms? plants? From where I found it, I know it's
cretaceous, but that's as far as I can go.
Anybody have some clues for Tom?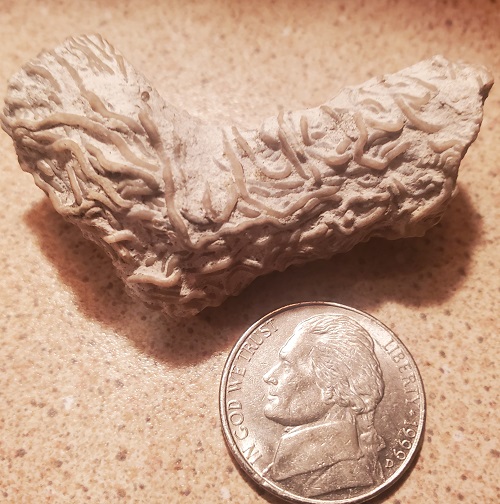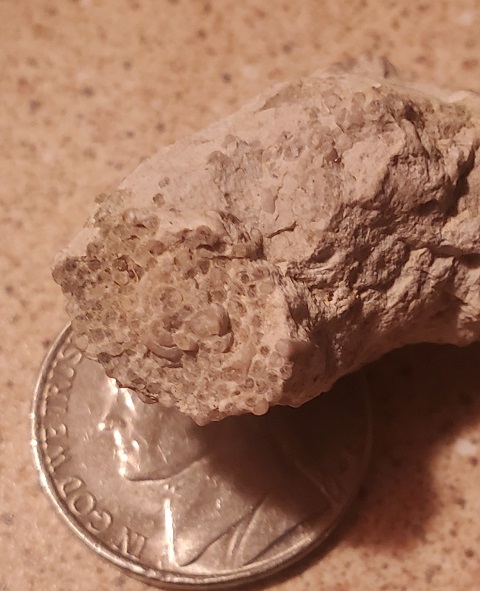 Gardens of The Horde
From
Rodent
Good morning KT Usually a lurker but have sent in some pics in the past. Spring is here in Southern New Hampshire. A few shots from around the yard. I don't know the name of all these and Mrs. R is the main gardener, but I'm hoping to get wiser with each Ace gardening thread :-) Thanks for doing that and all the other threads. Much appreciated.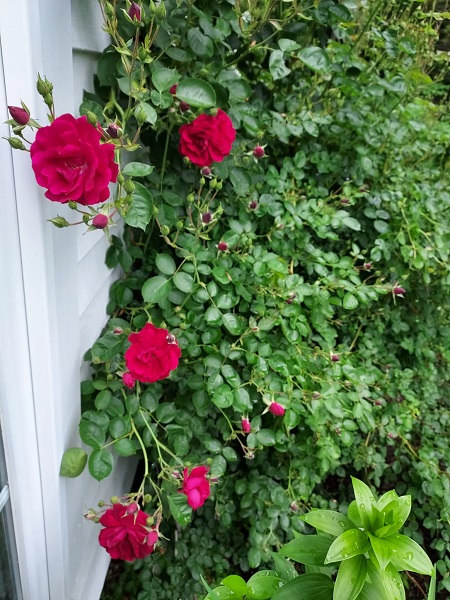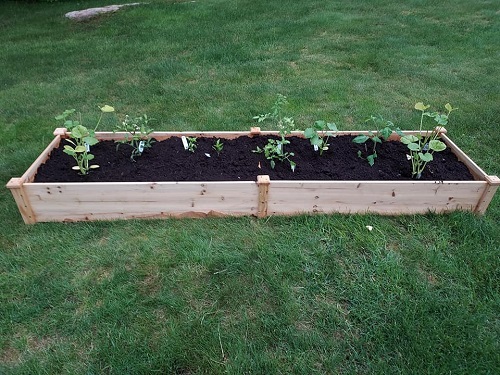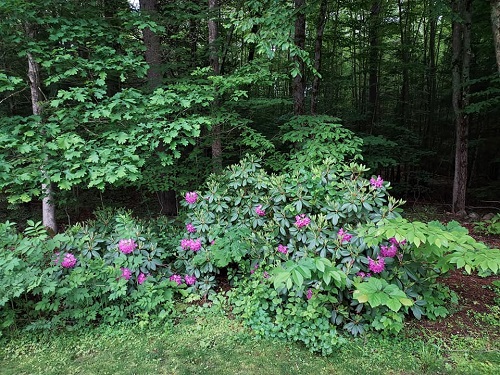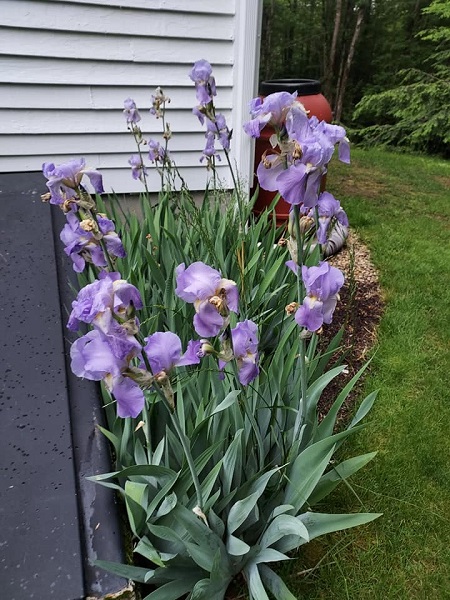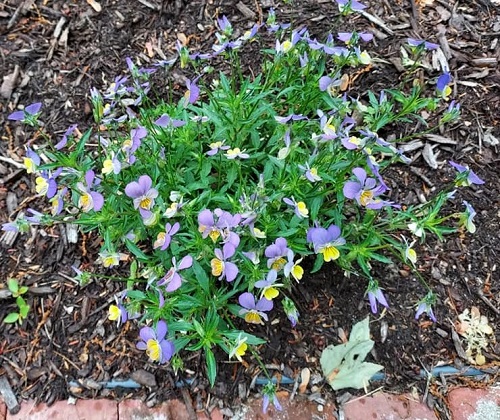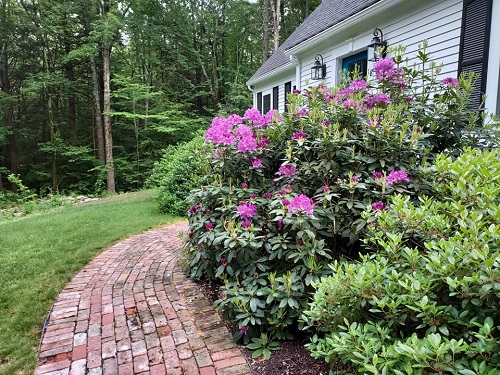 Beautiful plants, yard and brickwork, Rodent! Regards to your wife. What's growing in
your
garden?
Hope everyone has a nice Weekend.
If you didn't see your photos here today, check again next week.
If you would like to send photos, stories, links, etc. for the Saturday Gardening, Puttering and Adventure Thread, the address is:
ktinthegarden at g mail dot com
Remember to include the nic or name by which you wish to be known at AoSHQ, or let us know if you want to remain a lurker.
Week in Review What has changed since last week's thread?
June 4,
featuring Capers in Israel, Allium and Lilacs in Kansas, Asian Jumping Worms, a Blue Heron hunting in San Francisco, an interesting garden technique in Oregon and wild-ish Irises. Late in the comments, we learned about making garden-fresh Green Goddess Dressing, a bumper crop of strawberries (mmmmm), future blueberries and frustrating losses, probably to ground squirrels or other rodents. Any thoughts or questions? The comments here are closed so you won't get banned for commenting on a week-old post, but don't try it anyway.
Posted by: K.T. at
01:21 PM