Plot Twist: Dave Chappelle's Attacker Is LGBT Zealot Who Was "Triggered" By His Jokes
I do notice that this information was withheld from us for 20 days. It's only coming out now because the criminal assailant, who attacked Chappelle wielding a knife, is talking to the press about his Heroic attack.
Obviously the Soros DA Gascon knew the motivation here and this character's backstory. But it was all kept quiet as a state secret. Some hate crimes, we just don't talk about.

Dave Chappelle attacker Isaiah Lee breaks his silence and reveals he was 'triggered' by jokes about the LGBTQ community and homelessness when he tackled comedian on stage Isaiah Lee, 23, stormed the stage on May 3 in Los Angeles during a standup show by Dave Chappelle, and attempted to tackle the comedian to the ground Lee was arrested and charged with felony assault with a deadly weapon, having carried a flick knife onto the stage On Sunday Lee told The New York Post, from jail, that he was 'triggered' by Chappelle's jokes about gay people He said he was also angered by Chappelle's jokes about homeless people, saying: 'It's a struggle and I wanted Dave Chappelle to know it's not a joke'

Ah. So that makes it a
terroristic
attack, an attack designed to threaten someone away from doing or saying something they have a legal right to do or say. The Soros DA Gason refused to charge the terroristic knife-attacker with a felony, of course, instead charging him with mere misdemeanor.
Isaiah Lee, 23, was charged with four misdemeanors after the May 3 attack -- battery, possession of a weapon with intent to assault, unauthorized access to the stage area during a performance and commission of an act that delays the event or interferes with the performer.
Wow, really throwing the book at him. I notice the felony of "assault with a deadly weapon" isn't on there. A knife is a deadly weapon, right? And not just "a weapon"?
... On Sunday, Lee told The New York Post that he was not amused by Chappelle's repartee. 'I identify as bisexual and I wanted him to know what he said was triggering,' Lee said Saturday at the Twin Towers Correctional Facility in Los Angeles. 'I wanted him to know that next time, he should consider first running his material by people it could affect.'
If convicted, Lee would only see up to 18 months in prison. Lee's attorney says he shouldn't be sentenced to too much time. He claims that while he was armed with the knife, he didn't ever "brandish" or "wield" it. Is that true? Maybe that's true. If that's true, maybe Gascon has a decent reason to not charge him with assault with a deadly weapon. But I don't know that's true. That's just Lee's attorney claiming that. The LGBT community is enraged. Or, at least the Very Online and Very Noisy and Very Complainey parts of the LGBT community. Not because one of their members committed a terroristic attack on a
black
comedian for jokes he didn't like. No, they're enraged, again, because the Bad Black Man told another joke they didn't like. The joke was about the knife that Chappelle's assailant terroristically attacked him with. You have probably heard it was a fake gun with a knife attached. You may also have wondered, like I did: What the hell is
that
? Apparently it's this, as seen in a photo from the LA Police: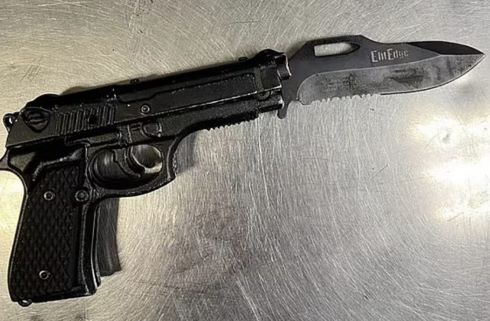 It's described as a "flick-knife." I'm 99.99% certain the blade tucks under and is hidden in the barrel of the "gun," and flicks out into the open position with the touch of a button. "Tucks under." Remember that, it will be important in the next sentences. Chapelle was a guest at a John Mulaney show, and he made this Forbidden Joke:

Frank J. Fleming
@IMAO_ Apparently the joke Dave Chappelle said that is causing people to fall on their fainting couches is him saying he was attacked with a gun that identified as a knife.

Oh dear! You can understand the
rage
that could inspire! Frank Fleming notes that leftwing outlets stirred outrage about the outrageously outrageous joke Chappelle told... but left that joke conveniently untold, so that people could imagine that it was something horrible, instead of "he had a knife that identified as a gun."

Frank J. Fleming
@IMAO_ It was interesting how many articles I read that didn't mention the joke. You're just supposed to trust the hysterical ninnies that something really bad happened.
Indeed, this
Variety article keeps the Horrible Vile Joke a secret.
Chappelle's opening set occurred during a show at Ohio State University's Value City Arena in Columbus, Ohio. Although there is no footage from the event, as attendees were required to lock their phones up beforehand, several audience members took to social media afterwards to criticize the show. According to attendees, Chappelle appeared as a surprise opener, and told jokes targeting the transgender community. Mulaney reportedly came onstage and hugged Chappelle at the conclusion of the opening set. Some fans in the crowd expressed their disappointment after the show on Twitter:


rylan
@testosteronejew my favorite part of tonight was when dave chappelle ambushed us at the john mulaney show, told a bunch of transphobic jokes, a massive stadium of people laughed, and then john mulaney hugged him at the end

rae (spookiest version)
@raegan_givant y'all ever hear ~12,000 people laugh at a transphobic joke, while you're a trans person in the audience who didn't know the transphobic comedian would make a surprise appearance at the John Mulaney show? yeah. wasn't fun. fuck you D.C.

maddie
@boobeoisie okay so tell me why I just went to the John Mulaney show and Dave Chappelle was a surprise opener and made not only a transphobic joke but a homophobic one
Are you guys okay? Do you need Therapy Play-Doh and adult coloring books? All this talk of "targeting" and "ambushing" -- not a mention of the LGBT maniac who literally targeted and ambushed Chappelle armed with a knife just 20 days ago. But no,
they're
"targeted" and "ambushed." They're also angry at Mulaney for platforming Chapelle:
k a t h e r i n e ?
@sapphoswamp John Mulaney deadass built his career thanks to queer teens/young adults turning his comedy into common quotes and memes, and he turns around and shits in their faces by bringing Dave Chappelle to one of his shows, tacitly endorsing his comedy and jokes
Yes, John Mulaney owes his career to "queer teens/young adults" repeating his jokes on Twitter. It's not that his jokes were so funny that people just started repeating them. It's that "queer teens/young adults" repeated them, which made them funny.
Great Hera's Sideboob, get the f*** over yourselves already. By this logic, I owe my career to Jonah Goldberg. The media is literally creating the moral panic that will set off the next lunatic to attack Chappelle or another comedian. (Or a politician.) And that one will probably succeed.