You Need a Way to Better Yourself: Dan Crenshaw Made the Fifth Best Rate of Return Off Stock Trades In Congress, Narrowly Beating... Nancy Pelosi
Nancy Pelosi has come under fire for her excellent powers of market forecasting. Why, it's almost as if she knows market-moving information before the market does!
But just ahead of her --
everyone's favorite fork-tongued neocon, Dan Crenshaw.
Rep. Dan Crenshaw (R-Houston) did pretty well for himself in 2021, financially speaking. According to a new report from Unusual Whales, Crenshaw's trading netted the fifth-highest rate of return among members of Congress, narrowly edging out House Speaker Nancy Pelosi. A total of 35 members of Congress got returns greater than the SPDR S&P 500 Trust ETF (SPY), essentially meaning they beat the market.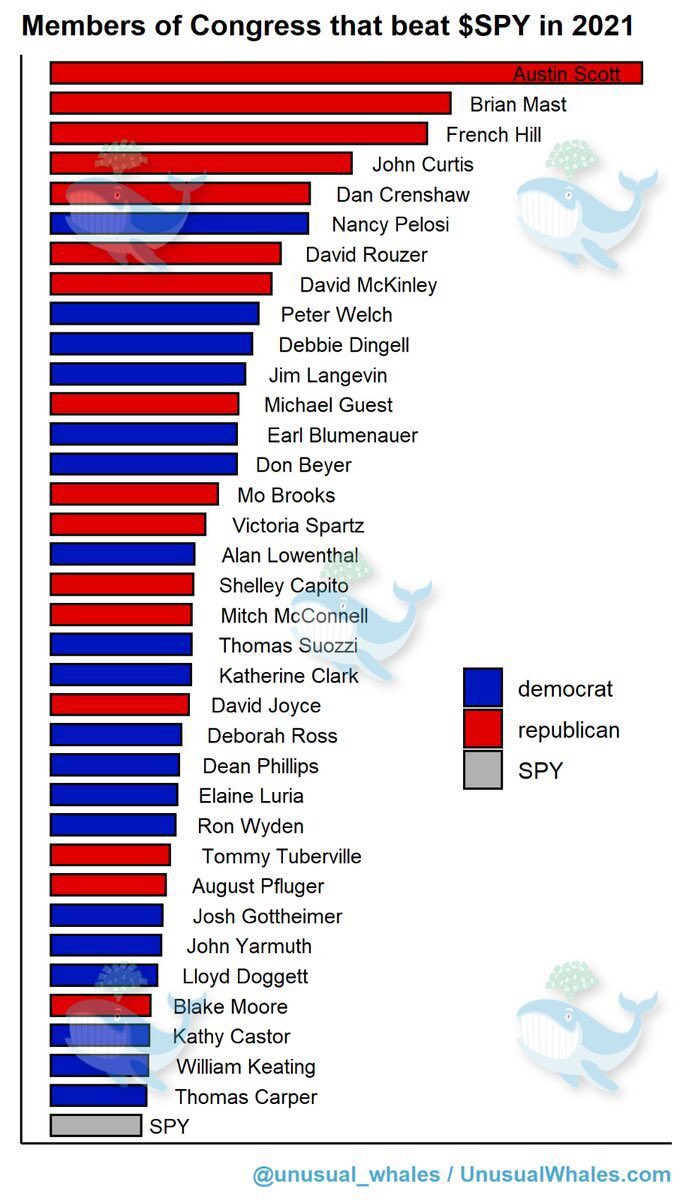 Note this measures rate of return, percentage gained over what was invested. It is not
total money earned.
I'm sure Nancy Pelosi, with all her ill-gotten millions (that we know about...) absolutely trounces Crenshaw in terms of gross dollars won at the market.
Crenshaw has gotten in hot water over stock trading before. In March of 2020, he made half a dozen buys while the country went into lockdown and Congress debated and wrote the largest economic stimulus package in history. This included purchasing stock in Boeing, a company that successfully lobbied for billions of dollars from the CARES Act. Crenshaw was on the House committees for Budget and Homeland Security at the time. More significantly, Crenshaw failed to disclose these trades for months, which is a violation of the STOCK Act.
The leftwing Daily Beast
reports further:
Rep. Dan Crenshaw (R-TX) did not buy or sell any stocks in his first 13 months as a congressman. That changed in March 2020, when he made half a dozen buys as the largest economic relief package in history was written and debated. Five of those purchases came in the three days between March 25 and 27, as the Senate and House voted on the CARES Act and former President Trump signed it into law. Crenshaw, who supported the bill, did not initially disclose the transactions, in violation of the STOCK Act, a law that requires members of Congress to tell the public when they engage in securities trades. Months later he amended his records to reflect the purchases. The trades, which are listed only in a range of values, add up to a maximum of $120,000, and do not compare in size or volume to the kinds of headline-grabbing transactions executed ahead of the pandemic by Sens. Kelly Loeffler and David Perdue. They only appeared in December, when Crenshaw amended his annual report, originally submitted in August. "You're referencing financial disclosures that use a range to report stock purchases, and you're choosing the upper end of the range to come up with that $120,000 figure," Justin Discigil, Crenshaw's communications director, told the Daily Beast in an email. "The real number is around $30,000 at most," Discigil said, and "in no way were his purchases unethical or related to official business." The timing, however, along with Crenshaw's own trading history and connections to the industry, raises questions about why he made the purchases and failed, twice, to disclose them.
Congressmen should not be allowed to invest in individual stocks. I'd go one step further and say that there should be periods of financial stress, or when major spending bills are being discussed, where some outside arbiter declares a moratorium on
all
market activity by congressmen and their money managers. So, say, during a the negotiations on a spending bill, a moratorium of say ninety days would be declared where congressmen's positions would be frozen. Now, this is not that huge of a story. Crenshaw claims he didn't invest all that much, and further, one can say: Sometimes an investor just picks stocks wisely. And sometimes he just gets lucky. Well, maybe. But it gives you an insight into Crenshaw's very pro-elite, Protect The Swamp mindset to hear him answering questions about this. He is willing to grudgingly allow that "it would be fine" if Congressmen should be allowed to invest in individual stocks, though he'd be "neutral" on it. But then goes on to say these amazing things: 1) He complains that Congressmen aren't paid enough, complaining that the public won't allow them to give themselves a pay raise and there is no "housing stipend" so they have to pay rents in two different locations. And he says that if you don't give them these things, only "millionaires and billionaires" will run for Congress. Okay, fair enough, but... wait, you're saying you're forced to play the market because of this? And you're not sold on banning investing in individual stocks, for which you might have special insider knowledge, based on this? And then he says, continuing his explanation for why we might be against banning investing in individual stocks:
2)
"You (a Congressman) have no way to better yourself."
So... either raise a Congressmens' salaries, or continue allowing them to invest in individual stocks in which they might have special insider knowledge so that they can "better themselves"? Is there another plausible way to read that other than, "Without increased salaries and other benefits, we need to resort to the work-around of giving ourselves our own raises by playing the market with some insider knowledge?" If he didn't have insider knowledge, there'd be no reason to not just put money into indexes and broad-based money markets. Individual stocks are where you'd want to invest if you had special information or "little hunches" or "intuitions." And he's saying we've got to let Congressmen keep playing their "hunches and intuitions,"
or
give them raises. One or the other. I just don't see how someone can read this except in the way I suggest. Crenshaw himself draws the lines between the dots himself.
By the way, I keep saying they "
may
have special insider information." That's way too generous. First of all, they always have tons of special insider information; they're always getting nonpublic briefings. Second of all, they're always talking to industry people who are giving them valuable information. This information may not technically be of the protected "insider information" type, but the only reason they're getting the Insider View of the industry is
due to their position as public officials
, which they're then using to screw other members of the public not so fortunate as to have constant high-level financial and industrial intelligence briefed to them. Third of all, they
always
have possession of one of the greatest kinds of insider information there is: the sense of what Congress is going to do about a perceived problem, or what it's going to spend. No, they don't always know exact dollar figures for spending bills or whether every regulatory bill will pass and in what form, but they definitely
do
have an advanced sense that "X reform is going to pass this time" or "the airlines aren't going to get near what they want from this bailout" or "there's no way the Republicans will block a big spending bill if it's called 'covid relief.'" And they're making trades armed with all that information. And Crenshaw thinks he and his fellow Insiders should be permitted to continue doing so, so they have a way to Better Themselves -- unless you compensate them by paying them higher salaries.
Some might wonder if there's some kind of op, or hit, on Crenshaw. I wondered that too. I don't know. It feels organic to me -- he's just said a lot of stupid shit that reveals his true character lately, and he's made enough enemies on the right that we're eager to make issue of this stuff rather than covering for him. But who knows, maybe there is someone advancing this. If so: Cheers, mate. I don't really care if he's primaried. We have a lot of really terrible congressmen, and most of them are in the leadership. I just want him scorched enough that he is too radioactive to be a viable Senate or Vice Presidential candidate or, God forbid, Presidential candidate, which is of course what he's got his eye fixed on.
More on
Congress giving itself Backdoor Raises through trading on stocks (for which they certainly have special insider knowledge) from Unusual Whales).
Here's their summary, more details at the link:
Hundreds of millions of dollars have been exchanged on the stock market by our elected officials in 2021 alone In just equities, Congress bought and sold nearly $290 million throughout the year.
In 2021, Congress beat the market! This report shows which sectors were preferred by each party and branch, oftentimes huge trade amounts could be attributed to one or two members. Big legislative events (such as the Infrastructure Bill getting passed by the Senate) were often preceded by politicians trading in the sectors affected. There were tons of unusual trades where politicians made millions of dollars. Congress has 45 days to disclose trades to the public, sometimes they are late and you can see a list of late disclosures here! Some politicians held securities in the sectors they vocally expressed support for (such as Senators holding cryptocurrencies while drafting crypto regulations).
Oh, and even Nancy Pelosi, who previously refused to even consider a ban on congressmen "bettering themselves" through investment in individual stocks, now allows that maybe it would be okay as she's about to retire: