NBC News: "Conservative Activists" (Parents) Want the Schools (Government Agencies) to Disclose Their Lessons Plans (Government-Created Materials). But That's Bad.
The Media Faction is actually now arguing that the Government Has Privacy Rights and should be allowed to keep secrets from citizens.
They're literally arguing that parents should be forced -- by threat of violence -- to fund schools, but that schools should then conduct their business in secret, protected from parents' prying eyes. This. Cannot. Last.
They fought critical race theory. Now they're focusing on 'curriculum transparency.'
Conservative activists want schools to post lesson plans online, but free speech advocates warn such policies could lead to more censorship in K-12 schools.

Art caption:
Some conservative activists say the curriculum transparency effort is a potent strategic move to expose and root out progressive ideas from schools
So you're admitting conservatives are attempting to de-politicize the politicization already effected by your fellow progressives? Oh, of course they're not admitting that; in any question like this, they immediately default to the claim that "the truth has a progressive bias." Progressivism belongs in the schools because progressive politics
is
The Science.
Lawmakers in at least 12 states have introduced legislation to require schools to post lists of all of their teaching materials online, including books, articles and videos. The governors of Arizona, Florida and Iowa, who have previously raised concerns about how teachers discuss racism's impact on politics and society, called for curriculum transparency laws in speeches to their legislatures this month. "Florida law should provide parents with the right to review the curriculum used in their children's schools," Florida Gov. Ron DeSantis, a Republican, said in his State of the State address last week.
Horrors! Parents want control over -- or even a heads up about -- the schools they're legally required to fund and which their children are legally required to attend. But the Government Has Rights!, we shall soon see.
... "People are going to disagree on a lot of these issues," said Matt Beienburg, the Goldwater Institute's director of education policy. "Transparency is something I think that at least allows for that conversation to know what is being taught. Everybody should be able to rally around the fact that we shouldn't be teaching something in secret." But teachers, their unions and free speech advocates say the proposals would excessively scrutinize daily classwork and would lead teachers to pre-emptively pull potentially contentious materials to avoid drawing criticism. Parents and legislators have already started campaigns to remove books dealing with race and gender, citing passages they find obscene, after they found out that the books were available in school libraries and classrooms. "It's important we call this out," said Jon Friedman, the director of free expression and education at PEN America, a nonprofit group that promotes free speech. "It's a shift toward more neutral-sounding language, but it's something that is potentially just as censorious."
The only people in America who have full free speech rights are government workers during their government-paid jobs teaching your children in a venue your children are legally required to be present at. You, on the other hand, do not have any free speech rights. You also do not have the right to show up at school board meetings to challenge the methods and materials used to indoctrinate your children. But teachers, ah, the blessed teachers! Those for whom It's All About The Kids, as we've learned so many times over the past two years! They have carte blanche to indoctrinate and
groom
your children as they will. And how will that work out for them? Well, according to a new Trafalgar Poll: Not great. Not great.
Republicans soar to a preposterous 13.5% lead on the generic Congressional ballot.
Of the 1,083 likely general election voters surveyed between 01/12/22 and 01/15/22, just 38.7 percent approved of Biden's performance and 59.2 percent disapproved. Nearly 50 percent of voters said they strongly disapprove of the job Biden is doing. ... Trafalgar's party preference poll, conducted between 01/12/22 and 01/15/22, resulted in very ominous numbers for congressional Democrats. ... Respondents said they preferred Republicans over Democrats 55.7 percent to 42.2 percent.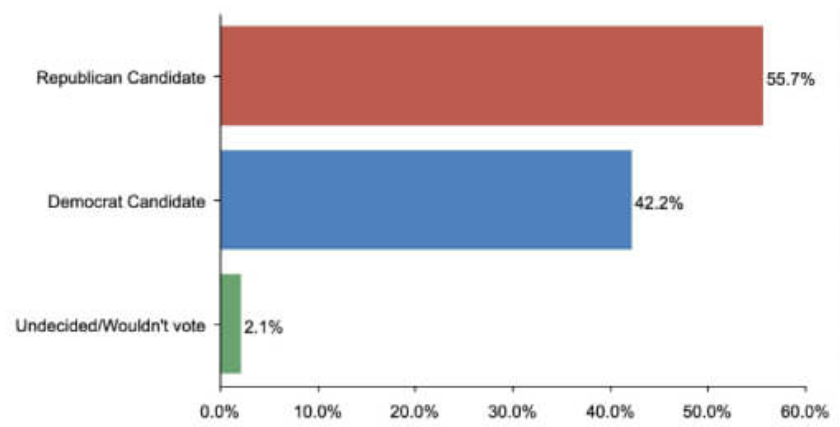 As a wise woman once said: "It is time to do what we have been doing, and that time is every day." Amen.
Alternate post title: Fake News Says It's Good For Children To Keep "Secrets" With Adult Strangers Posted by: Soothsayer's Untrue But Accurate Tales