Quick Hits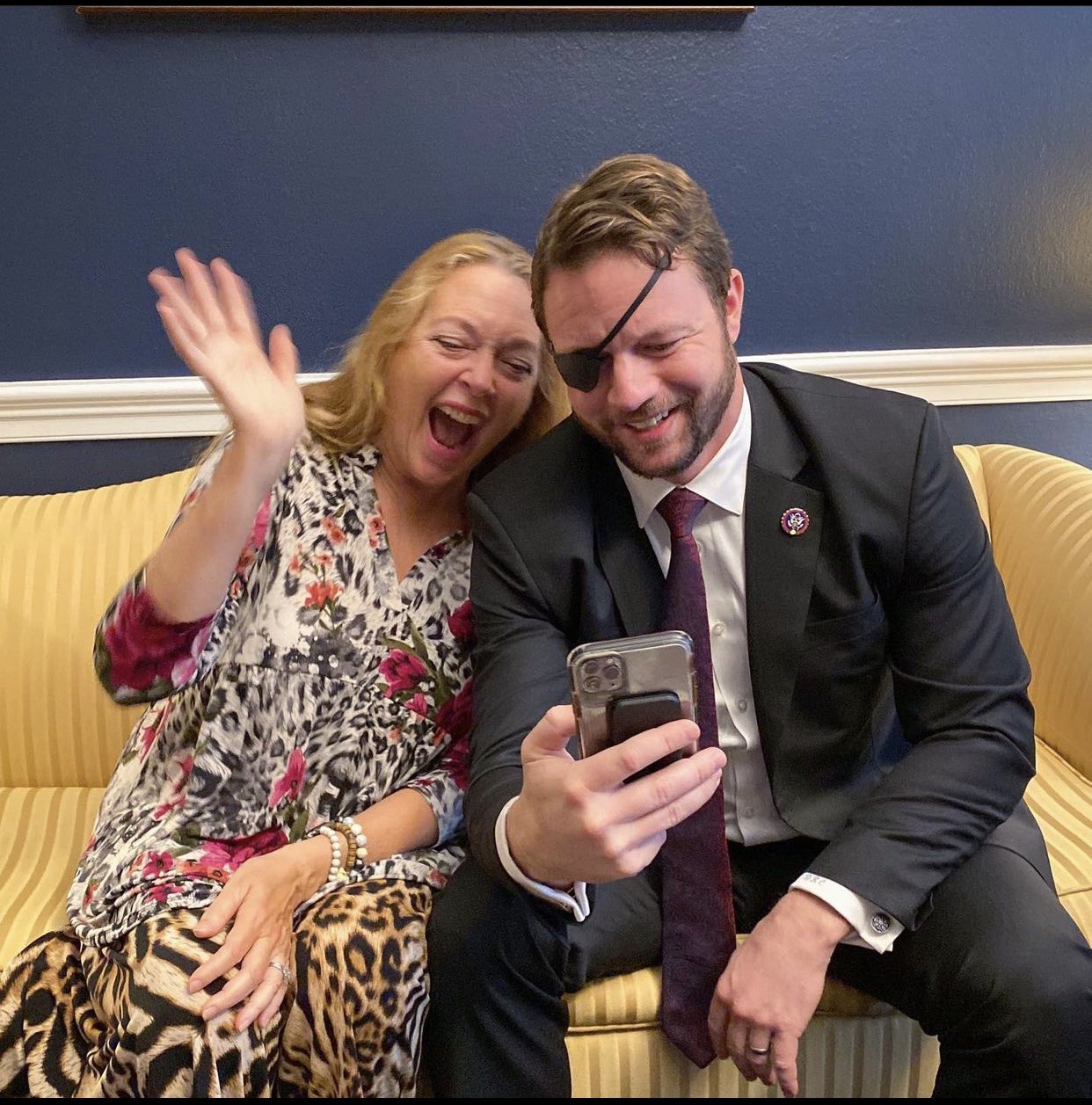 True Conservative Dan Crenshaw
enjoying some Celebrity Face Time
with
likely murderess Carol Baskin,
December 9, 2021
Dan likes semi-celebrities
This was shortly after Danny branded the Freedom Caucus
as "grifters" who
just wanted attention
More bad polling news for Brandon--
left-leaning AP shows him at a fresh low for their poll,
43% approving, 56% disapproving. And:
As of now, just 28% of Americans say they want Biden to run for reelection in 2024, including only 48% of Democrats.
He's not running, and everyone knows that -- we don't know if he'll even be existing for that election -- so this has no real-world impact, but it does tell you about people's Brandon Tolerance Level. And:
Only about a quarter were very confident that Biden "has the mental capability to serve effectively as president" or "is healthy enough to serve effectively as president." Close to half are not confident in Biden's mental capability or health.
Drew Holden has a great thread on all the bluecheck activist "journalists" who uncritically amplified Nina Totenberg's
claim that Gorsuch is waging germ warfare against the wise Latina.
I mean, I amplified it too, but I'm openly an activist and not a journalist and also, I think it's funny. Good thread though-- why do zero "journalists" check sources now? Wasn't that supposed to be the foundation of their craft and why you were supposed to believe them? In an interview I think I'll post tomorrow, Walter Kirn points out that almost no "journalists" leave their computer screens or even pick up a phone any longer -- literally all their "journalism" is reading tweets and retweeting. A major journalistic activity might be sending an email or DM for comment on a hit piece they've finished writing. Speaking of illegitimate elections -- those drop boxes the Wisconsin governor lawlessly ordered in 2020? And the open invitation to voter fraud that is "ballot harvesting"? Yeah, those were both illegal. A judge has banned their use
in 2022.
A judge in the key battleground state of Wisconsin ruled Thursday that ballot drop boxes and ballot harvesting violate state law and cannot be used in the upcoming midterm elections. Waukesha County Circuit Court Judge Michael Bohren determined "there is no statutory authority" to allow for either practice, which became highly controversial in Wisconsin following the state's razor-thin outcome in the 2020 presidential election. President Joe Biden defeated former President Donald Trump in the state by approximately 20,000 votes. The Wisconsin Elections Commission, which is under fire for allegedly bending and even openly violating state law to give Biden an edge, authorized the dramatic increase in the use of ballot drop boxes, but Judge Bohren held that the agency lacked lawful authority to do so. The plaintiffs, voters represented by the conservative Wisconsin Institute for Law and Liberty (WILL), argued that state law allowed for only two methods of returning an absentee ballot: Through the mail or in person at the municipal clerk's office. Nowhere does it allow for a ballot to be dropped off in a drop box. Likewise, Wisconsin law provides that no person "may receive a ballot from or give a ballot to a person other than the election official in charge." This, the plaintiffs argued, is a clear prohibition on ballot harvesting, the practice of third parties collecting absentee ballots from voters.
I wonder which blogger, apart from AllahPundit, will write this up at Hot Air. Oh, I already know. It was Jazz Shaw. Most perfect election in the history of the universe.
M&Ms will become "more inclusive;" the animated characters representing the candies will be given "nuanced personalities."
Candy is about to get more "inclusive," with the maker of M&M's announcing its famed characters are getting modern makeovers and will have more "nuanced personalities." Mars, Incorporated, the company behind the colorful, candy-coated chocolates, announced Thursday a "global commitment to creating a world where everyone feels they belong and society is inclusive."

What are the odds that two of the "nuanced personalities" turn out to be "gay" and "trans"?
Via Andrew Kerr of the DC Examiner,
quoting the New York Times: Kathy Griffin once asked CNN's head and Chief Dwarf Jeff Zucker for a raise. He was so offended that this zero-talent, who was lucky to have a job at all, was demanding a raise, that he fired her on the spot. Later, he thought it over and rehired her...
at a 20% pay cut.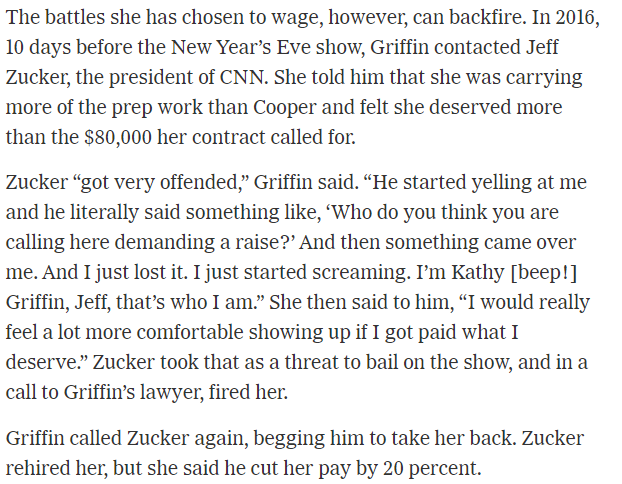 Second look at Jeff Zucker?!
Christina Pushaw Crocodile
@ChristinaPushaw
@GovRonDeSantis just announced that @FLCaseyDeSantis completed her final chemo treatment yesterday and is doing well! Thanks everyone for your prayers
Will Chamberlain was goofing on bloated nepot Jonah Goldberg and was surprised to hear about
this story.
An old, old story. But a good one.
Jonah Goldberg's Fake Pulitzer Nomination Will Follow Him Forever
MSNBC.com's Bill Dedman clearly had a lot of fun debunking conservative commentator Jonah Goldberg's claim on his latest book jacket that he'd been twice nominated for a Pulitzer Prize. By Adam Martin MSNBC.com's Bill Dedman clearly had a lot of fun debunking conservative commentator Jonah Goldberg's claim on his latest book jacket that he'd been twice nominated for a Pulitzer Prize... As Dedman gleefully explains, Goldberg did not actually receive a nomination, but merely entered the contest, which merely requires $50 and an entry form. Penguin, which published Goldberg's The Tyranny of Clichés: How Liberals Cheat in the War of Ideas, says it will remove the claim. Goldberg, for his part, says he didn't make the claim in his National Review biography, which has been updated to exclude it (thank god for the cache!).... But while Goldberg, Penguin, and National Review have sanitized the instances of his biography on which Dedman called him out, he's a prolific enough writer and commentator, with enough short bios on various websites and publications, that the notion he's a two-time Pulitzer nominee won't be easy to put to rest...
Dedman may have won his point, but Goldberg's been trading on the notion he was nominated for a Pulitzer for so long, it will follow him around online long after he's officially disavowed it.
That's nothing. The bloated jerkoff also claims credit for the "MacGuffinization of Politics," a much more prestigious honor. BTW, he didn't claim to be nominated for a Pulitzer as some kind of wry joke or satire of the industry. No, he really tried to scam people and got caught. This is what got Chamberlain goofing on this untalented mommy-rider: He attacked Josh Hammer for calling the useless cvck Orin Kerr the "David French of conservative jurisprudence." And, for you persnickety grammar policers out there, you'll note this Pulitzer Prize-nominated author (TM) defended French while confusing the parts of speech.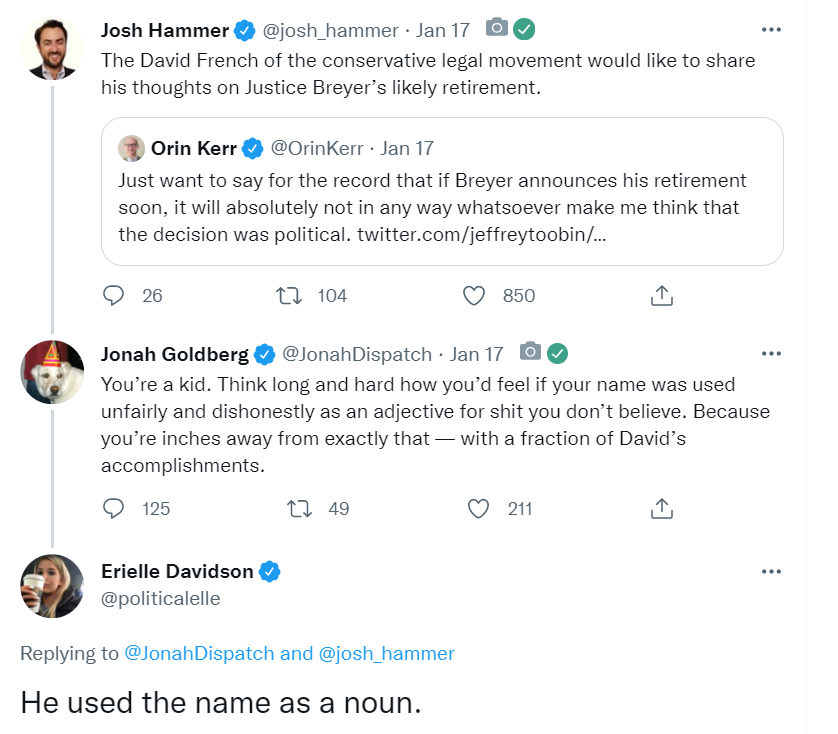 Some of you may say, "But that's too minor an error to dunk on Jonah over." But I'd respond: "Would
Jonah
dunk on a Twitter Enemy over that error?" Checkmate. I say "Checkmate" to you, Sir. NeverTrump distances, distances:
Julie Kelly is right; this cowardly cvck gasbag took about 13,000 words
(run the wordcount yourself, I'm just eyeballing this wall of text)
to tell you "I'm not voting for either person." As usual. It's not biiiiiinary. But of course
telling conservatives not to vote for Trump
is effectively campaigning for Biden, because conservative votes would tend to go to Trump. And that's all these it's not biiiiiiinary guys do, campaign for Hillary, and then Biden, and then claim that ackshually, they wrote in Ronald Reagan or Liz Cheney or whatever so they technically didn't vote for Biden. No, you didn't use your single vote for Biden. You instead used your influence to generate thousands and thousands of votes for Biden. Cowards. Liars. Quislings. Send them your money. They are men of highest honor and scruple and courage, and they are all Fighting For You. Speaking of: David French launched,
get this
, yet another attack on Christian evangelicals, presupposed on the leftwing paranoias about their militancy.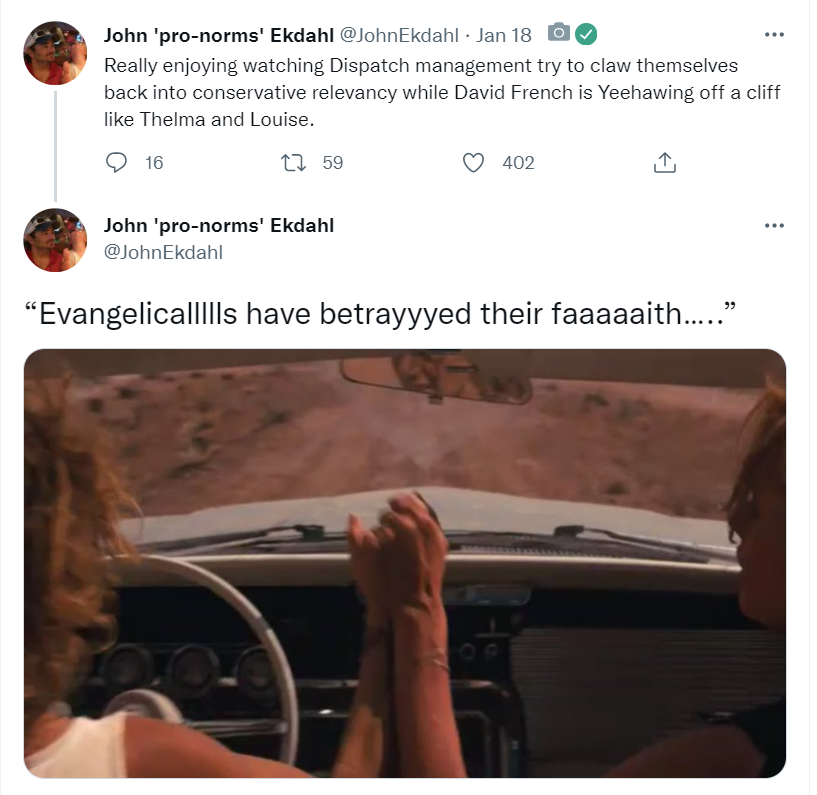 Here's Jonah the Whale continuing to whine that Josh Hammer called some other quisling a David French (a noun, not an adjective, note):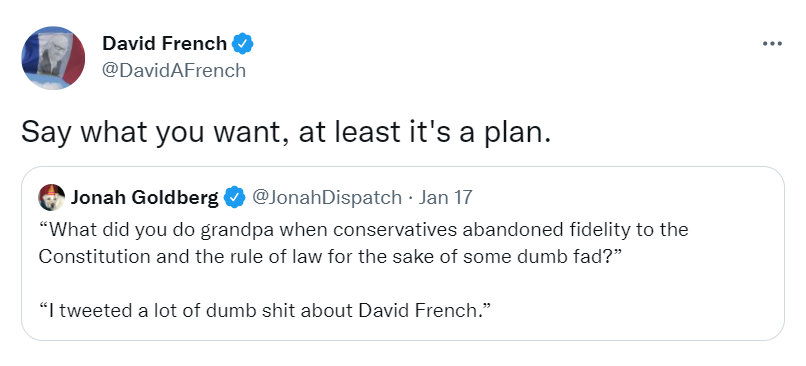 Must be nice when your Democrat donors have arranged it nice for you so that this is your biggest worry of the day. Must. Be. Nice. Oh, and speaking of actual conservatives who really are fighting for you:
Julie Kelly will be testifying in front of the House Judiciary Committee, attempting to inform these useless tits about the gulag prisoners the Media Faction and their NeverTrump Renfields call the "insurrectionists."
This earring-wearing Real Journalist not only cites the length of Biden's press conference as proof of his greatness, and not only says that one of the few tough questions (about his senility) was a bad question which came from "a real jerk," but then announces that Biden committed
no errors
during it.
They're the media -- trust them! They are brilliant, faultless analysts operating on the Plane of Genius and committed Truth-Tellers!