Joey Fishsticks "Press" Conference (With Zero Pressing), Part Two
We're spending endless minutes on Russia.
This is all to the good of Brandon -- he'd much rather talk in Bullshit Tough-Guy Tones about Russia than his disasters at home. Pivoting to Foreign Policy -- even though he's failing on Foreign Policy, too -- is tactically beneficial for him, because it's the domestic policy failures that are killing him. Allowing a "president" to talk about foreign policy at least makes him sound "presidential" -- which this flailing, failing incompetent desperately needs right now. This is all planned by the media. They're deliberately avoiding his gaping, gushing wounds to pick at his scratches. There have been zero questions -- Z E R O -- about Brandon being warned by
liberal Democrat economists and analysts like Larry Summers
that Brandon's trillions in stimulus would cause inflation. Brandon ignored this warning and when inflation first started to show up, he denied inflation and claimed it was "transitory" and cited unnamed "experts" who said it was transitory. Brandon chuckled proudly as he boasted that he'd gotten the biggest spending bill ever through Congress. Zero follow-ups about the costs -- in terms of inflation and real wage reduction -- for his "achievement." Zero questions on his biggest liability. Forty minutes on something which, while yes, another Brandon failure, people just don't care about.
Look, fat, Joey Fishsticks is claiming, in a Jedi Mind Trick Whisper, that "Five Republican Senators" keep telling him that they want to vote with him but they're afraid, due to the Trumpenfuhrer (who he does not name), that they'd be primaried out of office. Alas, on this point, I can pretty much believe him! Joey Fishsticks thinks it's amazing that someone out of office would continue to have a hold on his party -- despite the fact that Obama essentially runs his administration. Look, fat, Joey Fishsticks is claiming that the majority of his problems are caused by "Republican candidate" (unnamed) who won't say that Brandon won the election and so is undermining all the good things he's doing. He's really claiming this. As Methos narrates:
Biden is blaming Trump. "One man out of office is controlling the entire party because people are afraid of primaries. I have people tell me they agree with me, but are worried about being primaried. This has to change. How did we get to the point where not a single Republican will agree on a major issue?"
Boy this really bothers him. I can't believe that just short of one half of all legal votes were cast for this asshole. Look, fat -- I missed this. Earlier, Joey Fishsticks said that a "minor incursion" by Russia into Ukraine would be no big deal and that the US would permit it. But Trump's a Russian Agent, pass it on. Gayballz zero-T cant-babbler and Biden Voter has the sadz: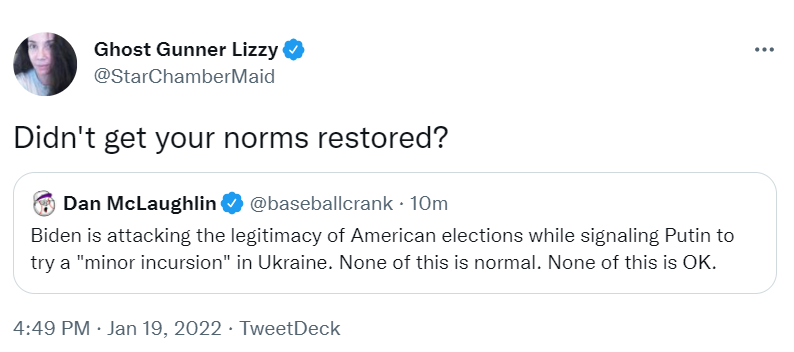 OMG. He spoke so casually about Russians killing Ukrainians.

Posted by: Jane D'oh
Shut up, Trump is a Russian Agent.
LOOK, FAT: THE ANGRY SENILE YELLER IS HERE!!! HE'S ANGRILY SHOUTING AS HE DENIES THAT HE COMPARED THOSE OPPOSED TO HIS VOTING TAKEOVER BILL TO BULL CONNOR AND GEROGE WALLACE!!!
Look, fat, he's claiming that he pressed the Chinese for transparency on the coronavirus origin, but he can't explain how it was that none of his press office seemed aware that he'd done it (and did not report that he'd pressed the Chinese on this). James Rosen brings up the elephant in the room: 49% of the public disagrees with the statement that Joey Fishsticks is "mentally fit." Brandon says that he'll leave that to people to decide, then says he has no idea how people came to doubt his "cognitive fitness" (as Rosen put it). Literally no other questions on this, one of the most salient and obvious questions. Look, fat, Can you think of any other president who's done as much in one year? Brandon's really claiming this.
Look, fat: "I don't believe the polls." Joey Fishsticks announces that he agrees with Sarah Palin -- "polls are made for strippers" -- and blows off question about winning back moderates and independents who disapprove of his performance. He has said repeatedly he's not changing anything. Look, fat: The GOP is much more obstructive now than it was under Barack Obama. They were much more interested in working with us then. That's not what Obama or Brandon were claiming at the time. Now Brandon is claiming that Republicans have no position on anything -- including... taxes. Pretty sure they have a position on that. I think he might be referring to Republicans
not
being in favor of the Tax Cut for the Rich the Democrats are now keen to pass, specifically, undoing Trump's cap of the SALT tax deduction, which only shelters high income taxpayers from blue cities in blue states.