"President" (lol) Brandon's Slurred, Sundowning Speech
Sundown speaking after 4pm?
Bold call. Let's see how late the Medical Team is in prepping Sundown for this mundane ordeal. Sundown's almost on time! I guess they know the methamphetamines will wear off in an hour or so, and Brandon will want his palliative ice cream. I can feel the empathy and compassion already!!!!
"I have a three part plan" -- Ah, the Clinton Special, breaking down an insoluble problem into three smaller insoluble problems!!!!
163 LOOK FAT, THE ECONOMY GREW BY OVER 2%
Posted by: Joe Biden
BIG MEAT!!! We must break up Big Supermarket! Brandon: "I didn't overpromise. What I did was probably out-perform what anyone thought would happen." Yeah, that's it, Brandon. Look, fat, I'm going to pre-emptively call the next election illegitimate even though I also say it's treasonous to do that. Yes, he just suggested the next election is illegitimate unless he gets the federal takeover he's demanding. Even though the left says that any questioning of an election's integrity is treasonous. Look, fat, Biden breaks out his Emphasis Whisper to push the lie that "95%" of schools are open. I assume he's including "virtual learning" schools as "open." Look, fat, I'm gonna impose sanctions like Putin has never seen. One day, maybe. I remember when Trump merely imposed tough sanctions on Putin and was called a KGB agent for doing so little. Where is the B52 bombing run on Moscow, Tough-Guy?
596 We/ve had frank discussions with Putin: I told him that ballpark franks are the best, hands down. I had Putin shaking.
Posted by: WisRich
608 Look fat, this is the best US economy in 200 years and I am the best president in the last 300.
Posted by: runner
Joey Fishsticks is now basically begging Putin to be a Nice Guy through the TV.
651 nyt! read that [pre-cleared] question motherf***er
Posted by: BifBewalski
Tough-Guy Biden, who's totally not kowtowing to Putin, publicly states that he will not allow Ukraine into NATO and will not put weapons into Ukraine. Which is Putin's demand. Look, fat, Trump was a Russian Agent because he wasn't sufficiently eager to get into a war for Ukraine, but here I am telling Russia that we're agreeing, prior to actual negotiations, to exclude Ukraine from NATO and preserve it as part of the Soviet sphere of influence. I don't disagree, but I'd like to stress the absolute dishonesty of Democrat-media (as if there's a distinction) claims that anything less that a commitment to fight a war for Ukraine's independence constituted a "soft on Putin" policy.
775 Both biden & lincoln project supportive of minor incursions - twitter.
Posted by: Dr Spank
Look, fat, you're going to have to pay more for gas and, uh, hamburgers now so that in the future you can pay less for, uh, child care and health care. He's actually claiming this, that somehow his massive inflation will... cause lower prices in non-related sectors of the economy in the future. Pivot to reassuring Karen. Biden keeps insisting that his massive spending plans will bring down prices in the future but never explains the theory by which this miracle is supposed to happen.
833 Big Meat and Mitch McConnell. Those are America's problems.
Posted by: Huck Follywood
Look, fat, Joey Fishsticks is claiming, in a Jedi Mind Trick Whisper, that "Five Republican Senators" keep telling him that they want to vote with him but they're afraid, due to the Trumpenfuhrer (who he does not name), that they'd be primaried out of office. Alas, on this point, I can pretty much believe him! Joey Fishsticks thinks it's amazing that someone out of office would continue to have a hold on his party -- despite the fact that Obama essentially runs his administration. Look, fat, Joey Fishsticks is claiming that the majority of his problems are caused by "Republican candidate" (unnamed) who won't say that Brandon won the election and so is undermining all the good things he's doing. He's really claiming this. Boy this really bothers him. I can't believe that just short of one half of all legal votes were cast for this asshole. Look, fat -- I missed this. Earlier, Joey Fishsticks said that a "minor incursion" by Russia into Ukraine would be no big deal and that the US would permit it. But Trump's a Russian Agent, pass it on. Gayballz zero-T cant-babbler and Biden Voter has the sadz: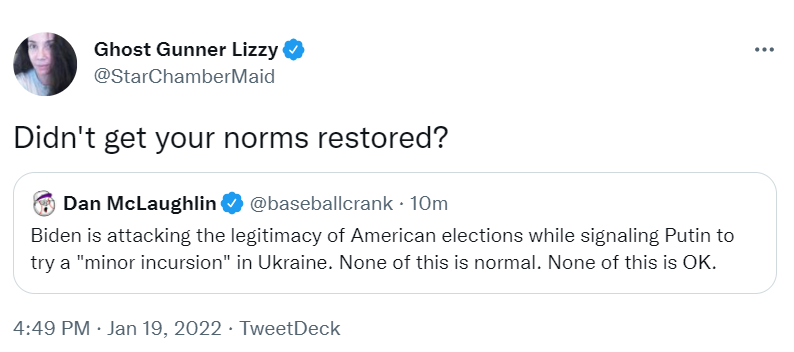 OMG. He spoke so casually about Russians killing Ukrainians.
Posted by: Jane D'oh
Shut up, Trump is a Russian Agent. As some slack commentators pointed out, this is all to the good of Brandon -- he'd much rather talk in Bullshit Tough-Guy Tones about Russia than his disasters at home. Pivoting to Foreign Policy -- even though he's failing on Foreign Policy, too -- is tactically beneficial for him, because it's the domestic policy failures that are killing him. This is all planned by the media. They're deliberately avoiding his gaping, gushing wounds to pick at his scratches. There have been zero questions -- Z E R O -- about Brandon being warned by
liberal Democrat economists and analysts like Larry Summers
that Brandon's trillions in stimulus would cause inflation. Brandon ignored this warning and when inflation first started to show up, he denied inflation and claimed it was "transitory" and cited unnamed "experts" who said it was transitory. Zero questions on his biggest liability. Forty minutes on something which, while yes, another Brandon failure, people just don't care about.