Wednesday Overnight Open Thread (1/19/22)
(H/T OregonMuse Sunday Morning Book Thread 05-21-2017)
***
It was about this time last evening I received a call from CBD. He had informed me that Oregon Muse had passed on. My sincerest condolences go to his family. I know you lost a great man, husband and father. The Blog has lost a dear friend. And the world lost an intelligent, thoughtful, warm and humorous man. Although we had never met outside of these "Gray Boxes" I felt I had known him for years. He seemed to be an old friend where we could pick up a conversation which had ended earlier. Good bye Oregon Muse.
***
The Quotes of The Day
Quote I Does the American public really want to handcuff the federal government in its ability to protect against major social and economic risks? Lawrence O. Gostin is a University Professor at Georgetown University and Founding O'Neill Chair in Global Health Law. He directs the World Health.
Yes if it isn't constitutional.
Quote II But let's face it: even before the pandemic, our schools weren't doing a very good job at educating our kids. Terry Schilling
Resident of the White House, Joe Mush Brains, is a fucking idiot.
He said the delays were attributable to Democrats' political opposition. "One thing I haven't been able to do is get my Republican friends to get into the game of making things better in this country. "I did not anticipate that there'd be such a stalwart effort to make sure that the most important thing was that President Biden didn't get anything done." Biden's characterization evoked a return to Obama-era messaging, painting Republicans as obstructing progress.
***
Last night we covered Carhartt Clothing Co. and its vax policy. Here is something I thought I would never write.
Starbucks is more American than Carhartt.
Starbucks SBUX, -0.88% is no longer requiring its U.S. workers to be vaccinated against COVID-19, reversing a policy it announced earlier this month. In a memo sent Tuesday to employees, the Seattle coffee giant said it was responding to last week's ruling by the U.S. Supreme Court. In a 6-3 vote, the court rejected the Biden administration's plan to require vaccines or regular COVID testing at companies with more than 100 workers. "We respect the court's ruling and will comply," Starbucks Chief Operating Officer John Culver wrote in the memo.
***
I've come to the realization that the term "Snow Flake" is too tough for the youth of today.
Freshman found responsible for harming the man's "mental health and safety"
Syracuse, N.Y., Jan. 19, 2022 — She'd heard rumors that the guy at the party had a history of problematic behavior toward women. So Syracuse University freshman Samantha Jones went right up to him and asked: Was he a registered sex offender? Now, Syracuse is enforcing its ban on causing "mental harm" to punish the 18-year-old biology student for her question. It's a move that adds to Syracuse's troubling history of censorship and raises new questions about the vulnerability of Syracuse students who report or discuss sexual misconduct on campus. "Syracuse's nebulous ban on 'mental harm' means students don't know if they can ask questions or discuss sexual misconduct without getting in trouble," said FIRE Program Officer Alex Morey. "Administrators should take action now to ensure these kinds of vague policies don't infringe students' core expressive rights."
***
He who has the gold makes the rules.
And runs the airport apparently.
It's aerial class warfare Hamptons-style — pitting millionaires against billionaires. The East Hampton Town Board announced Tuesday that it will close the municipality's airport at the end of February. The plan is to then reopen the airport a few days later under private control — with restrictions likely to limit its use to the ultra-rich who own their own aircrafts. Critics say the slick move will effectively leave the posh area's average Joe millionaires who don't own aircraft in a lurch while catering to local more influential billionaires — and addressing financial concerns. A source with knowledge of the plan told The Post that the board is set to ban commercial flights at the "new" airport, meaning only privately owned aircrafts could land there. The move means no chartered jets, no helicopters that sell seats to individuals and no rented seaplanes.
***
Did we do that?
Yes Mush Brains you and your ilk did that.
The intelligence community did not say, back in June or July, that in fact this was going to collapse like it did," Joe Biden said of the speed with which the Afghan government imploded following the full withdrawal of U.S. troops in an interview last August. A newly declassified report via the Special Inspector General for Afghanistan Reconstruction, however, calls this claim into doubt. According to that report, which was submitted to the Pentagon in January 2021, U.S. authorities might not have known exactly when the Afghan government would collapse without U.S. logistical support, but they knew collapse was inevitable. That SIGAR dispatch—oddly, one of few such reports to be classified and, odder still, not declassified until a year after it was relayed to the Defense Department—means that American authorities were apprised of Kabul's inability to do without U.S. air and logistical support
***
Hopefully this is still up later tonight. You never know with YouTube's attitude.
***
I enjoy bologna sammiches on toast with some mustard.
Not on my face.
have no idea what's in bologna. The off-pink deli meat is something I haven't thought about since childhood. Then along comes meat-maker Oscar Mayer with a bologna face mask, and I'm now having deep thoughts about lunch and self-care. Scratching sound. Rewind. Bologna face mask?! Oscar Mayer, never one to shy away from flashy marketing moves, is selling a $4.99 Bologna Hydrogel Sheet Face Mask on US Amazon as of today, for as long as supplies last.
***
NSFW-Language
***
When you think of 'Collector Vehicles' what do you think of? Does your list contain Mustangs, Corvettes, Porsches,
Dodge Caravans
?
Buy the World's Cleanest 1989 Dodge Caravan With a Stick Shift for $18,225 - Sure, it's expensive, but it even has a turbo.
Every now and then a car that nobody thought to preserve when it was new suddenly becomes desirable. There's a slew of examples from pretty much every automaker, and one that's come to prominence recently is the stick shift, turbocharged variant of Dodge's first-gen Caravan. Yes, the first minivan ever built along with its Plymouth-branded sibling was available with a boosted 2.5-liter four-cylinder and a five-speed manual. Not many people bought them, and not many survive today. However, there's one for sale on Facebook Marketplace right now in seemingly spotless condition. According to the seller, it's been stored in a warehouse for 17 years. With 93,000 miles on the odometer, it's likely as fresh as one of these cars is going to get.
***
The ONT Musical Interlude
Born on this day: January 19, 1939 - Phil Everly
American singer, songwriter Phil Everly from The Everly Brothers, who had the 1958 UK & US No.1 single 'All I Have To Do Is Dream' plus over 25 other Top 40 hits. The duo was raised in a musical family, first appearing on radio singing along with their father Ike Everly and mother Margaret Everly as "The Everly Family" in the 1940s. Everly died on 3rd Jan 2014 aged 74 of chronic obstructive pulmonary disease. via thisdayinmusic.com
&&&
Born on this day: Januray 19 1949 - Robert Palmer
Robert Palmer, Britisih singer, songwriter, member of Vinegar Joe and solo artist. His first solo album the 1974 Sneakin' Sally Through the Alley was heavily influenced by the music of Little Feat and the funk fusion of the Meters who acted as backing band along with producer/guitarist Lowell George of Little Feat. He had the 1986 US No.1 & UK No.5 single 'Addicted To Love'. He was also a member of the Power Station with former Chic drummer Tony Thompson, and Duran Duran members John Taylor and Andy Taylor. Palmer died on 26th Sept 2003 aged 54. via thisdayinmusic.com
***
No lady, it's not a pocket.
Genius Award Winner.

A 48-year-old Pevely woman was arrested in Arnold after police reportedly found her with methamphetamine, including a bag of the substance she apparently had hidden in her vagina. The woman also allegedly had hidden a glass smoking pipe in her vagina, Arnold Police reported. At about 10:50 p.m. Dec. 22, officers pulled over the woman, who was driving a 2007 Honda Accord, on Hwy. 141 near an entrance to the Arnold Commons shopping plaza because she did not have the car's headlights or taillights on at night, the report said. The woman was asked if she had anything illegal in the car, and she said she didn't know. When she got out of the car, she allegedly had a bag containing a substance believed to be meth in her hand, according to the report. The woman also reportedly told police there was something behind the driver's seat, and officers allegedly found another bag containing a substance believed to be meth, the report said.
***
I didn't see this coming. Tom Brady is
Tonight's Feel Good Story of The Day.
Tom Brady Surprises Brain Cancer Survivor Noah Reeb With Super Bowl Tickets Tom Brady surprised a 10-year-old brain cancer survivor and his family with tickets to the Super Bowl.
***
Tonight's ONT has been brought to you by OregonMuse's
Today's Edition Of The Morning Rant Is Brought To You By Sweet Chile Fried Prawns:
(7/29/19)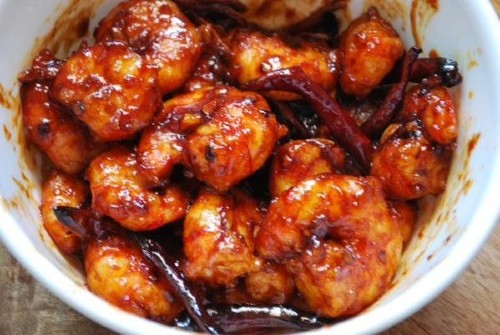 Notice: Posted with permission by the Ace Media Empire and AceCorp, LLC.
Posted by: Misanthropic Humanitarian at
10:00 PM
MuNuvians
MeeNuvians
Polls! Polls! Polls!
Frequently Asked Questions
The (Almost) Complete Paul Anka Integrity Kick
Top Top Tens
Greatest Hitjobs
News/Chat