Food Thread: Mustard Mustard Everywhere And Not a Drop To Drink Use...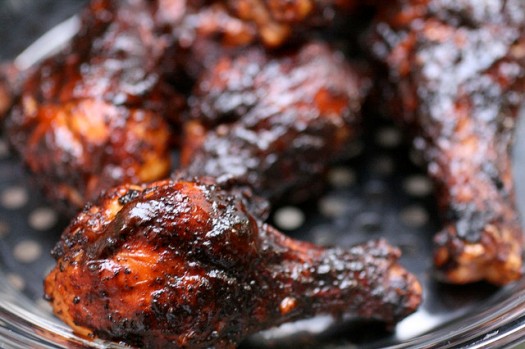 It was damned cold here last night, and some idiot decided that grilled chicken was the perfect meal for our dinner guests. In fact...two grilled chickens! And some pork ribs. At least the ribs were Sous Vide, so all I had to do was put some honey and then dry rub on them before finishing them on the grill, but still. it was cold! But this wasn't my first rodeo, so I
spatchcocked
the chickens, then salted them well before I planned to cook. It is a poor-man's brine, and it works fantastically. Then I had to decide what the hell I was going to do with the chickens, and that is the tough part. If it were up to me I would make a roaring-hot marinade with a ton of cilantro and honey (or brown sugar or agave syrup), and serve it with good beer. But I don't get to choose. So...one chicken got my house BBQ rub, and one chicken got a marinade of parsley/Dijon/agave/garlic/shallot/thyme/Mexican oregano/ancho chile/olive oil. It took longer to type that than to make it. On to the grill over indirect heat at about 375 degrees. I have a Bluetooth thermometer so I didn't have to go outside more than a couple of times. As many of you know, grills tend not to maintain temperature in cold weather, so it took a bit of adjustment. But I was able to drink my Old Fashioned in the warmth of the house, and really, that is all that matters! The spatchcocking serves two important functions. The first is that it evens out the chicken so it cooks at approximately the same rate; no more overcooked breast and underdone thighs in Chez Dildo! The second function is that the chicken seems to brown more evenly. These two came out perfect, and I didn't flip them...even once. But the best part was getting the older brat to finish the ribs! And he did a fine job, so I will happily cede that to him. At least in cold weather.
******
The pinch-faced scolds of the progressive left are coming for everything that is even remotely pleasurable. And that includes food. By no stretch of the imagination is the media-driven trend toward fake meat anything other than the angry fits of a political movement that is furious that Americans consume meat in abundance. They want to drive omnivores into the dustbin of history, and they are good at getting what they want. Anyone try that crap? It stinks. There is nothing quite like the bite of a good steak or the crispy unctuousness of a strip of bacon or the deliciousness of a good burger with some melted cheese on top. They are the pleasures that we have earned by our hard work, our intelligence, our opposable thumbs and the God-given gifts of intellect. Fight it. Tell your supermarket manager that you tried it and it sucked. Turn the labels in so nobody sees it, try a sample at whatever market still gives them out and proclaim loudly, "Oh my God, what is this shit? Where can I spit it out?"
******
I use a lot of Dijon mustard. Enough that I buy it in bulk. Roland is a old (originally French) food importing company that seems to nail the price/quality calculation very well. It's rarely the best stuff (although the mustard is superb), but it is always at least good. For instance, if I am making a Caesar salad dressing I'll use their anchovies (or anchovy paste), but if I am serving whole anchovies in a dish I will use a better brand. My favorite supermarket closed a couple of years ago, and so my easy source for many things, including Roland Dijon in the large jar, went poof!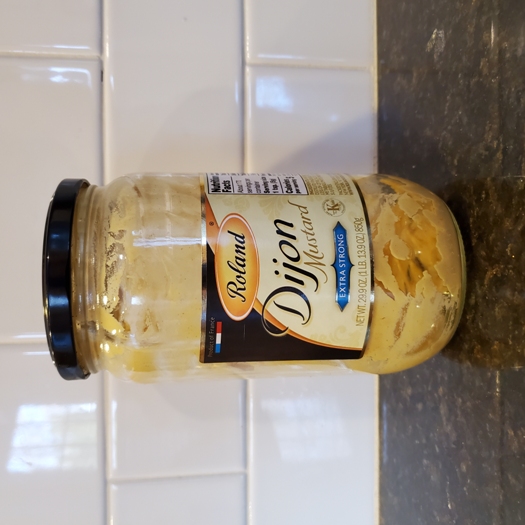 Yeah...it's almost empty and I only have one more jar. Help! So I figured, why not try some other brands? How different could they be? It's not a complicated recipe.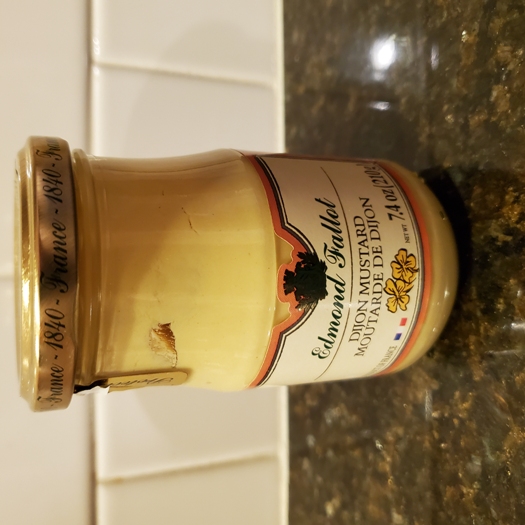 And I was wrong. This brand was thinner, unbelievably salty, and just sort of boring. And I stupidly didn't taste it before I made a pan sauce, so while the food was good, it was, shall we say, aggressively salted. What's the lesson here? Well, first, don't eat Pavés du Mail at Chez Dildo if you don't like salt, and the second one is to taste new products before you cook with them.
******
I like dips...I guess. Hummus is a dip. Uh...and that's about it at Chez Dildo. So I am unsure whether I would ever make this and plop it down on the coffee table with some crackers or toast points or pita. But I will tell you what I would do with it! Actually...two things. The first is use it as a dressing on a salad. Thin it a bit and toss it with some chunky stuff? I'll bet that would be great. And the second thing is use it on lamb. This sounds like the perfect condiment to serve with lamb shoulder. Or hell, even as a marinade!
Whipped goat cheese dip with bacon, thyme and honey
******
This is from commenter "Bitter Clinger." I have absolutely nothing to do with looking for fried rat recipes on the internet. It's all him.
The scariest thing is his comment about the video:
This technique for Crispy Fried Rat with Garlic-Chile Lime Sauce looks fantastic!
******
Homemade pickles (and anything else pickled) are great. Usually far better than the mushy crap that passes for pickles in most supermarkets. And the best thing about making your own (other than how unbelievably inexpensive they are) is that you can tailor them to your palate. No more overly sweet or overly tangy! Make them exactly the way you want.
Alton Brown's Bread and Butter Pickles
Another thing about pickled vegetables is that they are great for munching throughout the day without adding significantly (or at all) to one's waistline. Because not all of us are 29 and perfectly proportioned.
******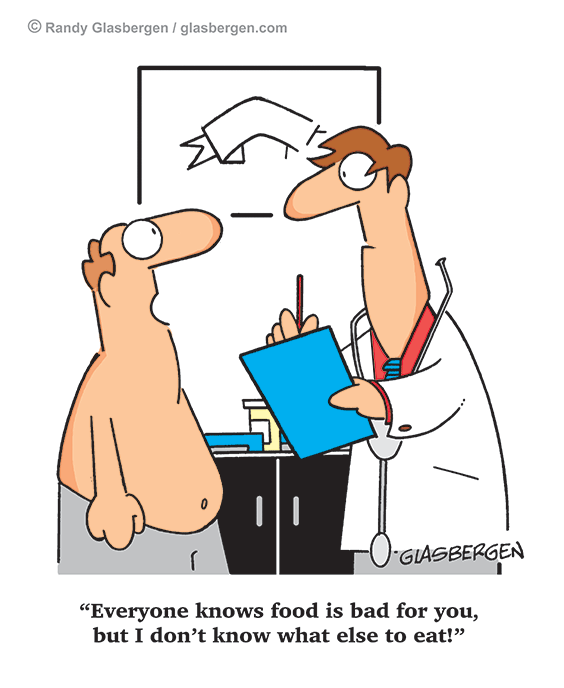 One of the phrases that is guaranteed to make me froth at the mouth, stalk around like a maniac and throw things, is, "That's really bad for you." No. No it isn't. Food is neither bad nor good. Eat enough Kale and you will probably die. Don't eat enough steak or bacon and you will wish you had. Seriously, food is at its simplest just fuel. Sure, there are micronutrients that Americans get in abundance, but fat, protein and carbohydrates make up most of what we eat. So that supposedly terrible food you should never eat may not be the greatest idea for an everyday thing, but lighten the f&$k up and enjoy yourself. Stay fit and active, try to maintain a normal weight, eat a wide variety of foods, and all will be well for most people. I cut carbs because it makes it much easier for me to maintain my ideal weight, and it makes other things better too. But whatever works for you is far better than the perfect diet that you don't enjoy or simply doesn't do what you want it to do.
******
Brussels Sprouts that aren't as tough as trees, beef short ribs that have meat on them (not the stupid little sliver of bone they sneak into the packages), carrots that don't taste like stalky chalk, spare bottles of Van Winkle Special Reserve 12 Year Old Bourbon, an herb garden that actually produces herbs (but no basil!), well-marbled NY strip steaks and elk backstrap to:
cbd dot aoshq at gmail dot com.
And don't think that you are off the hook with maple syrup and French Toast: I'm watching you...all of you! And I am watching you perverts who shake Manhattans and keeping a list for the Burning Times.