Schumer Plots Another Scheme To Force Voting Takeover Bill Through Senate
They're scheming to force a "real" filibuster, I think, one where Republicans would actually have to talk and talk and talk and hold the floor.
But I thought the current rules don't require that.
Senate Democrats are scrambling for a Plan B to pass voting rights legislation after Sens. Kyrsten Sinema (D-Ariz.) and Joe Manchin (D-W.Va.) announced last week that they would not vote to change the Senate's filibuster rule despite the pleading of President Biden. Now some Democrats are discussing a novel approach to circumventing a Republican filibuster that may allow voting rights legislation to pass with 51 votes without changing the Senate's rules. These Democrats, including Sen. Tim Kaine (D-Va.), are exploring the possibility of forcing Senate Republicans to actually hold the floor with speeches and procedural motions. They hope that the Republican opposition may tire itself out after a few days or weeks and that Senate Majority Leader Charles Schumer (D-N.Y.) may be able to then call for a simple-majority vote on final passage and skip the formal procedural vote -- known as cloture -- on ending debate. "There are a couple of paths here. Do we go down the path and do a long debate until it's done and then have a simple debate?" Kaine told reporters last week. "We wouldn't need a rules change to pass the bill by simple majority if the debate is over. Theoretically, you do not need a rules change to pass a bill that's on the floor, you just have to allow debate to occur," he added. The strategy has gained more attention from Senate Democrats in recent days as it's become crystal clear that Sinema and Manchin won't vote for a more straightforward rules change to lowering the procedural threshold for ending a filibuster from 60 votes to 50. A second Democratic senator confirmed that colleagues are reviewing the idea of forcing Republicans to stage a talking filibuster to block voting rights legislation. "We've discussed it," said the lawmaker, who explained that if Republicans don't occupy the floor with speeches and procedural motions, voting rights legislation should be allowed to come up for final passage under the Senate's rules. The problem with this approach, according to Democrats familiar with the discussion, is that it hasn't been attempted in decades and no one is quite sure how it would play out procedurally.
The article details the problems with the Democrats' plan, if you're into the details of Senate procedures.
One big problem is that defeating a filibuster is asymmetrical -- it only takes a few minority Senators to hold the floor -- talking, offering new motions and amendments and so on -- but it would take all 50 Democrats to be present at any lapse in the stream of talking to shut the filibuster down, to move that discussion has ended. The Democrats are extremely decrepit. Are they going to have all 50 of their bodies ready at all hours to vote for cloture? They might literally lose a Senator or two if they try that. And there's a bigger problem. Joe Manchin keeps saying publicly that he's against changing the filibuster to pass this voting takeover bill. What if he's also against the bill itself?
Politico reports that maybe he doesn't support the bill as it stands.
He did support a version of the bill -- but then progressives like teachers union leader Randi Weingartner started stuffing it with provisions to favor the left and what the bill is now is the version Manchin originally supported. And if he is against it-- you can't win a vote 49 to 51. Moose out front should have told ya.
Steve: What I learned last night, what I learned recently is something I did not know -- and it's because I don't know everything about Joe Manchin, I don't know everything about [what's] going on -- is that the bill that the Freedom to Vote Act, which a lot of people had in shorthand thought was sort of Joe Manchin, Stacey Abrams... Joe Manchin believes it is not, that it's not. They didn't write the bill. It didn't have the language. It still has a lot of stuff in it he doesn't like and that the Rules Committee under Senator Klobuchar have put together something that is no longer his bill. I did not know that. Ryan: Huh. This is the Freedom to Vote Act that... Steve: ...that we thought was him. His name is not on it. He's not a sponsor. So I think the big issue is that progressives like Randi Weingarten and others -- I don't want to put words in her mouth -- see that they believe democracy is on the line. That the Republicans, when they come back, which they likely are to do in the next election in the House, will do, they believe, anything to win it, to keep winning or whatever.... In my book, it gives Joe Manchin an opportunity to critique the Freedom to Vote Act. I don't know whether he will or not. This is all real time happening right now, and so I don't know what he will do on it. But I was surprised to learn that after all of the effort in all of the applause of what he and Stacey Abrams had done together, that that so-called bill is not the bill that's on the floor. So that was new to me. That's a big, big deal because it gives Manchin a way out of supporting this if he doesn't want to support it, right? So I think there's a dimension there that I think hasn't been reported.
Meanwhile, the Democrats have called a Code Red on Manchin and especially on Sinema.
Kamala Harris "will not absolve" Sinema or Manchin.

Vice President Kamala Harris was asked about Sinema and Manchin at a Martin Luther King day volunteer event in Washington, and replied that she was "not going to absolve... any member of the United States Senate from taking on a responsibility to follow through on the oath that they all took to support and defend the Constitution of the United States."
Trash Race Queen Democrats attacked Sinema for acknowledging MLK day: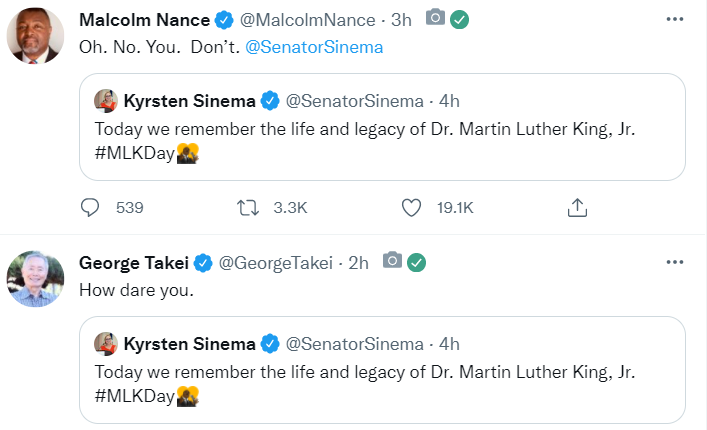 This bizarre jive-mouth space alien has some thoughts:
And of course this guy -- whose superpower is being Class 1000 unfunny; a power he got by being bitten by a radioactive Jimmy Kimmel -- gets in on the leftwing hatepile: