Gallup: Party Affiliation Undergoes Seismic Shift in 2021, from +9 Democrat in the First Quarter to +5 Republican in the Fourth Quarter
The Great Embrandoning.
Per these latest numbers, this is one of those rare occasions when
Republicans and Republican-leaning independents outnumber Democrats and Democrat-leaning independents.
On average, Americans' political party preferences in 2021 looked similar to prior years, with slightly more U.S. adults identifying as Democrats or leaning Democratic (46%) than identified as Republicans or leaned Republican (43%). However, the general stability for the full-year average obscures a dramatic shift over the course of 2021, from a nine-percentage-point Democratic advantage in the first quarter to a rare five-point Republican edge in the fourth quarter. ...
The GOP has held as much as a five-point advantage in a total of only four quarters since 1991. The Republicans last held a five-point advantage in party identification and leaning in early 1995, after winning control of the House of Representatives for the first time since the 1950s. Republicans had a larger advantage only in the first quarter of 1991, after the U.S. victory in the Persian Gulf War led by then-President George H.W. Bush.

Most changes occurred in the independent leaners. As far as actual party identification, it's tied, 28% to 28%. The numbers really began shifting in the fall and winter:
The third quarter saw a decline in Democratic identification and leaning, from 49% to 45%, as Biden's ratings began to falter, while there was no meaningful change in Republican affiliation. In the fourth quarter, party support flipped as Republicans made gains, from 44% to 47%, and Democratic affiliation fell from 45% to 42%.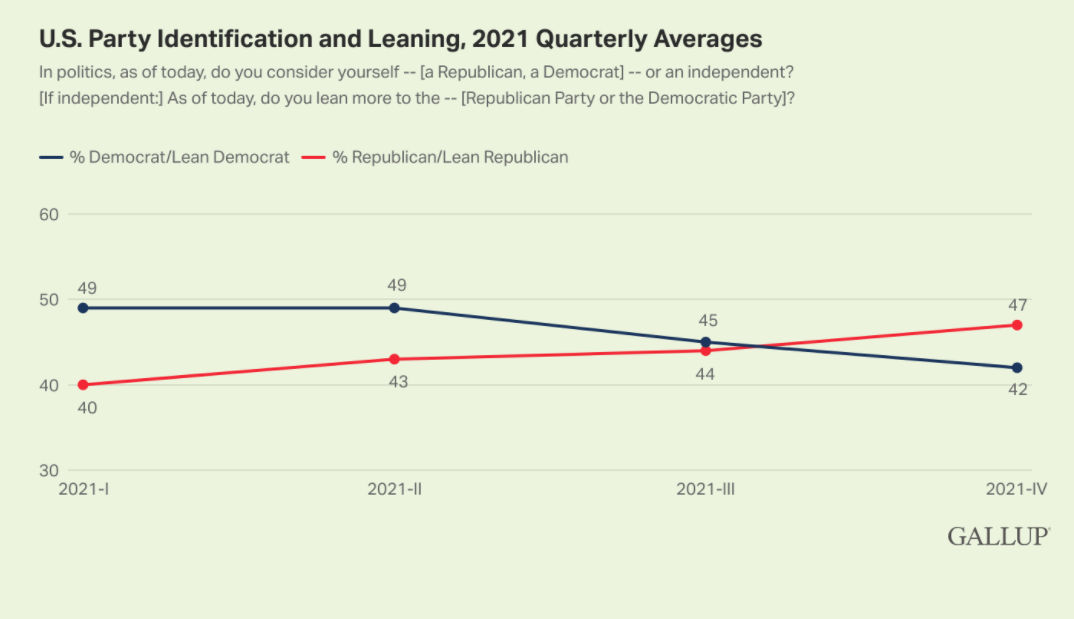 Related, from 2020: