The Morning Rant: Saved From A Liberal College Education - More University Lockdowns Please
This heartwarming story about collapsing college enrollment has been reported on by all the major media in the past few days.
Enrollment Marches Downward (Inside Higher Ed – 01/13/2022)
Total enrollment—which includes undergraduate and graduate students—dropped by 2.7 percent in fall 2021 compared with fall 2020, according to the clearinghouse report. Since the pandemic began in spring 2020, enrollment has declined by 5.1 percent across the board, with 937,500 fewer students enrolled at American colleges and universities.
As damaging as the high priests of Covid have been to liberty and the economy, they have inflicted some welcome collateral damage to the agents of institutional leftism, above else to the educational establishment. Watching the university cartel commit suicide to show their fealty to Covid sharia has been very satisfying. This is now the 3rd school year interrupted by campus lockdowns, and colleges seem as committed now as they were two years ago to locking down. More please.
Colleges Extend Remote Instruction (Inside Higher Ed – 01/10/2022)
Some institutions that began the semester online are now pushing their return-to-campus dates further out in response to Omicron, citing spiking numbers and breakthrough infections.
If "remote learning" is still around in Fall of 2022, we will have had four-consecutive school years that involved classroom closures. (The last full "normal" school year was 2018 - 2019.) Again, this is a beautiful thing. We are getting further and further away from incoming freshman having a concept of what college was like in the pre-Covid days. In an era when the education one gets from college can be obtained online for a fraction of the cost (or for free, actually) it is "the college experience" and associated networking that has kept the cartel in place. With university administrators now acting like prudish church ladies who disapprove of any socializing or pleasures in life, colleges are killing off their primary selling point. Godspeed to them. Please keep it up. A.J. Kay formerly wrote for Medium, but she had her entire catalog of stories pulled from Medium for expressing wrongthink about Covid and its impact on kids. Her child started college at an elite East Coast university, struggled with the lockdowns, and finally ended up thriving at a conservative Christian university that did not lock down. (I can tell from the picture in the thread that it is Hillsdale.) A.J. is grateful that her daughter is getting a traditional, albeit somewhat conservative, college experience. Above all else, it is a blessing that Covid kept her daughter from ingesting the poisonous leftism of elite-college indoctrination. Here is Ms. Kay's thread, extracted for easier reading: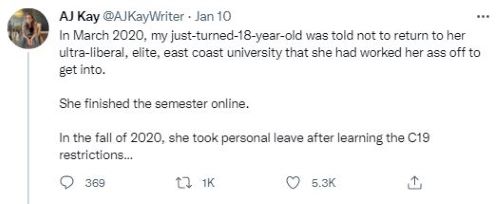 In March 2020, my just-turned-18-year-old was told not to return to her ultra-liberal, elite, east coast university that she had worked her ass off to get into. She finished the semester online. In the fall of 2020, she took personal leave after learning the C19 restrictions… …which included: - being socially isolated - living alone on campus - masks in and outdoors - no clubs or in-person events - online classes - mandated weekly testing - take-out meals only, and - harsh punishment and public shaming—including expulsion—for breaking C19 rules… That's not what college is about. College is about learning and growing and exploring and becoming more independent and dating and joining clubs and eating shitty cafeteria food *with* friends and all-nighters and moving forward… So tried desperately to stay optimistic, hoping the hysteria would fade. She was so lonely. Come April, she'd decided on a fall return. Restrictions had eased w/ the vaccine rollout & the elderly faculty were now protected. And then her school mandated vaccines for students… She thought they might rescind with pushback, but they didn't. So she called her Dean & walked away from school - and a $75K/yr scholarship and 3.9 GPA. We got on a plane, retrieved her belongings from storage across from her dorm, & flew home w/ no idea what might come next. She knew she wanted to go back to school so she began seriously looking for schools where life was normal & no one was forced to vaccinate. It was not an easy search but I was also so glad she didn't give in. The mandates weren't bringing back normal life, as promised. We queried our many friends in academia. I put a call out on Twitter. We kept hearing one particular school named over & over. So we looked into it. It was an unexpected pivot but, the deeper she looked, the more she realized her values aligned with theirs. So she applied… I was trepidatious. We are city people. This school was very rural. I've been a registered Dem my entire adult life and this school was decidedly conservative. Our family is not religious. There's was strong faith-based component. And no full ride. Seemed like a stretch… But this past Sat night, in the freezing rain, I got this pic of her as we walked the campus of her new school and just looking at it brings me to tears. She looks alive again. She's been waiting 2yrs for her adult life to begin & it's finally happening. She'll be 20 in Feb… As I type this, she's in a big, beautiful house accepting a sorority bid and celebrating with her soon-to-be sisters. She had new student orientation earlier today & met transfers who landed there for the same reason she did. She's not alone anymore. School starts Weds… And because of that cognitive reframe, she's *finally* getting back to learning, growing, exploring, becoming more independent, dating, joining clubs, pledging, eating shitty cafeteria food *with* friends, pulling all-nighters & moving forward…
I tend to believe that the college experience can have as many downsides as upsides, but at least this young lady is not getting anti-American communist indoctrination with her college experience. Any story in which a young person rejects a leftist education is a happy story. If there's one thing that the left-wing college establishment loves to do, it's poke a finger in the eye of us stuffy old conservatives. We're opposed to lockdowns, so they are locking down hard. Please, college administrators, keep teaching us a lesson with your rigid Covid obedience. You can make your point about how backward and bigoted we are by maintaining remote learning for a couple more semesters. Heck, if you really want to teach us a lesson, keep classrooms closed in perpetuity...until all viruses have been entirely eradicated. "Zero classes until zero viruses" is a motto we can all embrace. [buck.throckmorton at protonmail dot com]
Posted by: Buck Throckmorton at
11:00 AM