Socialite and, Now, Convicted Sex Trafficker Ghislaine Maxwell Convicted on Five of Six Counts
She faces up to 65 years in prison, and/or a staged suicide.
The Manhattan jury found Maxwell guilty on five out of six counts against her, The Associated Press reported, including enticing minors to travel to engage in sex acts, transporting minors with the intent of having them engage in criminal sexual activity and perjury.
Details about the abuse, and techniques used to "normalize" sex work for underage girls,
at the New York Post.
A lot of people are saying that the judge immediately ordered the entire case sealed, so that no one will ever know the details of the evidence. I don't know, can you seal a public trial? Even if it has to do with the sexual trafficking of minors?
But the Deep State is very determined that you never find out: Why was this sex trafficking of teenagers, which was conducted practically in plain sight, permitted to go on for long?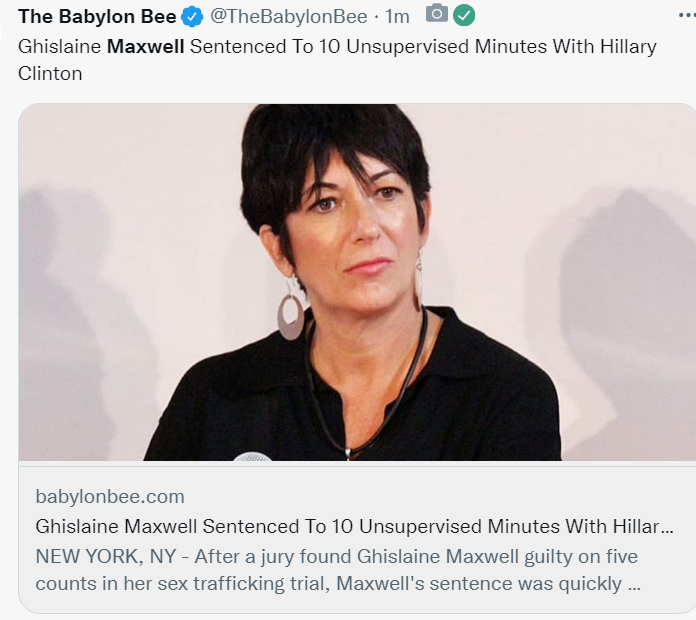 Via Instapundit, some thoughts from a friend of Glenn Reynolds:
A) wanna lay any money on how long Ghislaine Maxwell lasts in prison, and B) wouldn't the normal thing have been for a prosecutor to cut a deal with her in exchange for assorted former presidents, CEOs, royals etc? I mean, I don't want to be cynical, but it's almost like... Srsly tho, it's all academic. What's the point of being in the witness protection program when it's the feds who want you dead?
They never cut deals when there are Democrats higher up in the chain. Idiots on Twitter keep talking about Trump. If Trump were up the chain, do these idiots really think that wouldn't have come out in 2015?!?! Nope, sorry fellas. Try again. When there are Democrats higher up on the chain, the feds focus only on the lower-level criminals. In those cases, it's only about the Rogue IRS Agents in the Cincinnati office.
@CalebJHull
Just going to put this out there now: Ghislaine Maxwell didn't kill herself.
I can't think of anything that would be more clarifying and healthful for our political system than just that -- them being so arrogant as to pull the same "didn't kill herself" trick. No one would buy that. That would be the end of them. So roll the dice, fellas.