CDC: We're Not Just Reducing the Length of Quarantine From 10 Days to 5, We're Also Ending the Requirement That You Test Negative Before Returning to Work
Oh? You can return to work even without a test showing you're no longer covid-positive?
That's a hell of change, isn't it? Not to worry, the CDC's Rachel Wallensky says: This is a change based entirely on The Science,
which apparently we just discovered after two years of experience with testing for covid.
The newly updated CDC guidelines don't require testing at the end of isolation because PCR tests can stay positive for up to 12 weeks, CDC Director Dr. Rochelle Walensky told "Good Morning America" Wednesday. "So we would have people in isolation for a very long time if we were relying on PCRs," Walensky said.
So people have been testing themselves with these PCR tests post-initial diagnosis for two years and this has been yielding false positives for up to 12 weeks post-infection, and no one bothered to say so until
now
? What's
really
going on here? Oh, right: "The Science" is lying to us again. Or rather, The Politics: Brandon dropped the ball on ordering up an adequate supply of tests, and now we don't have enough tests to test all the people who are about to get omicron.
So the CDC is telling people they don't need to get tested post-infection,
to reduce the need for tests that we don't have because their boss is a senile incompetent. And that's "The Science" in action!

President Joe Biden is closing out his first year in office facing one of the same problems he entered the White House vowing to fix: a persistent shortage of Covid-19 testing that, if resolved, could provide a way out of the still-raging pandemic. ... Yet the failures surrounding testing have led to accusations that the White House failed to anticipate the pandemic's course and overemphasized vaccinations as a solution to ending the crisis, even as outside experts warned of a looming test shortage directly to administration officials. Biden's team insists they took what steps they could in the fall to build up testing capacity but acknowledge that a surge in demand and relatively recent emergency use authorizations from the US Food and Drug Administration have made stockpiling at-home tests a challenge. And the shortage of tests factored into the administration's decision Monday not to recommend tests for individuals exposed to the virus to emerge from a shortened five-day quarantine, according to an official familiar with the discussions.
"If we require a test, people are going to say, 'What if we can't get a test?' " the senior administration official said, recounting internal deliberations on condition of anonymity. "Rather than letting the perfect be the enemy of the good," the official said, the US Centers for Disease Control and Prevention opted for less stringent language, noting that "best practice would also include a test for SARS-CoV-2 at day 5 after exposure." Biden himself has frankly acknowledged that his efforts have fallen short, particularly in scaling up testing, even as he seeks to take credit for other aspects of fighting the pandemic. "It's clearly not enough. If I had -- we had -- known, we would have gone harder, quicker, if we could have," Biden said in describing his testing efforts this week while meeting virtually with governors. "We have to do more. We have to do better, and we will." Other top health officials, including Dr. Anthony Fauci, the President's top medical adviser, have similarly acknowledged the testing shortfalls in interviews. And White House press secretary Jen Psaki conceded last week that she could have provided more context when she dismissed the notion of sending tests to Americans just two weeks ago.
Actual scientists are perplexed by the Science Priests
sudden new claims about what "The Science" scriptures are telling them,
because this isn't science at all, this is all politics and bureaucratic ass-covering and a lot of covering up for the failures of a Democrat. They're inventing made-up "science" to Manage Public Relations and to Reassure the Public that Brandon Knows What He's Doing. Public Relations -- the highest form of The Science! Meanwhile, while the nation faces a major shortage in over-the-counter covid tests, CNN's fat neurotic covid panic case -- okay, let me be more specific -- CNN's Chris Cillizza
hoards an entire case of the tests.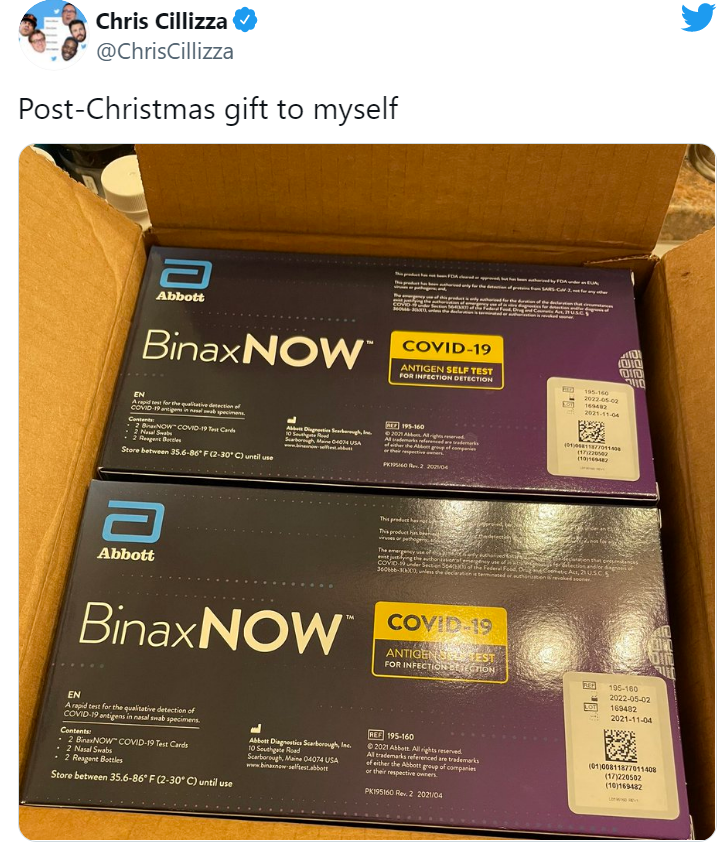 Binax is an OTC rapid covid test by Abbot Labs which was developed quickly with funds provided by -- checks notes -- oh, right, with funds provided by Donald Trump. And what did Brandon do? Even as people were urging him to ramp up production of tests in case of a completely-unforeseeable disease-spiking event known as "
the winter
," he sneeringly rejected those calls to push production of tests. After all, we mustn't let anything interfere with The Message that the only protection is the vaccine and more vaccine and boosters and more boosters.
Experts had in fact proposed to Brandon that he act to surge test production.
Nelson asked about a report in Vanity Fair that Biden had been offered a plan in October by health experts to get 732 million test kits out to Americans before the holiday season hit so that could help reduce the crush of people wanting tests.

The 10-page plan, which Vanity Fair has obtained, would enable the U.S. to finally do what many other countries had already done: Put rapid at-home COVID-19 testing into the hands of average citizens, allowing them to screen themselves in real time and thereby help reduce transmission. The plan called for an estimated 732 million tests per month, a number that would require a major ramp-up of manufacturing capacity. It also recommended, right on the first page, a nationwide "Testing Surge to Prevent Holiday COVID Surge."

What happened to that? White House officials reportedly told the experts that they didn't think they had the capacity to do it and so rejected the plan.
Just before he called A Lid on the week at midday
on a Monday
to fly off to the beach, Biden lied and claimed he'd never "rejected" the plan.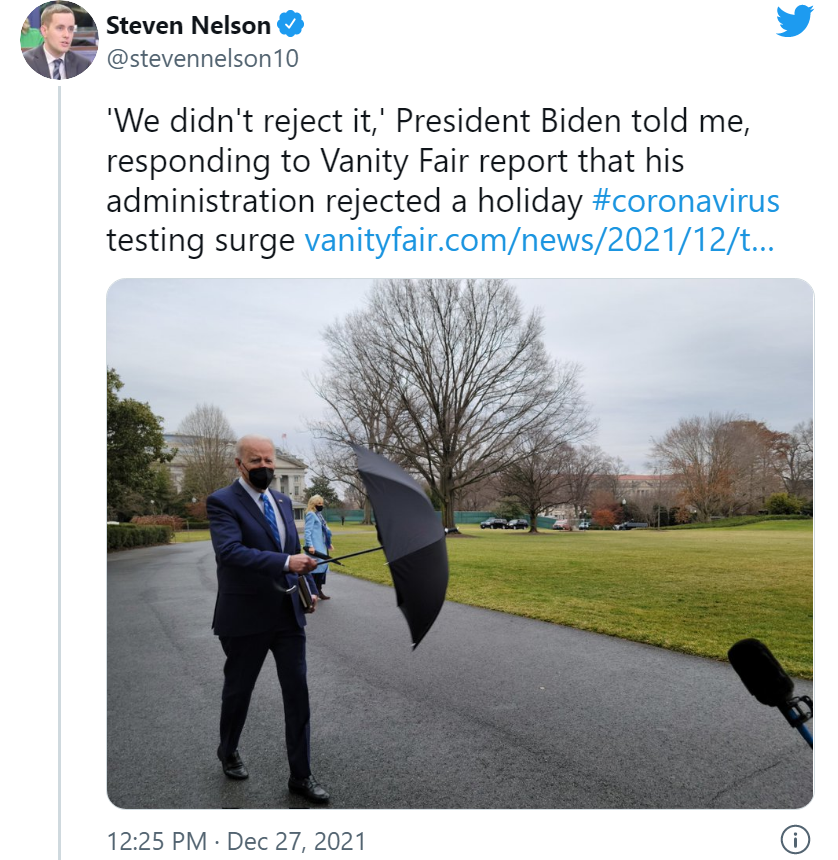 And then, just like that, he disappeared into the rain for another well-earned vacation week.
52 Sorry Ace, but I'm not with you on this. Mass testing of healthy and/or asymptomatic people with dodgy bullshit tests is a terrible idea with no purpose other than to ratchet up hysteria and paranoia.
I swear some of you cannot or will not read. This is not about asymptomatic people testing themselves. The policy concerns people who are confirmed to have covid. The policy is about them not getting tested AFTER five days to show they no longer are actively carrying covid before returning to work.
Also, if you'd read the article, you'd see this is not about "science" or "getting it right;" this is about them having fucked up and not having gotten enough tests (remember when they crucified Trump for that for a FULL YEAR?!?!) and now making up a reason for rationing the tests.

I'm really tired of the "Covid is Completely Fake" lobby. You see right there the selective editing they have to do to justify their position. Can we at least agree that a guy who RAN ON A PLATFORM of accusing Trump of "willful mass murder" and having "blood on his hands" for not having enough tests when he was president should be held to his own standard and have enough tests to not invent new "science" to justify rationing tests? Or are we just going to congratulate Brandon for his wisdom here? Jesus.