Poll: Just 22% of American Even Want Joe Biden To Run Again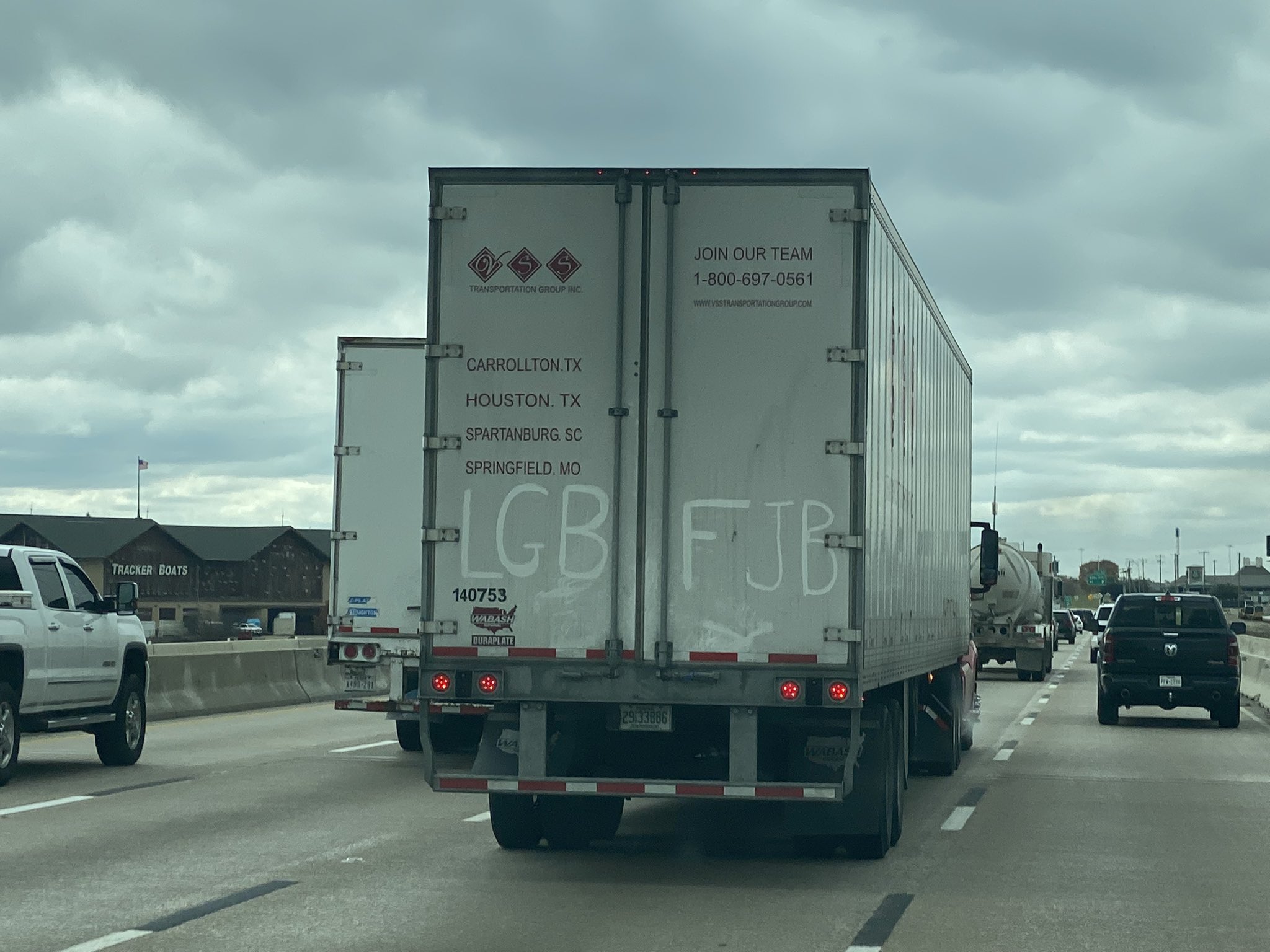 Via @CalebJHull

I'd like to see the polling numbers for how many think he even could run again.
If you gave them truth serum before they answered.
The I&I/TIPP Poll gave respondents the names of 16 other possible candidates, asking "Who do you want to see run for president on the Democratic ticket in 2024?" As mentioned, Biden was named by just 22% of those asked, while 12% mentioned Vice President Kamala Harris, whose abrasive style, lack of preparation, and revolving-door personnel changes have drawn criticism even from formerly friendly Democrats and the left-leaning media. None of the rest rose above low single-digits: Transportation Secretary Pete Buttigieg garnered 4%, while New York Rep. Andrea Ocasio-Cortez, Massachusetts Sen. Elizabeth Warren, Massachusetts Rep. Joe Kennedy, and Georgia 2018 gubernatorial candidate Stacey Abrams each attracted 3% of the support. ... Even Democrats seem less than enthused about Biden holding the top spot. Just 37% want him there. And only 16% give Harris the nod as presidential standard-bearer, alarming given that Vice President Harris is next in line to be president should Biden not complete his term in office.
From last week:
Biden loses support with his strongest constituency, young voters.

Younger Americans are a key part of Democrats' base, but they have soured on President Joe Biden. Polling shows -- despite winning roughly three-in-five voters under age 30 -- Biden's approval rating slipping below 50 percent among the youngest segment of the electorate. That includes a new Harvard Youth Poll released Wednesday that pegs Biden at 46 percent approval among Americans aged 18 to 29, compared to 51 percent who disapprove. It's a 13-point drop for Biden from March, when 59 percent of young Americans approved of the job Biden was doing.
'
Meanwhile, the Cook Political Report has shifted eight gubernatorial races
in the direction of the GOP.
Only three were moved in the Democrats' direction: Massachusetts, which was moved to a Lean D because the "Republican" governor Charlie Baker is retiring; Georgia, which moves to a toss-up I guess because Perdue is announcing a primary against incumbent Kemp and I guess because the current incumbent Stacy Abrams just announced her re-election bid; and New York, which was already lean D and now is solid D. Not sure why. But eight move in a GOP direction, and they're eight you'd really like to win.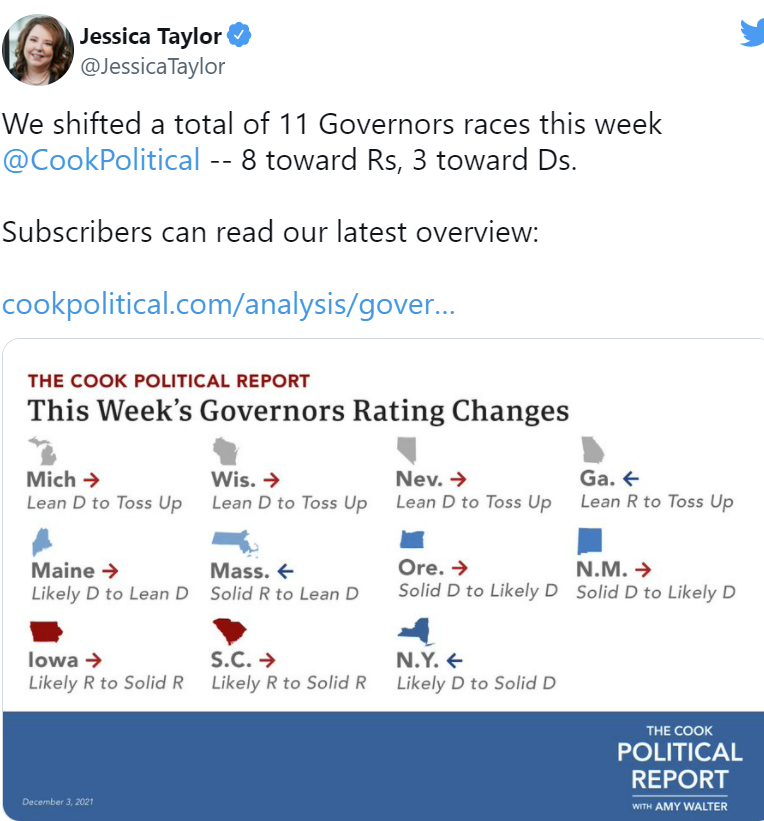 Most notably, Cook moved Wisconsin, Michigan, and Nevada all from "lean Democrat" to "toss up." Wisconsin has long been considered a swing state, where the presidential race results have come within one point during the past two elections and where Evers just barely beat out former Gov. Scott Walker, a Republican, in 2018. Since taking over the governorís seat, however, Evers' term has not been without turmoil. The Wisconsin Democrat faced waves of criticism in 2020 both for stringent coronavirus policies and for focusing more on race relations and less on maintaining law and order after deadly riots broke out in Kenosha following a police officer shooting Jacob Blake. The upheaval in his state has continued to dominate headlines between the exoneration of Kyle Rittenhouse -- who killed two of his attackers during one of last year's riots -- and the Waukesha parade tragedy, where a man with an extensive criminal background out on bail allegedly drove an SUV into a parade, killing seven people. Cook cited a Marquette Law School poll that showed Eversí approval rating "in the danger zone for an incumbent," at 45 percent approval and 46 percent disapproval. "Most damning for Evers though was when the poll asked whether he should be re-elected," Cook noted. "Only 40% said definitely/probably, while 53% said they'd definitely/probably vote for someone else.... These are numbers an incumbent doesn't want a year out from the midterms." The leading GOP challenger to Evers, former Lt. Gov. Rebecca Kleefisch, is proving competitive in the early stages of the race after a poll this fall found her neck and neck with the governor.
A Harvard Poll finds that Trump would beat Biden were the election held today, but, to be honest, not by as much as I'd hope, given how badly Biden is
faring right now:

A new Harvard CAPS-Harris Poll reaffirmed an ongoing trend that former President Donald Trump is increasingly more popular than his successor, President Joe Biden. Released exclusively to The Hill, the poll showed that 48 percent of likely voters would back President Trump in a 2024 matchup versus 45 percent for Joe Biden. As noted by The Hill:


The results were evenly split at 46 percent among women, while men backed Trump by a margin of 50 percent to 43 percent. Biden won urban voters by 20 percentage points and suburban voters by 4 percentage points, but Trump romped among rural voters by 33 percentage points.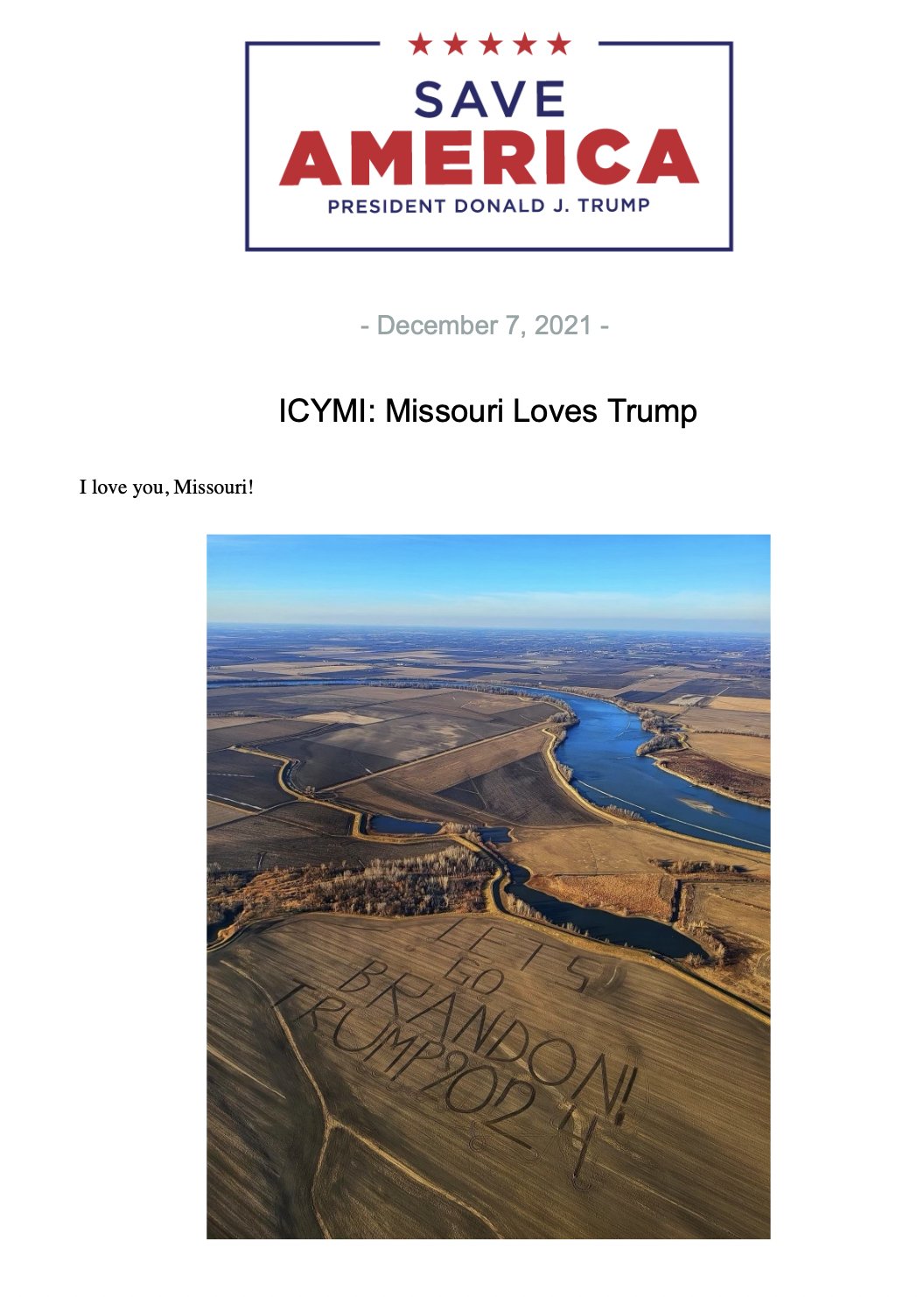 MuNuvians
MeeNuvians
Polls! Polls! Polls!
Frequently Asked Questions
The (Almost) Complete Paul Anka Integrity Kick
Top Top Tens
Greatest Hitjobs
News/Chat