David French Has a New Article Up at The Atlantic, Guys, and You'll Never Guess What It's About
Well I guess you can guess what it's about -- It's about Trump.
If I asked you to guess the avenue of attack on Trump, you'd probably guess that, too: It's Real Man David French talking about masculinity and claiming that anyone who disagrees with him isn't quite masculine in That David French Way. Similar to how all Christians who don't agree with his newfound commitment to hard leftwing politics aren't quite Christian in That David French Way. Before that, something to panic about:

Zeke Miller

@ZekeJMiller
WASHINGTON (AP) -- US official: US identifies first case of omicron COVID-19 variant in California.
Emily Kopp

@emilyakopp CDC: An individual in California tested positive with the Omicron variant. The individual returned from a trip to South Africa on November 22. Close contacts have tested negative.
Better lock us all in the closet again, then. Speaking of: David French returns to a subject about which he is an undisputed expert: Male weakness.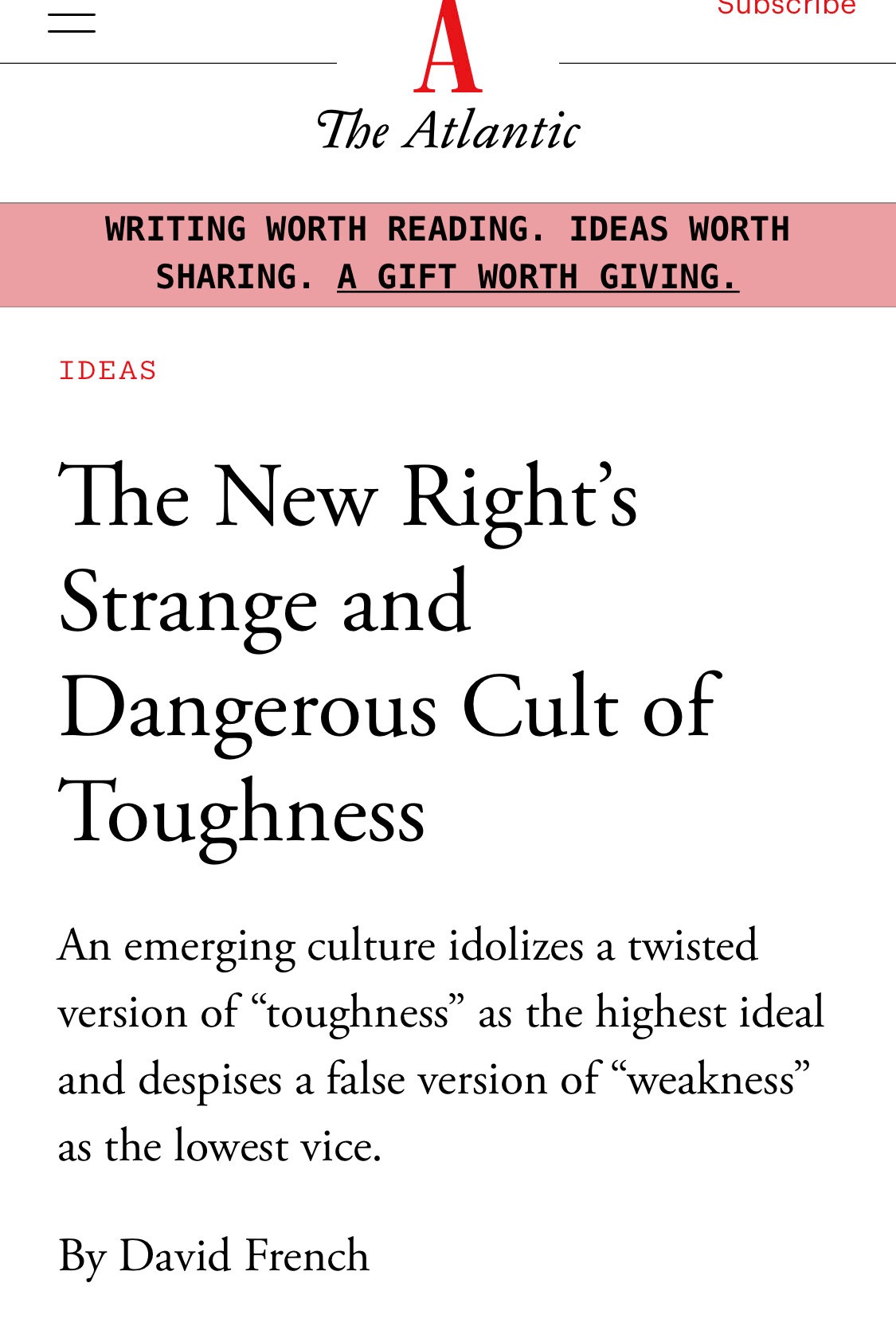 Toughness has always been a virtue. The Bible speaks of a closely related attribute, perseverance. And here's Pharisee French deprecating it in favor of weakness and vacillation and endless bowing and praying to Strange New Gods, the virtues of his new cult. I'm not surprised all these guys moved left -- they always were on the left of the right. AllahPundit, French, Goldberg, Hayes, the Bulwark Boys. They were always kissing cousins to actual leftists, and very clearly preferred the company of their cherished leftist friends to that of unreformedly masculine conservatives. And all of them have to keep the grift going. They can't sell their grift to the right anymore, so they had to hustle up a new clientele. (Except for AllahPundit, who, incredibly, is permitted to run a far leftwing propaganda blog in a supposedly right-wing media group.) And I note that David French's bio never, ever says that he has a legal business outside of his business of leftwing propaganda business. So apparently, the Grift is all that's keeping a roof over his head. So I'm not surprised that these guys moved to the left. What does surprise me is how easily, how quickly, how thoroughly, and how shamelessly they moved to the hard left. And how
viciously
they did so. They take genuine pleasure in directing all attacks at the people they once pretended were "allies" or whom they once presumed to "lead."
There's some good dunking on the weakling cvckold French in this thread started by Dave Reaboi.
One commenter there points out that David French has,
get this!
, flip-flopped on the value of strength vs. weakness. While he now denigrates strength and toughness as the virtues of the alt-right,
he used to write screeds against male weakness when he was pretending to be a Tough-Guy Real Conservative at pretend conservative blog National Review.
Men Are Getting Weaker — because We're Not Raising Men
By DAVID FRENCH
August 16, 2016 6:16 PM If you're the average Millennial male, your dad is stronger than you are. In fact, you may not be stronger than the average Millennial female. You're exactly the kind of person who in generations past had your milk money confiscated every day — who got swirlied in the middle-school bathroom. The very idea of manual labor is alien to you, and even if you were asked to help, say, build a back porch, the task would exhaust you to the point of uselessness. Welcome to the new, post-masculine reality. This morning, the Washington Post highlighted a study showing that the grip strength of a sample of college men had declined significantly between 1985 and 2016. Indeed, the grip strength of the sample of college men had declined so much — from 117 pounds of force to 98 — that it now matched that of older Millennial women. In other words, the average college male had no more hand strength than a 30-year-old mom. Yes, I know it's only one study. Yes, I know that grip strength is but one measure of overall physical fitness. But as the Post noted, these findings are consistent with other studies showing kids are less fit today. (For example, it takes children 90 seconds longer to run a mile than it did 30 years ago.) Simply put, we're getting soft — and no cohort is getting softer faster than college men. I look back to my own childhood. In 1985, I was 16 years old, and I was a nerd's nerd. I toted graph paper and 20-sided dice to school to play Dungeons & Dragons at lunch. (I like to think I was the finest dungeon master Scott County, Ky., had ever seen.) When I wasn't playing D&D, my nose was buried in Lord of the Rings, or the Shannara books by Terry Brooks, or the Dragonriders of Pern by Anne McCaffrey. I played sports, sure, but let's just say that my varsity tennis exploits didn't make the cheerleaders' hearts flutter. But none of my nerdiness relieved me of the responsibility of learning how to be a man — a protector, builder, and fixer. So that meant spending my Saturdays hauling out the ramps to change the oil and oil filters on all our cars. That meant helping my dad build a new back porch or constantly wrestling with immense piles of firewood. (We heated our house with a wood stove.) I made extra money working in neighborhood yards. Being a guy meant doing manual labor. That was just part of growing up — no matter your social class.
Can you smell that? What you're smelling is the sweet, sweet sweat of overcompensation, and the mental
straaaainnn
of trying to remember something, anything from his pathetic weakling past that sounds vaguely "manly." I'm surprised he didn't include "EXXXXTREME Baking" and "Wearing Mother's Dress Shoes WITHOUT HER PERMISSION." That essay is included in David French's book
How to Be a Man (Just Like Me)
, in the chapter "How to Help Your Wife Have a Mind-Blowing Orgasm." The main tip is, "Don't interrupt her by ringing the home phone between 9 and 11:30." Heyyyooooooooooo!