DeSantis Says the Press Is Covering Up the Terrorist Attack in Waukeshaw Because an Anti-White Attack "Doesn't Fit the Narrative;" Also Says That The Terrorist Was Likely Animated By Media Lies About the Kyle Rittenhouse Case
True and true.
He points out that Biden and his partisan DOJ and FBI are eager to brand parents who question school boards "terrorists," but won't talk about the actual terrorist who killed six people and injured dozens at a Christmas parade, almost certainly out of racial hatred and for political terroristic motive. This needs to be amplified enough that even the media which is suppressing this story -- in order to cover up its previous lies about the Rittenhouse case -- is forced to address it.
"That was a lie."
'It very well may have been in response to what happened with Kyle Rittenhouse," DeSantis began. "And you have to wonder if that's the case, almost surely, this guy's view of Rittenhouse was colored by all these media lies. He brought, he brought a rifle across state lines. That's a lie. They said that the initial altercation with Jacob Blake, that Blake was unarmed. That's a lie. They covered up Blake's criminal history. "
Meanwhile, Florida now has the lowest covid case rate in the country. Not just the lowest death rate, which they've had for a while, thanks in part to DeSantis betting correctly on monoclonal antibody treatment, and due to his policy of making sure the most vulnerable to covid (the elderly) were first in line for vaccinations. (If they
wanted
them.) But now Florida can boast of the lowest simple infection rate in the nation as well. While cases surge in the northeast.
Fauci and Allahpundit hardest hit.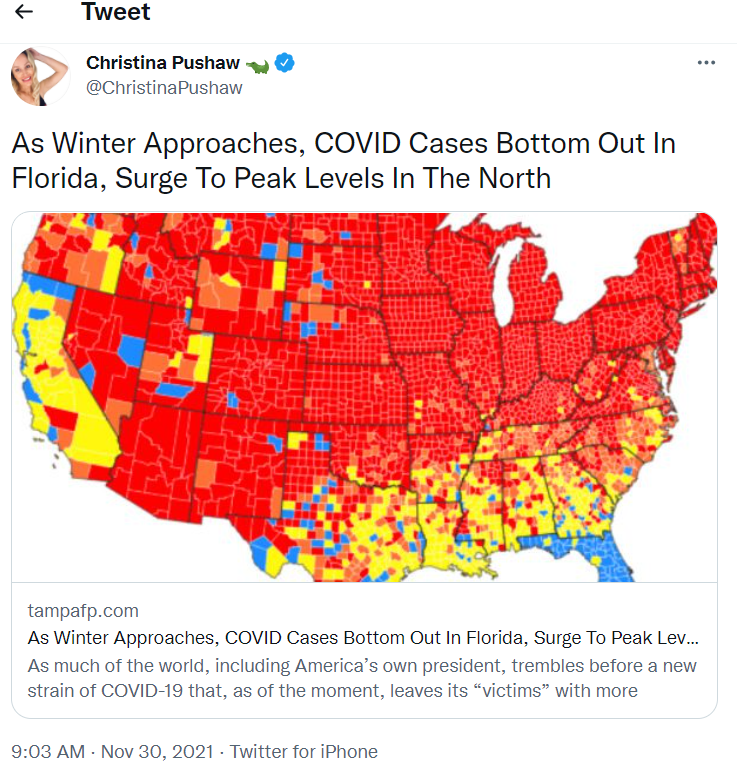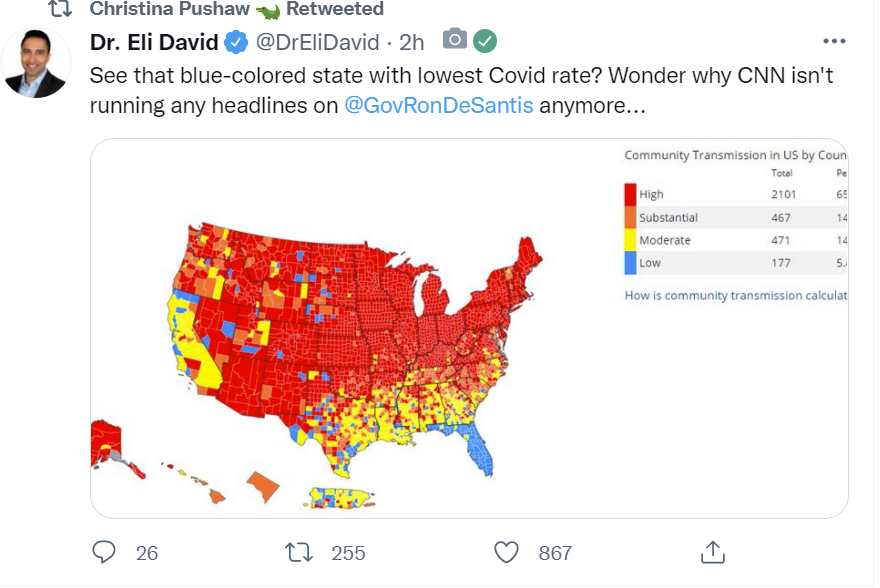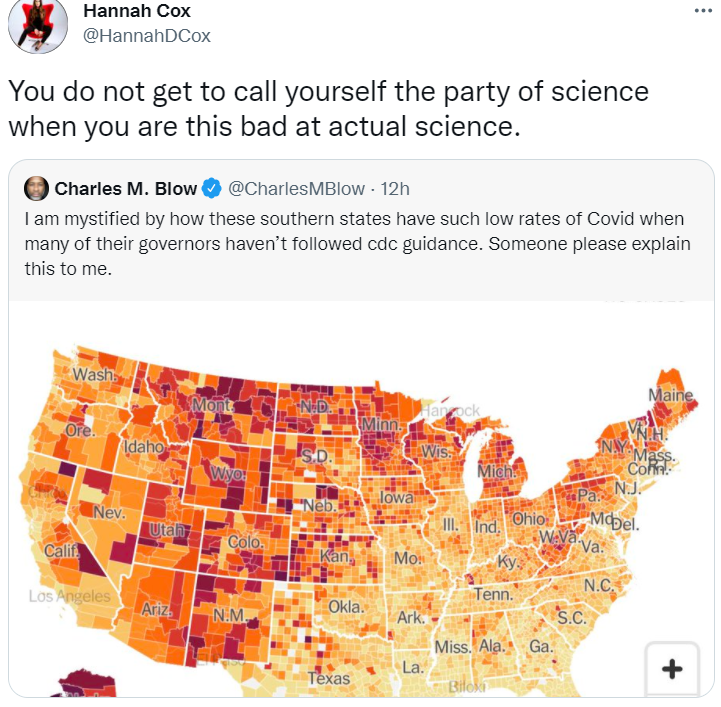 Don't criticize DeSantis. DeSantis
is
Science.
Benny
@bennyjohnson
DeSantis is the perfect example of how every state should be lead. He puts Americans First, he keeps Florida open, and lets Floridians live free and as a result, his state has one of the lowest COVID rates. This is how all of America should be.
Meanwhile, Trump's border closings were racist, Biden's border closings are Racially Nice. Because -- seriously, she says this -- because of Mean Tweets. By correctly calling the Chinese Virus the Chinese Virus, Trump transformed an otherwise-proper border-closing into a racist, xenophobic one that must be opposed, even if it resulted in letting in thousands of infected people.