Woke Coca-Cola Congratulates The "Atlanta Champions" For Winning Something
Remember a few months back when Woca-Cola sided with Major League Baseball in publicly condemning Georgia's new voting integrity act? And how MLB then pulled the All-Star game from Atlanta?
Concurrent with all that, the Atlanta Braves have been in the crosshairs of cancel culture for some time now because they have a Native American nickname, and also for their fans' "tomahawk chop" chant. So, with woke America targeting them, the Braves just made it to the World Series and won it, with their fans enthusiastically tomahawk chopping throughout it all. So how did Coca-Cola celebrate the hometown team's victory? Take a look at this woke masterpiece of a tweet.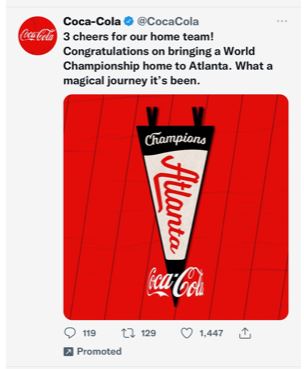 Nowhere does it mention "Braves" or even the sport of baseball. If the Red Sox won the World Series, would you see a major sponsor post a congratulatory tweet to the "Boston Champions"? Of course not. Coke is a sponsor of the Atlanta Braves, it's products are sold at Braves games, and Coke sells plenty of co-branded gear in Atlanta. But for the woke national audience on Twitter, this is the face that Coca-Cola is presenting. For the record, this is what a real pennant for the "Atlanta Champions" looks like.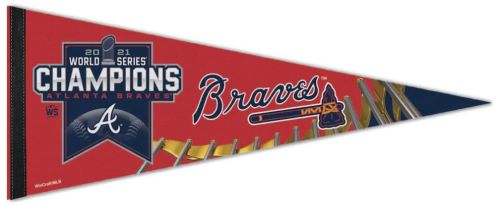 Speaking of cancel culture and the Braves, how about baseball writer Bob Nightengale of USA Today. He is
so stunning
and
so brave
for refusing to use the "Atlanta baseball team's nickname." But just five days early he used "Atlanta Braves" in a tweet.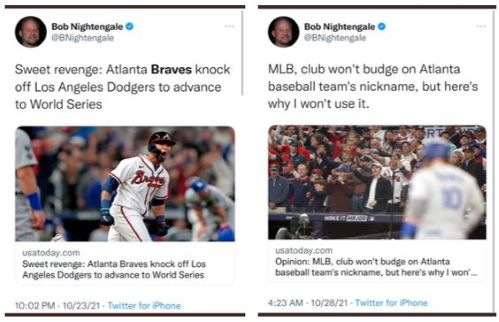 Journalists like @BNightengale deserve hearty mockery, and
Coca-Cola
the Atlanta Carbonated Water company deserves to have its products left on store shelves and out of our shopping carts until they abandon woke politics. [buck.throckmorton at protonmail dot com]
Posted by: Buck Throckmorton at
06:40 PM