Biden Polling Slips as America Braces for Most Expensive Thanksgiving Dinner In History
The public has lost confidence in Biden to lead the economy or to even lead his supposed "signature" issue of "ending" the pandemic.

Why it matters: It's Democrats and independents driving the declining economic confidence, from 52% of all U.S. adults at the start of his presidency to 44% now. Their softening faith could hinder Biden's ability to lead and hurt Democrats' position heading into the 2022 midterms. ... What they're saying: Biden's messaging is "focused on the wrong problem" from a confidence-building perspective, said Cliff Young, president of Ipsos U.S. Public Affairs. "The problem is not the unvaccinated. The problem is convincing those who are vaccinated that they have the tools to navigate a COVID world ... [and reassuring] those who've been vaccinated that they can live a normal life again." "People are confused," Young said. "There's no sense of what the endgame is." By the numbers: 71% of Democrats said they're confident that the Biden administration can ensure the economy recovers quickly after the COVID-19 pandemic -- but that's down from 86% in late January just after Biden's inauguration. Independents' confidence on that measure has dropped to 42% from 51%. Republican support is now at 18%, virtually unchanged from 17% in January. Just 21% have any confidence Biden can get vaccine skeptics to take the shot -- and just 5% say they're "very confident."
Even the New York Times admits that the wave of inflation Biden has unleashed will make this the most expensive Thanksgiving in American history: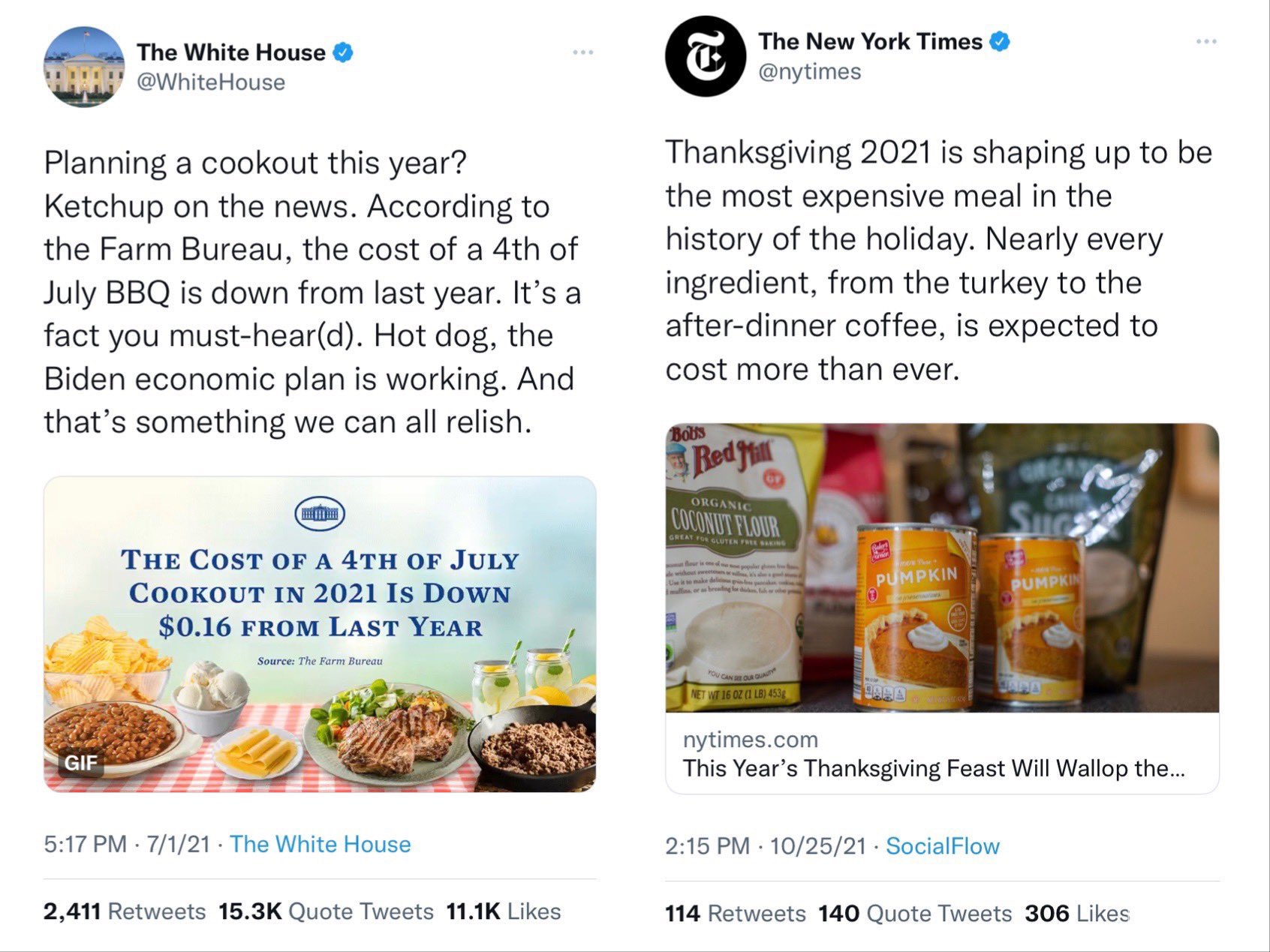 Even homewrecking slattern Mika Brzezinski is forced to report on the grim tidings:
' This local news report admits the historically inflated prices for food -- but then, incredibly, suggests that the "cost of
gluttony
" will be higher this year. The problem is with gluttonous Americans eating too much!
Look at that guy -- another fat leftwinger. This is the guy commenting on other people's "gluttony"? Via John Sexton at Hot Air, the bond markets are
signalling that investors expect inflation to not be as "transitory" as The Regime claims.
Today, the NY Times notes that a critical metric called the break even point, an estimate of what investors in the bond market think inflation will be going forward, jumped up to about 3 percent for the first time in more than a decade last Friday.


A key measure of the bond market's expectations for inflation over the next five years -- known as a break even -- rose to a new high Friday, briefly topping 3 percent. That meant investors expected inflation to average about 3 percent a year for the next five years, far higher than any time in the decade before the pandemic hit. Measures of inflation expectations over longer periods, such as over the next 10 years, also rose to multiyear highs… While the Fed chair, Jerome H. Powell, and other central bank officials have spent months saying higher inflation was a "transitory" result of pandemic-driven supply chain problems, there has lately been good reason to believe that price rises could be a more lasting concern...
Goldman Sachs disagrees, claiming that as soon as Pete Bootyjudge settles in from his long secret vacation and unsnarls the shipping and transportation crisis, inflation will fall back to a more bearable 2% rate by next year. Take that claim from the Democrat-aligned firm as you will.