LOL: Adele Knocked Out of Top Position on iTunes Charts by Not One But Two "Let's Go Brandon" Songs
81 million votes. The most voted-for president in history.
Like Saddam Hussein. He was very, very popular too. Adele is probably the biggest female pop singer in the world. And she can't keep a single in the number one position due to
all that massive popularity of Joe Biden that's driving the incredible success of two anti-Joe-Biden songs.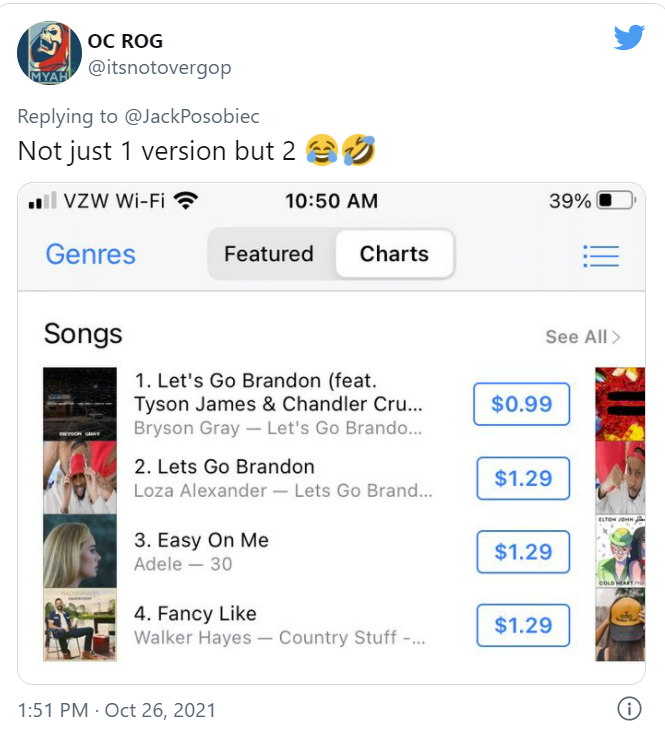 Former Fox gossip blogger and
accused corporate softboy Roger Friedman
shrieked over losing the top pop position to this "moronic" song. Two "moronic" songs, Roger. Do some fact-checking for once.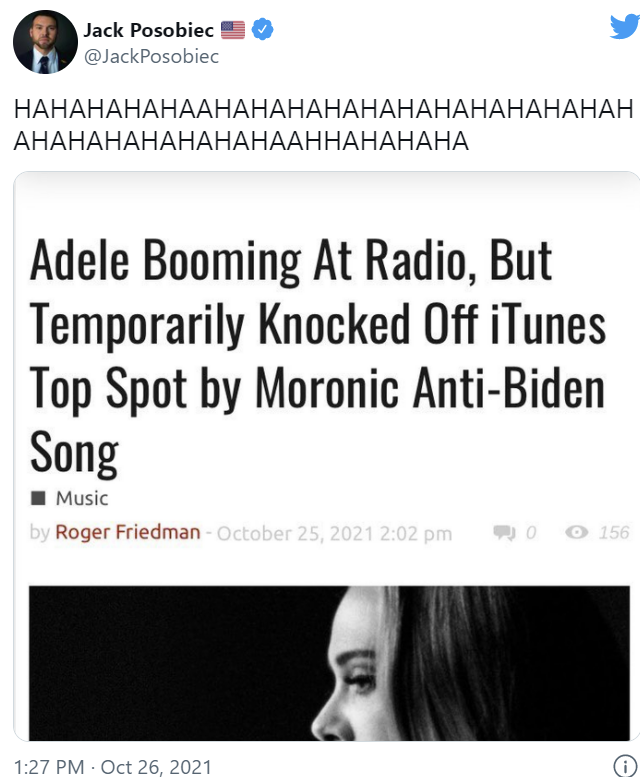 I know the
Loza Alexander song,
which is a fun, light schoolyard taunt. Here he is on Eric Bolling's show on Newsmax.
The Brandon Gray rap is more serious and political. He's saying a lot of something here.
Lyrics
here.
They're something, all right.

[Intro: Joe Biden speech:] The various shots the people are getting now cover that
They're-, they're-, they're okay
You're not gonna-, you're not gonna get COVID if you have these vaccinations [Brandon Gray:]
Somebody gotta do it
Ayy [Chorus: Bryson Gray]
Let's go, Brandon
I keep a drum like I'm Nick Cannon, ayy, ayy, ayy, ayy (Brrt, brrt)
Let's go, Brandon
Pandemic ain't real, they just planned it, ayy, ayy (They just planned it)
Let's go, Brandon
When you ask questions, they start bannin', ayy, ayy (Facts) ... Biden said the jab stop the spread, it was lies (I remember)
How you woke, but you haven't opened your eyes? (You ain't see)
These politicians are demons, just in disguise (Facts)
Look at Kyrie Irving and Nicki Minaj (Let's go)
Look at Australia, that's what's comin' next if we don't stand up
Stop complyin' with them takin' our rights, it's time to man up
'Publicans votin' for red flag laws, that's just what I can't trust
If you ask questions 'bout the vax, then they gonna ban us (It's true)
Ayy, this is 'bout control, everybody knows
Everyone complies weigh the cons and pros
I don't need a plane, I just hit the road
I do what I want, I can't sell my soul
Market 'bout to crash, this is what you chose
Ruinin' the country, I think that's the goal
You gon' take the mark, I take narrow roads
I'm a man of God, I can never fold
This guy's slamming "'Publicans" for voting for Red Flag laws?
#Based. I don't agree that the pandemic was planned, but a few points on that: 1, artistic expression isn't always literal. This is a song, not an essay. 2, I don't have to agree with all to find value in some. 3, between the "respectable opinion" types who want to ban all speech they disagree with --
to protect the uneducated masses from dangerous misinformation!
-- and those who speak forbidden speech, even forbidden speech I disagree with -- I support the forbidden speakers. I'm sick to death of Establishment drulls telling me what I can say and what I can hear in order to "protect" me from mimetic contagion. Fuck off, losers. Sort your own thinking out before you try to fix others'.