Quick Hits
From Twitter's "news:"
Remains found in Florida park are those of Brian Laundrie, FBI confirms Suspected human remains recovered on October 20 in a Florida park are those of Brian Laundrie, the FBI announced on Thursday. The FBI said dental record analysis confirmed the identification. Laundrie, the sole person of interest in the death of his fiancee Gabby Petito, was reported missing on September 17.
CNN and MSNBC probably won't cover this. They don't have the time, you see. They're doing that 24/7 wall-to-wall coverage of missing Women of Color, you know. Just like they promised.

The New York Times
@nytimes Dental records confirmed that the human remains found in a thickly wooded Florida park were those of Brian Laundrie, a "person of interest" in the murder of his fiancee, Gabrielle Petito, the FBI said on Thursday.
Wait,
dental records
confirm this? If I know anything about mystery TV shows, dental records are the most easily spoofed form of record! Hmmmm...
Disclose.tv
@disclosetv
JUST IN - U.S. House passed a resolution to hold Steve Bannon in contempt of Congress. Nine Republicans voted yes: Beutler, Cheney, Fitzpatrick, Gonzalez, Katko, Kinzinger, Mace, Meijer, Upton.
The cost of moving a shipping container from Asia to the US has skyrocketed from $3,800 under Trump to
over $17,000 today.
Freightos also revealed that shipping to the east coast is more expensive than the west coast, with rates reaching $20,000. The increase in shipping cost is primarily due to the supply chain crunch, which is jamming seaports, trucking companies, and warehouses.
Housing prices continue
rising, making homeownership more unaffordable than ever.
The median existing-home price for all housing types in September was $352,800, a 13.3 percent increase from a year ago, data released Thursday by the National Association of Realtors showed. Prices were up across the country. The median price for single-family homes $359,700 in September, up 13.8 percent from September 2020.
Noted Throuple Enthusiast Katie Hill is pregant. She's pregnant with a member of the media's child. A member of the media who just happened to
mount a defense of her claiming the sexual harassment/throuple story was a conspiracy theory invented by right-wing enemies.

One of the journos who defended Hill was a guy named Alex Thomas, who worked for Playboy at the time. He claimed the whole scandal was a conspiracy by those dirty Republicans, and he seemed to think he was going to win awards for his work.
But Thomas retracted the story the next day and nothing ever came of it, for the simple reason that it never happened. A few months later, it was reported that Hill and Thomas attended a book party together. Thomas claimed they were just pals, but a few days after that, it was revealed that they had been dating since before she got caught diddling the help. Thomas had vigorously defended Hill in print without revealing he was also having sex with her. That was a bit of a no-no, even by the woefully degraded standards of 21st Century journalism....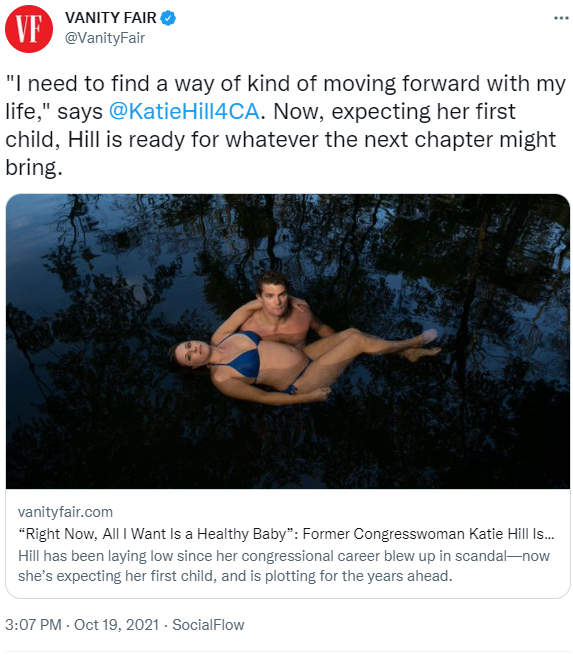 She's having my thraby. The leftwing Democrat Party continues its
genius
campaign of telling people affected by inflation and empty shelves to
shut up and focus on the Luxury Concern that so bother the Ruling Class.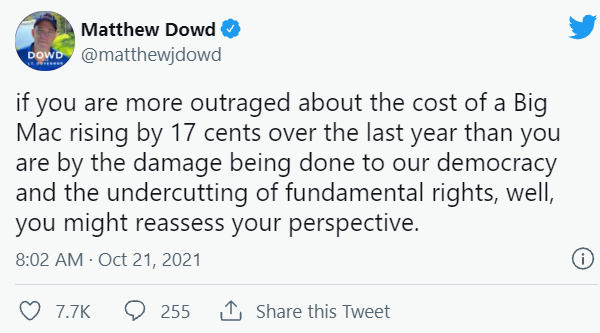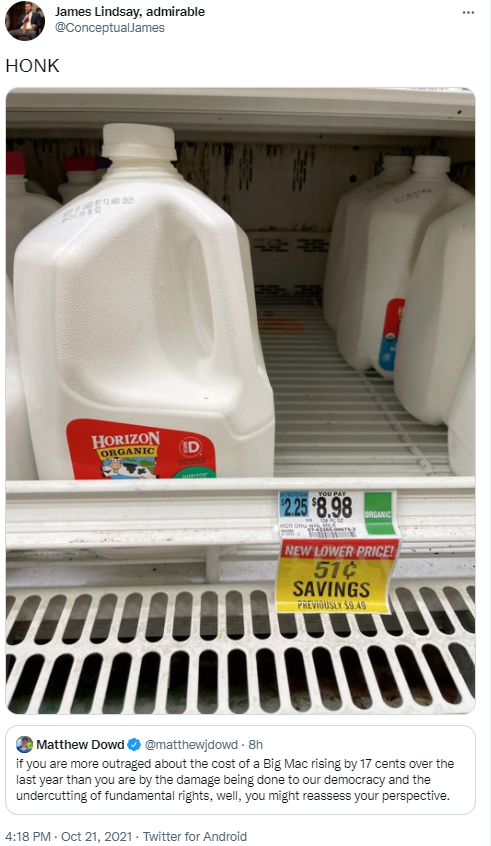 Remember, this Ruling Class toff is running for Lt. Governor of Texas. But he's
proud
to show off that he doesn't know what groceries cost because Lupe and Flora handle all that for him. A "Luxury Concern" is one that you need a tremendous amount of money and security to even bother thinking about. The Ruling Class likes showing off that it does not have Common Concerns, but only "high class" Luxury Concerns.
@Jim_Jordan Ron Klain: Inflation is a "high class" problem. Jen Psaki: It's a "tragedy" that your treadmill is delayed. Washington Post: Lower your "expectations" about the supply chain crisis. The Left - so out of touch.

Luxury Concerns like worrying about
which pronouns your Hollywood Trans Child wants to use this week.
Halloween franchise star Jamie Lee Curtis, a gun control pusher, Planned Parenthood spox, who backed Joe Biden in 2020, is expressing renewed support for her biological son coming out as transgender, calling herself a "grateful student" of all the new lessons in gender identity. "I'm a grateful student. It's learning new terminology and words," the Halloween Kills star said in a recent interview with People. Curtis revealed this past July that her biological son, with whom she shares with husband Christopher Guest, now identifies as a woman named Ruby, saying she watched "in wonder and pride" as the transition unfolded.
Entertainment rag Variety straight-up defames comedian Vito Gesauldi by lying that it was Gesauldi "pushing" the trans extremists -- when anyone watching the video could see
it was the trans extremists getting physical with him.
Gesauldi tweeted out for help from lawyers. He should sue. The media cannot be permitted to just lie and defame citizens as a standard operating procedure and key part of their business model. "I did it for the clickbait and rage-clicks" is not a defense to defamation.
Has-been child actress Alyssa Milano
says that Dave Chappelle's Netflix special should be cancelled.
Left-wing activist and actress Alyssa Milano says Netflix should pull veteran comedian Dave Chappelle's special The Closer, adding that it is "really important to hold people accountable" in this new era of cancel culture. After being asked by a photographer to share her thoughts on the so-called "Chappelle controversy," Milano said, "I think there's no room for any hate speech right now in America." "I think Netflix should pull the special, and Dave should actually sit down and have a conversation with people from the community so that they can tell him why they were hurt by it."
Meanwhile, Alyssa Milano's former co-star on Charmed tells Netflix protesters to stop being delicate pissbabies.