Literally Violence: Trans Extremism Protesters Attack Man at Netflix Walk-Out for Carrying Sign That Says "We Like Dave"
The CEO of Netflix, who was resolute in championing Cuties from evil right-wingers who, get this, object to barely-disguised child p0rnography, is walking back his previous support of Dave Chappelle.
He claims that trans and SJW Netflix employees are "hurting" -- literally in pain; literally wounded by Chappelle's Violence of Jokes -- and is striking a more apologetic tone.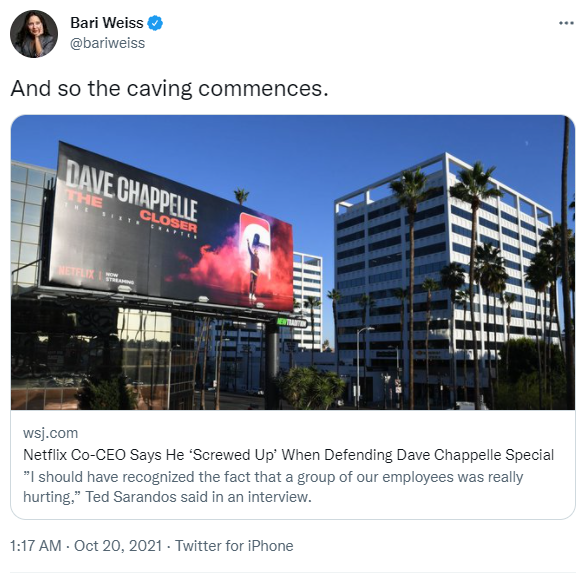 He bends the knee:
Netflix chief Ted Sarandos knows he "screwed up" in the aftermath of Dave Chappelle's highly debated new special, The Closer. One day before LGBTQ+ employees and allies were slated to stage a walkout in response to two recent memos defending Chappelle, Sarandos acknowledged that his statements could've been more humane.
His statements said that Chappelle's words did not cause real-world harm. Now he's stepping back from that. Maybe his speech really was violence.
"Obviously, I screwed up that internal communication," Sarandos told Variety on Tuesday. "First and foremost, I should have led with a lot more humanity. Meaning, I had a group of employees who were definitely feeling pain and hurt from a decision we made. And I think that needs to be acknowledged up front before you get into the nuts and bolts of anything."
Yes we need to acknowledge trans extremists more. It's not like we're forced to praise a fringe of mentally-ill bullies every single day of our lives already.
Below, the trans extremists who say that Chappelle's jokes about trans people's nebulous relationship with physical and sexual reality is Literally Violence perpetrate literal violence on a YouTube comedian and SJW critic, Vito Gesauldi, for the violence and physical injury he caused by holding a "We Like Dave" sign. It was just self-defense, you understand. And when they break off his sign and leave him holding just a naked stick, they begin hissing that now "He's got a weapon!"
Here were the actual protesters, whining about All the Literal Violence being perpetrated on them.
They sound like Sol Rosenberg. Okay then I'll be down there in an hour, with my nub. Here was the counter-protest, before the people who think jokes are Literal Violence began perpetrating Actual Literal Violence.