Two New Polls Put Joe Biden's Approval Rate at 37% As RealClearPolitics Average Drops to 42%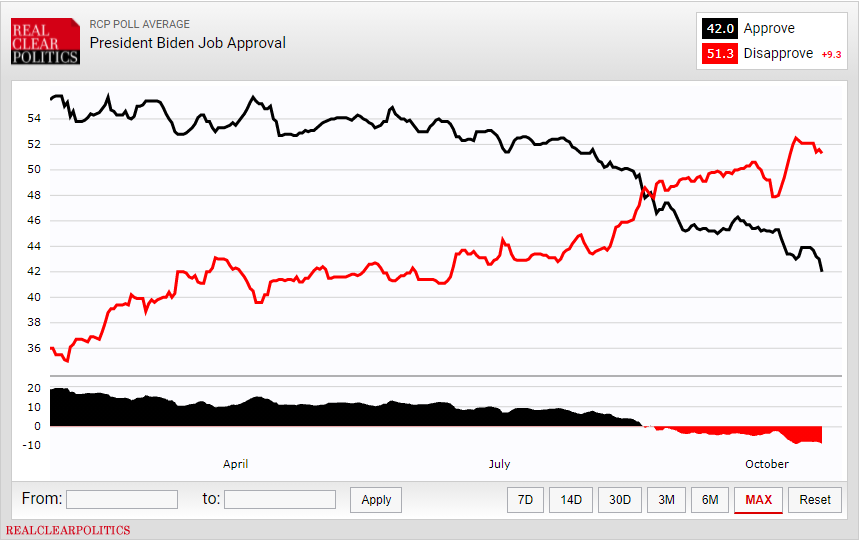 A Quinnipiac poll released yesterday
showed Biden's job approval sinking to 37%.
According to the poll, which surveyed 1,342 adults nationwide between Oct. 15 and 18, Bidenís approval has dropped to 37 percent -- despite the fact that only 23 percent of respondents were Republicans. The poll was D+4. Only 38 percent of those surveyed said they have a "favorable" impression of the president. That's less than Trumpís 39 percent "favorable" rating in the same poll, despite the sample group leaning blue. The poll indicates Biden's approval has slipped across demographic groups. Not only is he a staggering 39 points underwater with white men (26 percent approve to 65 percent disapprove), but he's also lost the support of white women and Hispanics. Approval among white women is down to 40 percent, with 53 percent disapproving, a 13-point deficit.
LOL. He's losing the support of Karen.
And among Hispanics, it's a gaping 18-point difference (33 percent approve to 51 percent disapprove).
And also losing support from the "Latinx" community. As far as strong support and strong disapproval: 18% "strongly" approve of Biden's job approval. But the percent of people who "strongly" disapprove:
43%.
52% of the country also says we're worse off now than we were last year under Trump, in the depths of the lockdowns, and without any vaccines. Independents say the country is worse off than it was four years ago, by a margin of 56% to 30%. And there was
even more bad news for Biden in the poll.
Support for a border wall is growing, and opposition is softening:
Americans are split on building a wall along the border with Mexico as 45 percent support building a wall, while 49 percent oppose it. Among registered voters, 46 percent support building a wall, while 49 percent oppose it. That is the lowest level of opposition to building a wall along the border with Mexico since November 2016 when the question was first asked by the Quinnipiac University Poll. The highest percentage of voters opposed to building a wall along the border with Mexico was 64 percent in 2017.
A Grinnell poll released today
confirms the 37% job support finding.
When asked whether they approve of the job President Biden is doing, only 37% approve (50% disapprove). Disapproval is highest when it comes to his handling of immigration (27% approve; 58% disapprove) and the economy (36% approve; 53% disapprove). Additionally, only 36% of Americans believe the economy will be in a stronger position 12 months from now -- an 11-point drop from March 2021. Right now, the math is simple: a majority of Americans believe the economy will be doing worse in 12 months than it is today, and that pessimism is keeping President Biden's approval ratings in the basement," said Hanson. If the 2024 presidential election were held today, the same percentage of likely voters would vote for former President Donald Trump (40%) as President Biden (40%), and 14% of voters say they would choose someone else. While Biden polls stronger among his Democratic base than Trump does among Republicans, Biden's support among independent voters has collapsed.
And the word "collapsed" is justified:
"In 2020 exit polling, President Biden won independent voters by a 54% to 41% margin,Ē said J. Ann Selzer of Selzer & Company. "If the election were held today, our poll shows former President Trump winning that group 45% to 28%. It is a massive shift in a demographic that helped carry Biden to victory less than two years ago."
Below, a Tucker Carlson rant about the Biden Administration's and media's message to Americans concerned about the Shithole Country the left has given us: "Shut up, Karen. Reduce your expectations. Accept that America has always been this way, and is likely to get worse, so just shut up and support The Regime."
I do like the "Shut up, Karen" messaging, though. It is an interesting strategy to tell the wealthy liberal white women who overwhelmingly support the left to shut up and stop complaining. We'll have to see how that works out for them.