Worse Than Useless: Senate Republicans
[Joe Mannix]
A common thread on these boards has to do with Trump's poor selections with regard to staffing. There are strong arguments all around this topic, but one that comes up boils down to "even if he had picked better, the Senate would have rejected his picks." While I generally agree that a lot of Trump's personnel decisions were poor despite obstacles (Tillerson comes immediately to mind), there is rather a lot to this argument. Moreover, this argument makes a judgment about the Republican Senate. I think confirmations are decent weather vane about they actually think and operate. Confirmations are easy: you go with the President's guy (or, in prior eras, you confirm by default). So how did the Senate Republicans hold up when we compare the Trump and Biden administrations?
I decided to compare appointments and confirmations for top-line positions (agency chiefs and secretaries) and use a very simple comparison point: were they or were they not passed with supermajorities (67 votes or more) or a voice vote? In both the previous Senate and this one, the margins were tight. They are tighter now. To get a supermajority in either case, it requires a fair number of defections (though comparatively few in 2017-2019 Senate). Let's see how it looks when we break it down.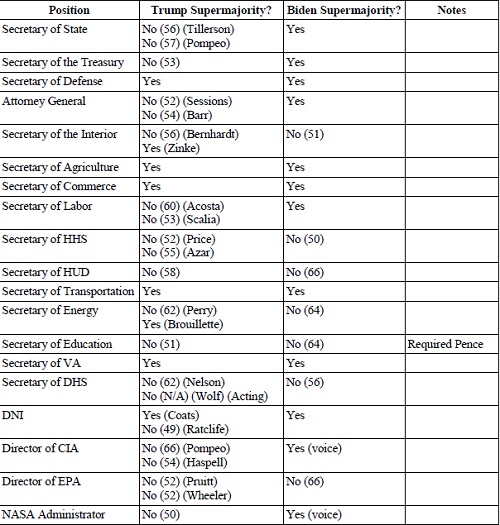 Phew. So what can we see? There are two ways to look at this reasonably: total, and by office. Trump, as has been exhaustively documented, had a lot of turnover. So let's look by office and assume that any holder of the office achieving a supermajority counts for the entire field. What do we see? Biden offices with supermajority confirmation: 12
Trump offices with supermajority confirmation: 8 Biden has 50% more top-line officers confirmed with supermajorities or voice vote than Trump. Add in to that the fact that these totals were achieved by Biden in a mere nine months versus Trump's 48. That seems bad, yes? Not to worry, it gets worse. Look at the totals. Every singe Biden supermajority required at least 17 Republican defections - and he got 12 of them. Any Biden confirmation total exceeding 51 votes required at least some Republican defections - and he got five of them. Biden has only two appointees - HHS and Interior - that were confirmed with 51 or fewer votes. Unlike the other way around, the Democrats not giving Republicans supermajorities isn't surprising. They play to win. But how do the Republicans hold up? In a word: terribly. In most cases, the Republicans didn't even vote as a solid block for Trump's nominees. There were Republican defections (votes against confirmation) for almost every nominee. If only they treated their own president as well as they treat Biden. And that is the point. This is who the Republicans are. They fight against their own party routinely and with contemptible predictability while bending over backwards to support the Democrats in droves. Their rare failures to betray - like the recent spending bill - are exclusively to score political points when the outcome is essentially guaranteed regardless. We see the same behavior time and again - Obamacare repeal, the wall, confirmations, budgets, etc. - and they still have the temerity to claim to be honest, to be advancing the base's agenda, to be scrappy fighters and paragons of virtue while at all times working to ensure that the Democrats and the Left succeed in virtually all theaters. Virtually all of them are traitors who do not deserve their offices.