Cenk Uygur: I Would "End" Joe Rogan If I Fought With Him
Incredibly, hilariously, pathetically, Cenk Uygur claimed that he would beat up Joe Rogan should they get into a fight-- that Cenk would "end him," as he claimed.
Cenk based his ludicrous claim that he could beat up a fit mixed martial artist -- Rogan was a black belt in Tae Kwon Do when he was younger, and then became a black belt in Brazilian Jiu Jitsu when he was older -- despite being an obese, non-athletic clown with no training in combat.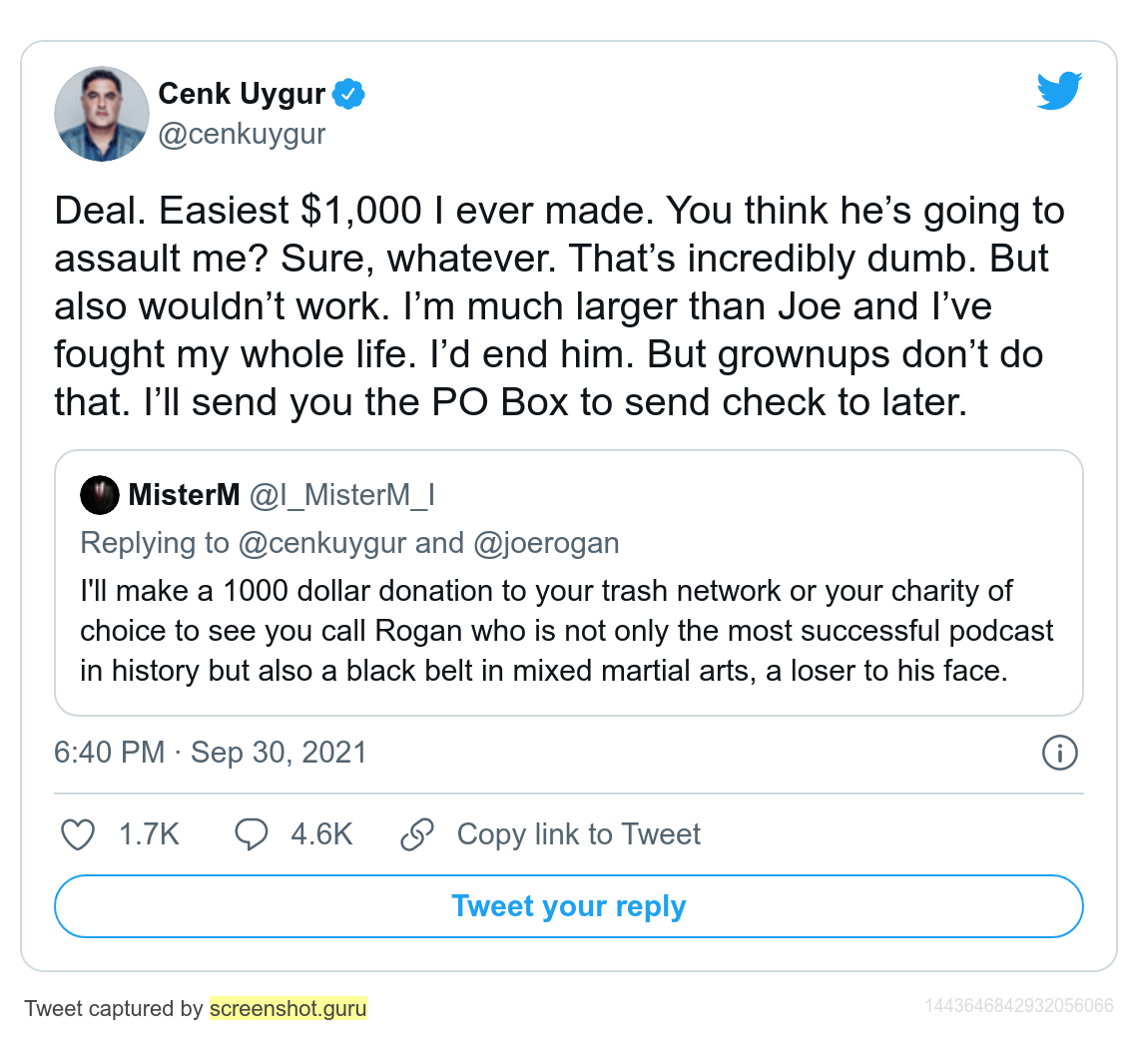 He's been fighting "his whole life"? Does that include the past 20 years when he was a minor internet celebrity and we'd've heard about any fights he's had? What he means, of course, is that when he was a tubby sixth grader, he once sat on a couple of kids in schoolyard scrapes. This is what he means by "fighting all his life." Chris Loesch had the perfect response to Cenk's claim that he's "much larger" (i.e., "more obese") than Joe Rogan, and that he'd been "fighting all his life:"
[You're] "much larger" than most people. The only thing you have fought your whole life is diabetes.
Correct. I don't understand this comical conceit of some very soft men that despite never training in a combat sport, despite having no interest in a combat sport, despite never even training to throw an effective punch, despite never sparring or fighting someone in the ring or in the martial arts studio, despite never doing the intense two minute drills of throwing constant punches and kicks partly just to train yourself to have the lung capacity to even be able to breathe effectively during a fight -- Despite having not spent a single minute in 30 years fighting or preparing to fight, a lot of "men" just think: Oh, I'd naturally just be good at fighting. I'm pretty sure my "natural instincts" would just kick in and allow me, a person with absolutely no fighting practice or skill, to
dominate
in a real street fight. No one thinks that despite having never taken a guitar lesson, their "natural masculine instincts" would just kick in and let them play guitar at a near-professional level if they had to during a Guitar Duel. No one thinks that despite never swinging the bat or practicing one's spring, one's Natural Aggressiveness would just turn on and allow someone to hit homers in a college-level baseball game. No one thinks that, despite having never studied a field like civil engineering, their Heart and Spirit would just take over for them if their physical safety were on the line and allow them to suddenly design a bridge or train tunnel. But a lot of idiots like Cenk, who I guarantee you does not even know how to throw an effective punch, think that they're just good at fighting for some unspecified reason. Cenk, you're a big fat tubby softbody with no physical training, barely any muscle to speak of, and zero mental toughness. I guarantee you that if you were in a fight, all your opponent would have to do is circle you and dance outside the range of your chubby-boy fists and you'd pitch over with your lungs seizing with adult onset sports asthma within two minutes. You're a joke. The fact that you once sat on a smaller kid in sixth grade does not mean that you're a naturally-gifted pugilist.