Sunday Overnight Open Thread (10/3/21)
(Photo H/T Ladyl)
***
The Quotes of The Day
Quote I "It's just another layer of security and protection," OEMC's Executive Director Rich Guidice
Quote II "You'll never find fairness on the left, look all you want, you'll go cross-eyed,"Jesse Watters
Quote III "These are people who spent $200,000 and they want perfection," Doug Gollan,founder of Private Jet Card Comparisons
Quote IV 'Our members are tired. Our members are feeling the pain of these COVID deaths.'' Mike Podue, president of ILWU Local 63
***
Oh no, Jonah Goldberg hardest hit.
PAIN IN THE A*** Covid could cause 'restless anal syndrome', docs claim
COVID illness may cause what doctors describe as "restless anal syndrome". It's as bizarre as it sounds, causing a person to feel they constantly need to move in order to relieve the "restlessness" in their anus.
***
We don't want them farting. Now we don't want them burping.
Just let the cows be.
The controversial quest to make cow burps less noxious
It's not so simple as just feeding them gas-busting seaweed. It's an oppressively hot morning in the barnyard, even in the shade of the long open-air structure where the cows come to feed. On a typical farm, they would gather around a trough, but here at UC Davis they chow from special blue bins, which detect when and how much each one eats. It's like Weight Watchers, only researchers here aren't so much interested in these cows' figures, but how much they burp.
***
Well the horse is out of the barn. Is this research in time or too late?
Senior author Dr. Clara Humpston said: "Cannabis is often considered to be one of the 'safer' drugs and has also shown promise in medical therapies, leading to calls for it be legalized globally. Although we are unable to establish a direct causal relationship, our findings suggest we should continue to exercise caution since the notion of cannabis being a safe drug may well be mistaken." Dr. Joht Singh Chandan said: "The research reaffirms the need to ensure a public health approach to recreational drug use continues to be adopted across the UK. We must continue to progress measures to improve the prevention and detection of drug use as well as implement the appropriate supportive measures in an equitable manner to prevent the secondary negative health consequences."
***
Nothing to see here peasants. Move along and
put up with us betters.
Fed Vice Chair Clarida Traded Millions One Day Before Powell Emergency Pandemic Statement Earlier this week, with Fed hawks suddenly dropping like flies following the resignations of Boston and Dallas Fed presidents, Rosengren and Kaplan, amid a public outcry over their recently-revealed daytrading activities which benefited them as a direct result of monetary policy decisions they were explicitly and directly involved in, we joked that if the Fed wants to get rid of all the hawks, they just need to leak the trading records of Kansas City Fed president Esther George, widely viewed as the most vocal hawk among all FOMC members.
***
We all know Joe Biden's residency in the White House isn't going well.
That was President Trump's plan all along.
ALM BEACH, FL—Trump has revealed to reporters that Biden's so-called "victory" in the 2020 election was actually a 4D chess plot by himself to make his own presidency look good. According to Trump, every time there's a major crisis now, people will look back fondly on the years 2016-2020, remembering the last great golden age of America when everything was great and we had a "really handsome, extremely smart president."
***
We can all gather together at Christmas if you are exposed to the common cold, the flu and even HIV/Aids.
But not if you want to avoid the Chinese Kung Flu.
Brennan asked, "But we can gather for Christmas, or it is just too soon to tell?" Fauci said, "You know, Margaret, it is just too soon to tell. We have to concentrate on continuing to get those numbers down and not try to jump ahead by weeks or months and say what we're going to do at a particular time. Let's focus like a laser on continuing to get those cases down. And we can do it by people getting vaccinated. Also, in the situation where boosters are appropriate to get people boosted because we know they can help greatly in diminishing infection and diminishing advanced disease."
***
Last week one night we looked at some mental illness on full display. The Hodge Twins address this issue.
***
Sure would be funny if this attention whore ended up in jail on an obstruction charge.
DOG the Bounty Hunter says tips are still pouring in as he hunts down Gabby Petito's wanted fiance Brian Laundrie - however, he isn't sharing those leads with law enforcement, the TV star has revealed. Dog, real name Duane Chapman, joined the hunt for 23-year-old Laundrie late last month at the behest of his fans shortly after Gabby's remains were found at a Wyoming campsite on September 19.
***
For $8K one would think they hire a tutor and pass the old fashioned way.
Over two dozen people taking a national exam that could lead to a career in teaching were caught cheating Bluetooth-enabled flip flops to get an edge over the stiff competition. Cheating has always been a big problem in India, especially during potentially life-changing exams. I remember watching surreal scenes of people climbing the walls of a school building in Bihar to hand cheat sheets to the students taking their year-end exams inside a few years ago, or army applicants forced to take exams in their underwear to prevent cheating. This year, authorities in Rajasthan went as far as cutting the internet connection in the state during the exam to prevent cheating, but they still couldn't prevent savvy cheaters from trying to get a leg up through nefarious ways. The latest method of cheating reportedly involves Bluetooth-connected flip-flops sold by criminal gangs for up to 600,000 rupees ($8,000) per pair.
The ONT Musical Interlude
Born on this day October 3, 1949 - Lindsey Buckingham
American musician, singer, songwriter Lindsey Buckingham from Fleetwood Mac who had the 1977 US No.1 single 'Dreams' from the world wide No.1 album Rumours. Buckingham was one half of the duo, Buckingham Nicks and aside from his tenure with Fleetwood Mac, Buckingham has also released six solo albums and three live albums. via thisdayinmusic.com
&&&
Born on this day: Ocotober 3, 1954 American musician, singer, songwriter, guitarist Stevie Ray Vaughan. He was one of the most influential guitarists in the revival of blues in the 1980s. Vaughan was killed in a helicopter crash on August 27th 1990 age 35. His family successfully sued the operators of the company for allowing an unqualified pilot to fly in fog and were awarded $2 million (£1.2 million). Vaughan played guitar on David Bowie's Let's Dance album. via thisdayinmusic.com
***
Weekly commenter stats for week of 10-3-2021

Top 10 commenters:
1 [547 comments] 'Joe Mannix (Not a cop!)' [77.21 posts/day]
2 [503 comments] 'qdpsteve'
3 [441 comments] 'jim (in Kalifornia)'
4 [417 comments] 'TheJamesMadison, finding religion in the USSR with Andrei'
5 [374 comments] 'Tonypete'
6 [357 comments] 'Braenyard'
7 [348 comments] 'Christopher R Taylor'
8 [346 comments] 'SMH - The War has been won, only the battles remain, as usual'
9 [345 comments] 'Aetius451AD'
10 [319 comments] 'rhennigantx' Top 10 sockpuppeteers:
1 [73 names] 'Miklos and his Healthy Roots' [10.30 unique names/day]
2 [55 names] 'Duncanthrax'
3 [50 names] 'Helena Handbasket'
4 [38 names] 'Count de Monet, unvaccinated Kulak-American'
5 [34 names] 'RedMindBlueState'
6 [30 names] '18-1'
7 [26 names] 'f'd'
8 [25 names] 'wth'
9 [21 names] 'OrangeEnt'
10 [20 names] 'Joe Mannix (Not a cop!)'
***
Ah, the good old "Failure to plan" problem.
Genius Award Winners.
Young Drinkers Are Pissed Their Fake IDs Don't Match Their Real Vaccine Cards These are tough times for underage drinkers seeking to drink illegally: the birthdays listed on vaccine cards, which are required to enter some bars, do not match their fake IDs.
***
An incorrect order and anger management issues leads to another
Genius Award Winner
OCTOBER 1--The McDonald's customer who called in a bomb threat to an Iowa restaurant because he did not receive dipping sauces with his 30-piece Chicken McNuggets order has pleaded guilty to a harassment charge, according to court records. Robert Golwitzer, 42, last week copped to a misdemeanor count in connection with a bizarre incident in late-June involving a McDonald's near his home in Ankeny, a Des Moines suburb. Golwitzer, seen at right, was sentenced to 12 months probation and fined $430 during a September 23 court hearing. According to an Ankeny Police Department report, a McDonald's assistant manager told cops that a man who called the restaurant "was irate due to the fact he had requested 30 chicken nuggets and received no dipping sauces for them." When the worker replied that the patron could return to the restaurant to retrieve the sauce
***
Pet Thread, Misanthropic
Tonight's Feel Good Story of The Day.
A home invader was mauled to death by two dogs inside a Georgia home and later discovered by the owner, according to reports. The Newnan Times-Herald reported on Thursday that Coweta County investigators were alerted after the body of a man was found at a home in Walt Sanders Road at 10:30 a.m. local time last Friday. The outlet added it was the homeowner who discovered the man's body on his front porch when he returned home.
***
Tonight's ONT has been brought to you by The Back Seat Driver.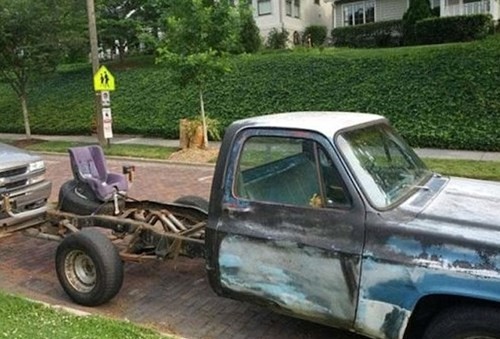 Notice: Posted with permission by the Ace Media Empire, AceCorp, LLC and Mis. Hum. Enterprises. For a transcript of tonight's ONT please send $5.00 and SASE to petmorons at gmail dot com.
Posted by: Misanthropic Humanitarian at
10:00 PM