Axios Poll: Majority of Public Now Distrusts Biden to Provide Accurate Information on Covid, Too
Covid had been the one area where Biden still had positive job approval.
This question isn't about job approval on covid. It's about trust in his information about covid. But if 53% thinks he's lying or uninformed on covid, I wouldn't expect his job approval on covid to be at or above 50%.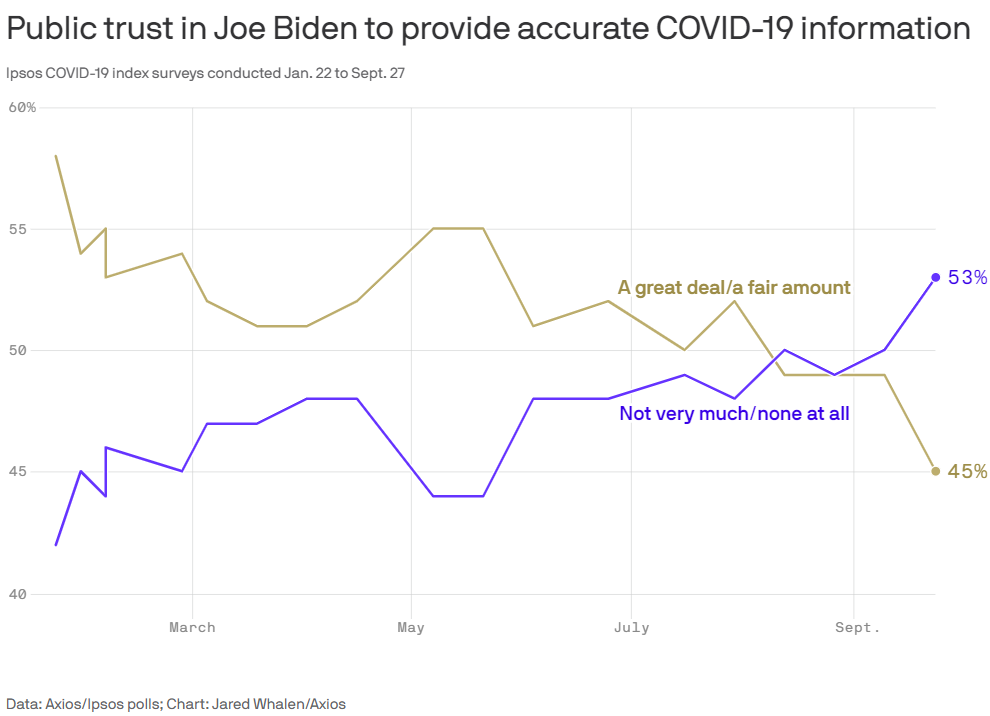 For the first time in his presidency, Joe Biden faces a trust deficit among Americans when it comes to COVID-19, according to the latest installment of the Axios/Ipsos Coronavirus Index. Why it matters: The latest findings point to malaise more than fear. But malaise could spell real trouble for a Democratic president who built his support on a pledge to steer the nation out of crisis -- and whose party's bare House and Senate majorities are on the line in 2022. ... 45% of those surveyed say they trust Biden a great deal or a fair amount to provide them with accurate information about the virus and pandemic, while 53% said they have little or no trust in him. Compare that with the peak of trust in Biden on COVID -- 58% to 42% -- in our Jan. 22–25 survey, around his inauguration when he was in a honeymoon phase.
The slide can be seen across the political spectrum, with a net drop of 11 percentage points among Democrats, 17 points with independents and 10 points with Republicans.
A poll last week showed Biden
losing black support due to his authoritarian imposition of vaccine mandates.
President Joe Biden's job approval has been steadily sinking over the last few weeks -- he is at just 43% approval in the latest Gallup poll out Wednesday -- but his decision to empower the Occupational Health and Safety Administration to police COVID-19 vaccinations in thousands of workplaces is tanking him with black voters, specifically, per Morning Consult. ... Morning Consult found that Biden's approval dropped a striking 12 points among black voters since September 8th, the day before the White House announced a comprehensive new COVID-19 mitigation plan that included a new OSHA rule, which, when drafted, will demand workplaces with 100 or more employees either require their workers to be vaccinated against COVID or submit to rigorous testing for the virus.

Biden's handlers were not successful in keeping him from answering questions as he got his third vaccine shot. A reporter asked when we could live our lives normally again. Biden accidentally revealed the truth: He
never
intends to let us live normally. He said we could live normally when we're
97 or 98%
vaccinated, which will never happen. So his answer is
"Never."
"I'm not the scientist," "President" Turnip-head says.
Status: True.