Pro-Abortion "Journalist" Shrieks That Cops Shouldn't Investigate The Body of a Baby Found Buried in a Shallow Grave, Because, Apparently, Killing Your Baby Is a Right That Women Have Now
The body was found in a shallow grave along a riverbank.
Travis County Sheriff's Office (TCSO) detectives are asking for the public's help locating the mother of a newborn infant whose body was discovered in a shallow grave in late August. Detectives are looking to piece together the events that led to the infant's death and ensure the mother is not in danger. On Aug. 25, the TSCO launched a suspicious death investigation after the infant's body was discovered by a fisherman off of Old San Antonio Road, near Onion Creek. TCSO said the call first came in around 8:30 a.m. on Aug. 24. The fisherman said the body was located in a shallow grave. Officials estimate the body, which was not clothed but was enclosed in plastic, had been there several days, perhaps a week. Detective Ben Wright said that the grave looked as though it may have been dug by hand. An autopsy was conducted on Aug. 25, the final results of which are pending. The plastic the infant was found enclosed in will be sent to the FBI for further investigation. "The baby wasn't buried. She was discarded, thrown away," Homicide Sgt. Sylvia Leal said on Sept. 7. "The body was left in the woods, lying in a very shallow depression. It's a miracle she was found so soon after being left. I believe we are meant to find the answers she deserves."
It is true that the death of the baby might have an innocent explanation -- it might have died naturally, and the mother was too poor for a funeral. True, in that case, she would have broken some clerical law about notifying the state about births and deaths, but personally, I find myself caring less and less about the petty demands of the state these days. Of course, along with the innocent explanations, one must also consider the very obvious non-innocent explanation: Murder. Cops have latitude in ignoring some very low-level crimes -- like speeding, if the governing speed of the road is currently above the limit. One thing they are definitely not allowed to blow off is the discovery of a body in a shallow grave, wrapped in plastic. But that's exactly what one pro-abortion "journalist" insists. Incredibly, this lunatic is shrieking that cops have no right to even investigate whether this was a natural death or a murder,
because women's rights to terminate their babies is absolute and apparently continues on for a while post-birth.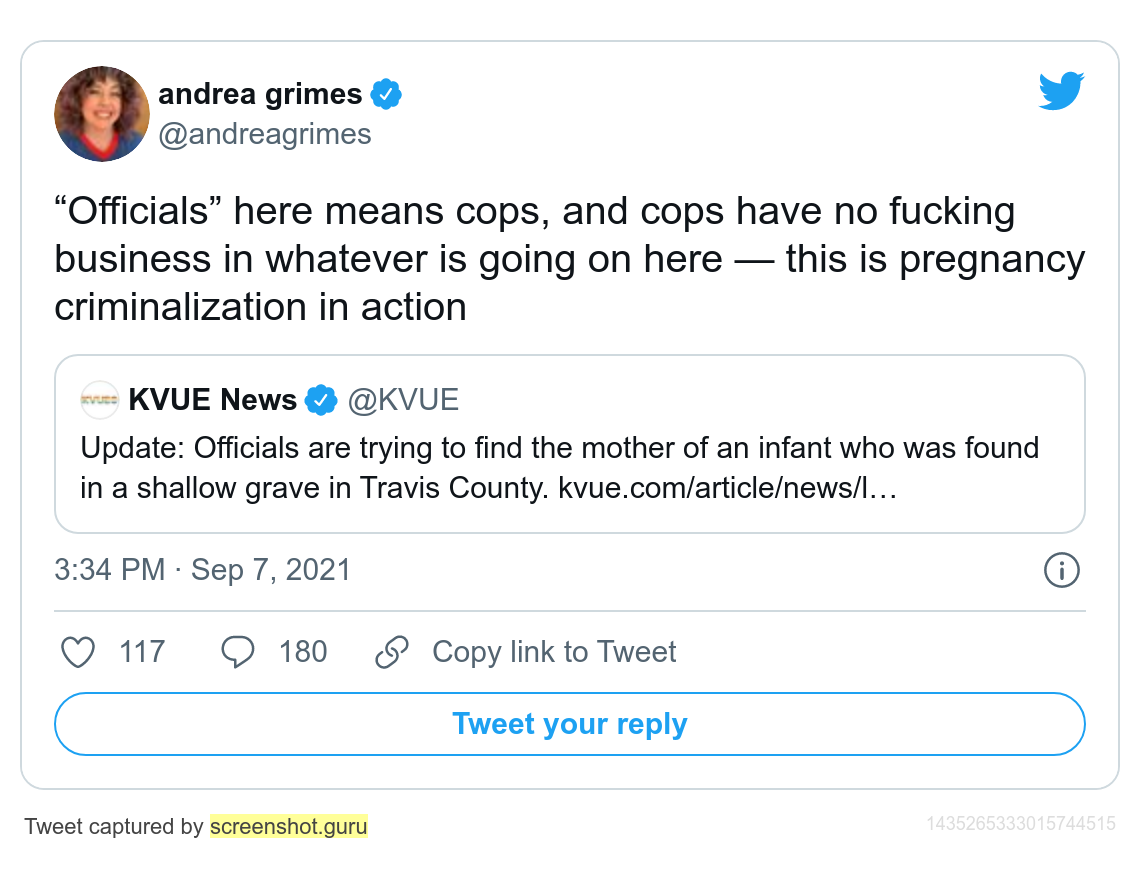 andrea grimes
@andreagrimes There are a whole bunch of reasons why someone may have lost a pregnancy or experienced stillbirth and zero of them need to involve the police, who are absolutely not here to just find out a few details they are trying to make an arrest, or bring some charges
If it's a murder, then yes-- and you object to that? Have leftwing feminists now moved from being pro-abortion to fully pro-murder?

anyway would be great if members of the media would stop doing stenography for cops Criminalizing pregnancy -- which is what happens when cops are the 'officials' running this situation -- does not improve public health or make reproductive care safer. This story will make the next person who needs help (rightly) afraid to seek it.
It might make the next woman who's considering murdering a child be afraid to do so. Which is really your objection. You're saying the quiet part out loud. Very out loud. By the way: Is investigating the possible murder of a wife by her husband "criminalizing matrimony" or nah?
The first cop quoted here is a homicide sergeant, two entire grafs before they get to the deal, which is "evidence collected leaves room for many possibilities." They're also laying groundwork about unhoused folks, and all the implications that carries in the popular imagination. You can absolutely fucking guarantee that the goal here is not to "make sure this mom is safe." It is to bring charges, make an arrest, and carry out a prosecution. If it were about making sure the pregnant person was safe, the sheriff wouldn't be running this show. Anyway, this coverage is appalling and cops are the fucking worst

What a shock this shrieking lunatic turns out to also be a BLM/ACAB type. I know this is obvious, and I've said this a thousand times, but: What the left calls "politics" the rest of us call the mentally-ill self-medicating with a malign sort of cognitive behavioral therapy. This is not "politics;" this is schizophrenic rage given a semblance of political philosophy to disguise it and make it seem socially acceptable. What will investigating a possible child murder do to a woman's right to choose? Or, I should say: A "menstruating person's" right to choose?