Government Teachers Gone Wild: Teachers Direct Students to Salute the Gay Pride Flat and the Antifa Flag
Okay back to the awful stuff, such as the serious lac
The head of the Los Angeles teachers union says it's fine that due to "distance learning" and an already lazy, incompetent workforce that kids don't know how to do math. The important thing, she says, is that they can recite leftist indoctrination points,
such as every BLM riot really being a "protest" and every rightwing protest being an "insurrection."
he head of the Los Angeles teachers union claimed that there is "no such thing as learning loss" for students who were forced into remote learning during the pandemic, saying the children learned "survival" and "the difference between a riot and a protest." "There is no such thing as learning loss," United Teachers Los Angeles President Cecily Myart-Cruz told "Los Angeles Magazine" in a rare sit-down interview when she was questioned about how her insistence to keep the school district locked down during the pandemic impacted students. "Our kids didn't lose anything. It's OK that our babies may not have learned all their times tables. They learned resilience. They learned survival. They learned critical-thinking skills. They know the difference between a riot and a protest. They know the words insurrection and coup," she continued.
We've made them "differently abled" -- you're welcome. Now they have one less privilege.

The Los Angeles Unified School District is the second largest district in the country, with more than 600,000 students. Myart-Cruz was at the forefront of rejecting Gov. Gavin Newsom's push to get teachers back into the classroom in March, saying $2 billion in incentives for teachers to return to in-person teaching was "a recipe for propagating structural racism." "If you condition funding on the reopening of schools, that money will only go to white and wealthier and healthier school communities that do not have the transmission rates that low-income Black and brown communities do," Myart-Cruz said at the time. Amid talk of the district implementing hybrid learning this year, she said in her interview with "Los Angeles Magazine" that her objective "is getting back into schools as safe as possible." But added: "Are there broader issues at play? Yes, there are." "Education is political," she said. "People don't want to say that, but it is."
She's gloated that while you can recall Newsom or school board members, "How are you gonna get rid of me?" She's also claimed that Jews are behind popular discontent with "distance learning."
Last winter, she posted an article to Facebook reporting that a Chicago superintendent believed parents who pushed for students to return to in-class learning were part of "white-supremacist thinking." She captioned the Facebook post with, "Right on!" and claimed that UTLA staffers were being "stalked by wealthy, white, Middle Eastern parents." The UTLA president was accused of anti-Semitism for the comment and was also slammed for allegedly ordering a study to be conducted on the racial backgrounds of parents protesting her remote stance to ostensibly prove her point that racism was behind the push to get kids back into the classroom.
Project Veritas has video of an antifa teacher proclaiming he intends to train his students to be "revolutionaries,"
and gives them better grades if they attend leftwing "rallies." (Or, you know: Mostly Peaceful Riots.)
Gabriel Gipe, AP Government Teacher, Inderkum High School: "I have 180 days to turn them [students] into revolutionaries... Scare the f*ck out of them." Gipe: "I'm probably as far left as you can go." Gipe: "I post a calendar every week... I've had students show up for protests, community events, tabling, food distribution, all sorts of things... When they go, they take pictures, write up a reflection -- that's their extra credit." Gipe: "So, they [students] take an ideology quiz and I put [the results] on the [classroom] wall. Every year, they get further and further left... I'm like, 'These ideologies are considered extreme, right? Extreme times breed extreme ideologies.' Right? There is a reason why Generation Z, these kids, are becoming further and further left." Gipe: "I have an Antifa flag on my [classroom] wall and a student complained about that -- he said it made him feel uncomfortable. Well, this [Antifa flag] is meant to make fascists feel uncomfortable, so if you feel uncomfortable, I don't really know what to tell you. Maybe you shouldn't be aligning with the values that this [Antifa flag] is antithetical to."

He also flies the gay pride flag. So he's bipartisan: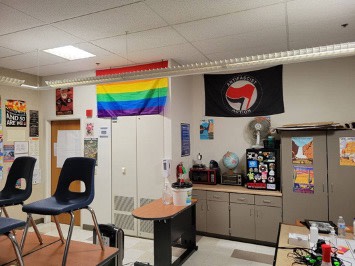 Gipe: "Like, why aren't people just taking up arms? Like why can't we, you know -- take up arms against the state? We have historical examples of that happening, and them getting crushed and being martyrs for a cause and it's like -- okay well, it's slow going because it takes a massive amount of organization." Gipe: "I think that for [left-wing] movements in the United States, we need to be able to attack both [cultural and economic] fronts. Right? We need to create parallel structures of power because we cannot rely on the state... Consistently focusing on education and a change of cultural propaganda. We have to hit both fronts. We have to convince people that this is what we actually need." Gipe: "There are three other teachers in my department that I did my credential program with -- and they're rad. They're great people. They're definitely on the same page." Gipe: "Sacramento, as a city itself, is incredibly diverse. But we're surrounded by a bunch of right-wing rednecks."
Below, this teacher laughs about the American flag being missing from her classroom. She admits she took it down "because it makes me uncomfortable." She then says the students can pledge allegiance to the gay pride flag.
Below, a cop drags a student out of a classroom at the University of Tennessee -- for the crime of not wearing a mask which has been proven to block no more than 10-12% of air droplets. 88-90% of covid gets in and out. Obviously you should deploy violence against these subversives.