Hurricane Ida Batters Louisiana, Leaving New Orleans Without Power
Some rough days (hopefully not too many more) for our Louisiana morons.
Rescuers set out in hundreds of boats and helicopters to reach people trapped by floodwaters and utility crews mobilized Monday after a furious Hurricane Ida swamped the Louisiana coast and made a shambles of the electrical grid in the sticky, late-summer heat. One of the most powerful hurricanes ever to hit the U.S. mainland weakened into a tropical storm overnight as it pushed inland over Mississippi with torrential rain and shrieking winds, its danger far from over. Ida was blamed for at least one death -- someone hit by a falling tree outside Baton Rouge. But with many roads impassable and cellphone service knocked out in places, the full extent of its fury was still coming into focus.
Unfortunately they expect to find that more people died during the storm.
... The governor's office said damage to the power grid appeared "catastrophic." And officials warned it could be weeks before power is fully restored.

Weeks. Egad.

"For the most part, all of our levees performed extremely well -- especially the federal levees -- but at the end of the day, the storm surge, the rain, the wind all had devastating impacts," Edwards said. "We have tremendous damage to homes and to businesses."
Winds reached speeds of 105 mph. Below, a roof blown off of a building, which then landed on a traffic light structure.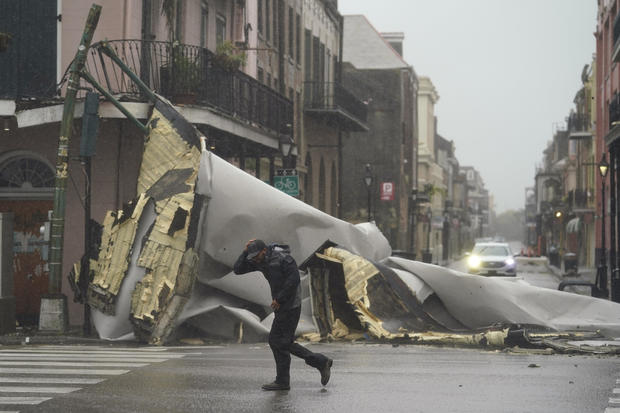 Below, a historic music store -- literally blown down by the force of the hurricane.