Washington Post: The Taliban Offered to Let the US Secure Kabul, But Biden Told the Taliban To Do It For Us
Our new Partners In Peace (TM).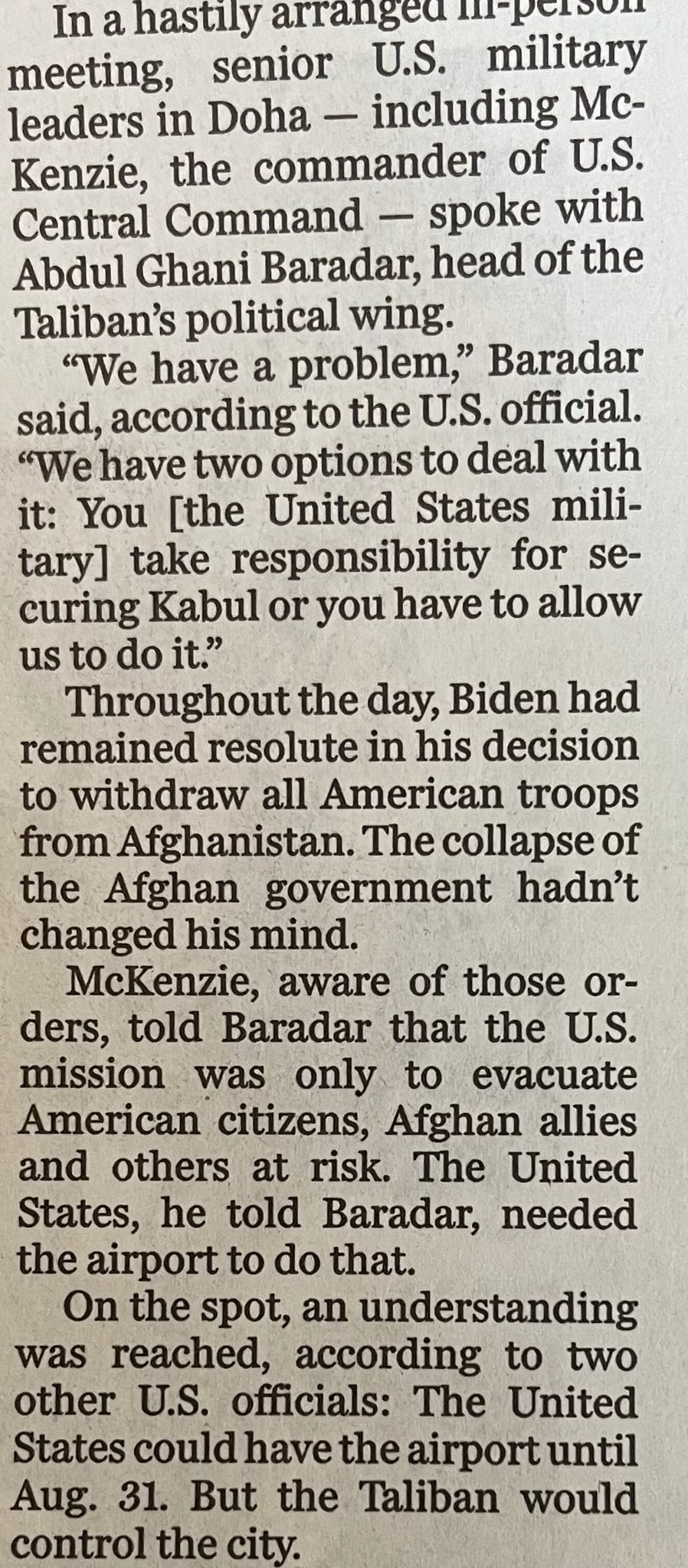 A Daily Caller write-up of the story is here.
The head of the Taliban's political wing presented the U.S. with an option to secure Kabul in the aftermath of President Ashraf Ghani's hasty departure, but President Joe Biden's administration declined the offer, a Saturday report said. As Ghani fled the capital city of Kabul Aug. 15, leaving Afghanistan in limbo, senior U.S. military officials met with the Taliban's Abdul Ghani Baradar in Doha, Qatar, to discuss the fate of the country, according to The Washington Post (WaPo). "We have a problem," Baradar said, according to a U.S. official that spoke to the WaPo on the condition of anonymity. "We have two options to deal with it: You [the U.S. military] take responsibility for securing Kabul or you have to allow us to do it." It would have taken an additional surge of troops to secure the city. But so what? We wound up sending in an additional 5000 troops to secure the city after the situation started falling apart. Sending the additional troops earlier would have helped secure and calm the situation. Commander of the U.S. Central Command (USCC) Gen. Kenneth McKenzie Jr., however, reportedly communicated to Baradar that the U.S. military's only objective was to evacuate American citizens and Afghan allies out of Kabul, for which the airport was needed.
The "optics" wouldn't have been good, I imagine. So instead, we got dead bodies. Penny wise, pound foolish. In addition, Biden and all of his handlers claim they always knew it would get "messy" (their preferred euphemism for "bloody") as evacuation day approached. Well -- if you knew that, why did you have only a skeletal force to protect the planes as they attempted to leave?
Over the weekend, Biden launched "retaliatory strikes," supposedly at ISIS-K, but one gets the sense their primary purpose was PR for the American public. One strike supposedly killed six children. I don't know if this is true. These claims are made after every US strike. Also,
if
you believe Biden's politically-compromised brass, the munition used should not have produced such a large explosion. The large explosion is claimed to have been a secondary explosion, caused by the ignition of explosives in a car that was being prepped for use as a vehicle-borne IED. If that's the case, then it was a good strike. As for the civilian casualties: Well, it's the same dilemma we always face. Terrorists deliberately place their bomb labs in civilian areas to dissuade us from hitting them. But we have to hit them. So, if everyone's telling the truth, then this was a good striek.
If
everyone's telling the truth. How much confidence should we have in that? And I do wonder what kind of "intelligence" the government can currently have about Afghanistan in its current chaotic state, as we're bugging out.
Deb Heine at American Greatness:
Nine members of a family of Afghan allies, including six children, were killed in a US drone strike targeting ISIS terrorists in a residential neighborhood of Kabul, Sunday, according to multiple reports. The drone strike was reportedly targeting suicide bombers who were planning an attack on Kabul's Hamid Karzai International Airport (HKIA). A local journalist told CNN that the people killed were his brother Zamaray (40 years old), Naseer (30), Zameer (20), Faisal (10), Farzad (9), Armin (4), Benyamin (3), Ayat (2) and Sumaya (2). Weeping, the brother told the journalist that they were "an ordinary family." "We are not ISIS or Daesh and this was a family home -- where my brothers lived with their families," he cried. Afghan journalist Muslim Shirzad was the first to report the news about the U.S. drone attack on the innocent family on Twitter.

Pictures and video at the link.