Quick Hits: Straight-Shooting Paragons of Truth, Every Man Jack of Them Edition
US household debt hits record
$15 trillion.
Yeah this is all sustainable, right? A female ESPN sports writer -- really, more of a political writer, it seems -- is
just bewildered why anyone wouldn't like St. Megan Rapinoe.
Missouri's governor has issued
full pardons to the McCloskey's,
bringing Soros Lawyer Kim Gardner's political persecution of them to an end. Well -- it should bring it to an end. I have a feeling Gardner will confabulate new charges for... something.

Parson, a Republican, on Friday pardoned Mark McCloskey, who pleaded guilty in June to misdemeanor fourth-degree assault and was fined $750, and Patricia McCloskey, who pleaded guilty to misdemeanor harassment and was fined $2,000. "Mark McCloskey has publicly stated that if he were involved in the same situation, he would have the exact same conduct," the McCloskeys' lawyer Joel Schwartz said Tuesday. "He believes that the pardon vindicates that conduct."
Congresspyrsyn Cori Bush, who was one of the illegal trespassers on the McCloskey's property, seemed to threaten the couple, vowing
"Mark McCloskey is an absolute liar. He has spat on my name. And because of that, his day will come."
That's ominous coming from someone allied with the murderous, riotous domestic terrorist organization. By which I mean the Democrat-Media Conspiracy. And then she did this:
Waiting on the obligatory vouching
from Andrew McCarthy.
An FBI supervisory special agent based in Louisiana allegedly exposed himself to multiple children and molested one child in a period from 2018 to 2019, and the alleged crimes took place in Florida, Louisiana, and Texas, according to a Smith County affidavit. The suspect in the case is David Lee Harris, 51. Of Prairieville, Louisiana. A previous story by WAFB said the allegations involve underage girls. During a previous court hearing, prosecutors said Harris threatened at least one of the victims if she said anything. In Smith County, Harris, an FBI special supervisory agent, has been charged with third-degree felony indecent exposure.
I'm sure this is all perfectly innocent and not creepy at all: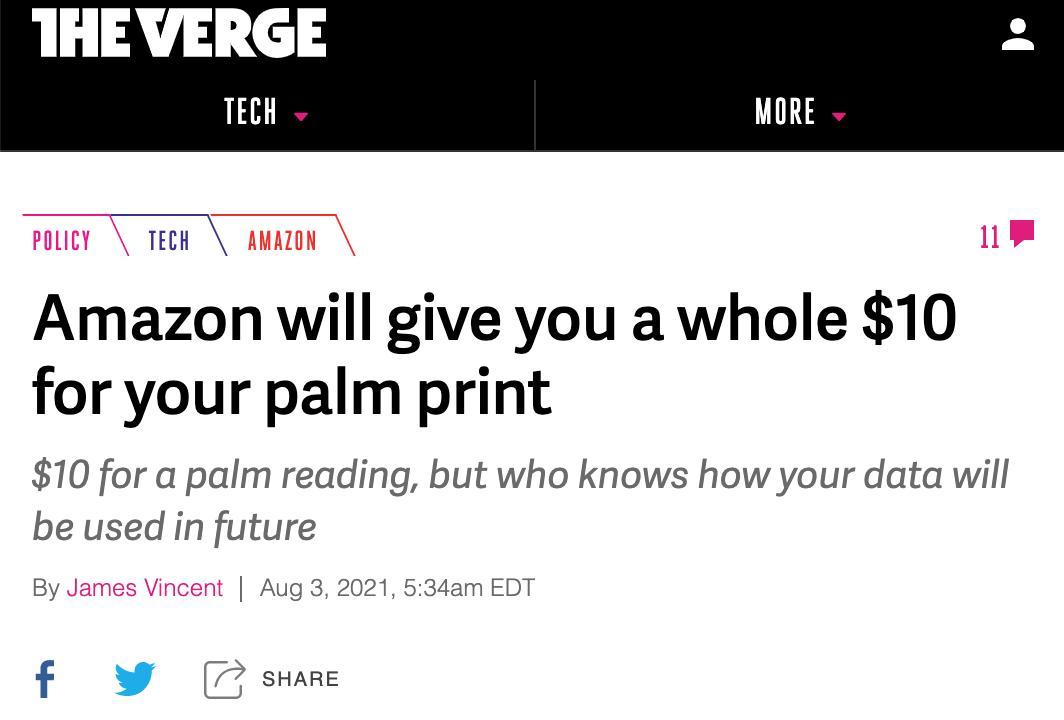 CBS:
Amazon is offering store credit in exchange for customers submitting a digital scan of their palm, according to a report. The ecommerce company in 2020 introduced biometric palm print scanners in some of its brick-and-mortar stores, allowing registered shoppers to pay for goods by waving their hand over the devices. To promote the payment technology and encourage more people to start using it, dubbed Amazon One, Amazon is offering $10 in promotional credit to anyone who registers a biometric print of their palm at a store, according to a promotional flyer first spotted by Tech Crunch. After registering for the system, users receive Amazon One IDs that include their palm signature, a credit card or other payment data, and other contact information, the tech industry news site reported.
Admittedly, that's kind of neat, but we have forfeited more and more of our privacy, and then our freedom, for the sake of convenience, "free" apps, and "neat" little things.
@JackPosobiec The Atlantic is now advocating for the unvaccinated to be placed on the No Fly List
Psaki deflects about Biden's own past history of sexual harrassment/sexual assault, claiming it was "heavily litigated" during the campaign.
That's the Hillary Clinton technique of saying "All of these questions have been answered," when in fact they haven't been answered, and have barely even been
asked,
at least not by the leftist propaganda media. My memory is that they begrudgingly mentioned Tara Reade's well-substantiated allegations and then "moved on," as they used to say under Bill Clinton. There was no reason to dismiss her claims -- but they did so anyway.
And they never addressed his constant pawing at children, including at the breasts of 13 year old girls.
Democrats, the Holy Ones:
Jeff Goldstein is based:
LOL:
Unionize, my downtrodden brothers! Unionize, and cast off your shackles, and hang your masters from tall trees! Head-on collision of two trains in Czechia (Czech Republic) leaves three dead and dozens injured.