AG Report: Andrew "The Love Guv" Asked an Employee to Take a Selfie With Him -- and Then Groped Her Ass for Five Seconds While He Did
Supposedly he grabbed the butt of a "trembling" employee -- as he was taking a selfie with her.
And he
smriked knowingly for the picture, even while groping her.
A selfie taken moments after Andrew Cuomo allegedly groped an executive assistant's butt at his home shows New York's governor with gleaming eyes and a broad smirk. Cuomo allegedly asked the woman assistant, whose identity remains anonymous, to take a selfie with him while they worked together at his office in the Executive Mansion in Albany on December 31, 2019. As she held up the camera, Cuomo allegedly 'moved his hand to grab her butt cheek and began to rub it' for at least five seconds.
He forbade her to show anyone else the photo.
She notes that she didn't report what happened because she was terrified Cuomo's top aides would force her out. '[T]he way he was so firm with [me] that I couldn't show anyone else that photo, I was just terrified that if I shared what was going on that it would somehow get around,' she told investigators.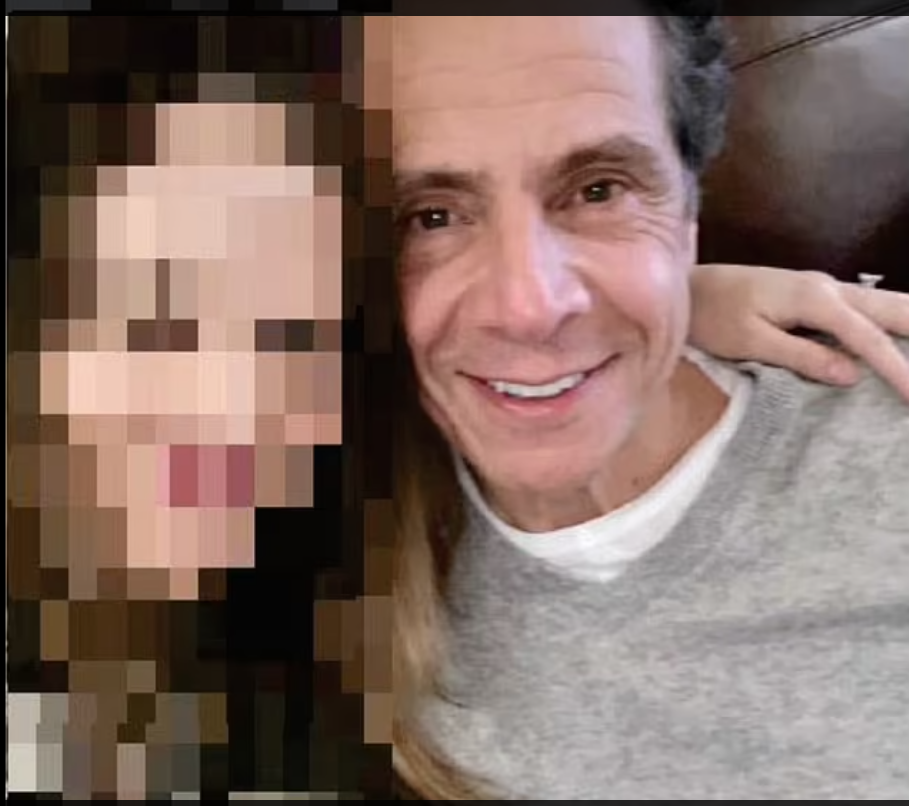 I don't know if that's a smirk -- it looks like the blissed-out look of a guy who's either high or literally
getting off
at the moment the picture is snapped. Tucker Carlson notes that Andrew Cuomo showed off his Emmy -- which is a statuette of a female form -- and commented upon her shapely figure. "Isn't she buxom?" he asked aides.
It's not sexual harassment,
but it is a bit of background for what the women around this guy were subjected to every minute of work. From Tucker Carlson:
ANNE CLARK, SDNY SPECIAL INVESTIGATOR: The governor hugged Executive Assistant #1 and reached under her blouse to grab her breast. This was the culmination of a pattern of inappropriate sexual conduct, including numerous close and intimate hugs, where the Governor held her so closely that her breasts were pressed against his body and he sometimes ran his hands up and down her back while he did so. There were also several occasions on which the Governor grabbed her butt. (END VIDEO CLIP) CARLSON: Wasn't Joe Biden accused of all of that? Credibly? I guess we're pretending that didn't happen, but we care about this. One thing we learned, Andrew Cuomo is not against defunding the police, he wants to have sex with them, or at least one of them. Now, just to be clear, you can find the little sexual commissars on your screen that you just saw, repulsive and at the same time, find Andrew Cuomo repulsive. It's okay to dislike everybody involved. In fact, you probably should. The AG's report also found that Governor Cuomo appeared to be sexually attractive to his Emmy statue. How's that for weird? "Two witnesses," also this is a quote, "... recounted that during a meeting, the Governor looked at his Emmy statue, which he had won in November of 2020 and put in his Albany office and said something to the effect of quote, 'look at her figure, isn't she buxom.'"
He's a total creep, I mean for real. But you knew that.
Cuomo showed a slide-show of him hugging men, to prove, I guess, that grabbing women's asses was NBD. Tucker made a joke about that:
He did not claim anti-Italian bias, though he has claimed that many times in the past. He did make it clear he is not resigning. He also showed a slideshow of himself kissing people, including Al Gore and said his gestures of affection have been wildly misinterpreted. ... Now, we didn't show the tape, but we just want to be totally clear that the video, the slideshow that Cuomo put on the screen showed him hugging Al Gore, but not reaching up under Gore's shirt to grab his man- boobs. That did not happen. We didn't know if it happened, but he didn't show it today.
Video at the link. Now
this
is interesting: As part of his defense of his conduct, Andrew Cuomo is presenting other Democrats,
including credibly-accused sexual assailant Joe Biden
, getting
touchy with other people.
Unfortunately, he chooses the most innocent possible photos of Uncle Badtouch touching people. He does not include pictures of Biden groping little girls' breasts or sniffing their hair. He knows that the left and the leftist propaganda media would lynch him for sharing those pictures. But maybe he's hinting he
could
start drawing attention to Biden's groping of a child if the Democrat Party presses him on this. "The Love Guv" imagined himself to be such a player that he hit on a nurse while she was
swabbing his schnozz for covid.
Yeah this allegation is even more bullsh*tty than some of the others, but, I mean, the guy was just constantly throwing out come-ons to women who work for him.
Here's another one which is not harassment --
but it does indicate that he is an absurd narcissist who believes himself to be irresistible to women.
You can imagine that a man who walks around thinking that every 25 year old woman wants his d*** will behave with women.
Cuomo gave female staff roses and autographed photos on Valentine's Day and showed off a cigar humidor from Bill Clinton which one accuser says was his attempt at a 'Monica Lewinsky affair' Among the details in the AG's newly released report is that Cuomo gave female staff roses on Valentine's Day in 2017 He also distributed signed photos of himself to them - his attorneys say he was 'trying to be thoughtful' Lindsey Boylan also recalled being taken into his office at a holiday party in 2016 He showed her a cigar box that Bill Clinton had given him as a gift She took it as an inference to Clinton's affair with Monica Lewinsky, a WH assistant
I don't think you can prove it, but yeah, I do think that showing off the humidor from Bill Clinton was an attempt at a pass. And giving women roses and
signed photos of himself
? Are you kidding me? Not that it matters, but a new poll finds that 59% in ten New Yorkers -- including 52% of Democrats --
want Cuomo to either resign or be impeached.
Most New Yorkers want Gov. Andrew Cuomo to resign, according to a new snap poll conducted hours after the release of a bombshell report that the three-term Democratic governor sexually harassed multiple women. A Marist Poll released Wednesday morning indicates that 59% of New Yorkers, including 52% of registered Democrats, say Cuomo should resign. And if the governor doesn't step down, nearly six in 10 say he should be impeached. Less than a third of those questioned in the survey say Cuomo should serve out the remainder of his term, which lasts through the end of next year. ... Forty-four percent of those surveyed say Cuomo did something illegal, while nearly three in 10 say the governor did something unethical but not illegal. Just 7% offered that Cuomo did nothing wrong.
Laws, schmaws. This is Post-America. Below: From 2013,
via I, Hypocrite.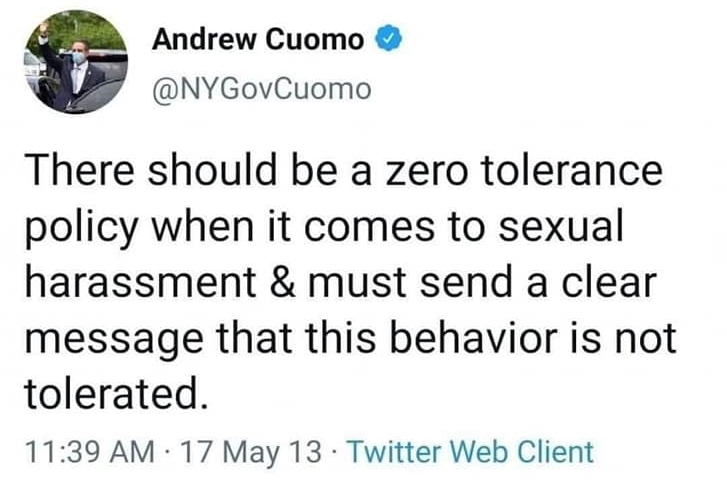 Below: "Believe all women," huh, Hillary?
At Twitchy, Drew Holden posts a long thread highlighting the leftwing propaganda media's efforts to make Andrew Cuomo
a god who walks the earth.
Interesting moment here. Don LeMon and Fredo Cuomo cannot
believe
that conservatives are downplaying the media's overplay of January 6th -- even after they themselves downplayed Andrew Cuomo's killing of tens of thousands of seniors. Fredo Cuomo, of course, didn't report on his brother's sexual harassment. But awkwardly, Don LeMon starts talking about it the moment he ends his hand-off with Fredo.