The Morning Report - 7/23/21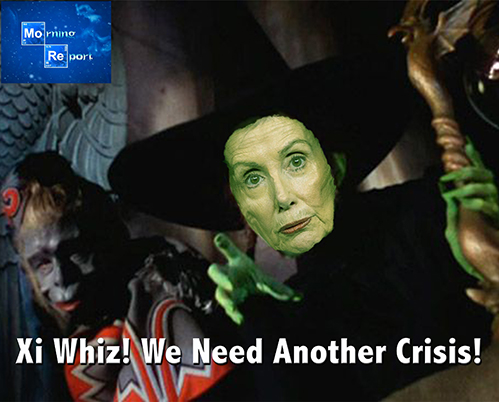 Good morning, kids. The weekend is here and
as scores of innocent American citizens languish alone and abused in jails as political prisoners whose only crime was protesting an all-but-confirmed rigged and stolen 2020 election, (please read stalwart Julie Kelly's latest report)
the anti-American front group known officially as the Democrat Party is getting set to run a sham commission to "investigate" the events of Black Wednesday, January 6th, 2021. Whatever one thinks of the way in which Kevin McCarthy and others have responded to that shambling bag of botulinum and graft Malig-Nancy Pelosi, at least they have done the right thing in both calling it out and refusing to participate in a farce of a kangaroo court so obvious that it would make Lavrenty Beria blush. Pelosi herself has said this "has deadly serious consequences to our Constitution." It sure does, except its her and her party that have destroyed that document in their attempt to transform their seizure of unprecedented power into a state that is absolute and permanent. It's funny, as in sickening, that January 6th has been Horst Wessel-ized by the Left as "the greatest threat to our sacred Democracy" (SPIT!) since the Civil War (the first one), Pearl Harbor and 9/11 combined.
Angelo Codevilla takes that claim and, as is his wont to do, makes a rather cromulent point:
Multiple sources -- chiefly the U.S government by its efforts to hide him -- identify Capitol Police Lieutenant Michael L. Byrd as the officer who killed Ashli Babbitt as she was attempting to climb through a window to enter the House Speaker's lobby that day. Were this identification incorrect, the certainty that the correct one is surfacing in secretless D.C. reminds our oligarchy of how hazardous are the foundations on which it set the ruling narrative that it narrowly thwarted the supposed "greatest menace to our democracy since the Civil War" -- armed, white insurrectionists in the act of overthrowing the U.S. government, by courageous police work and prosecutions. From Joe Biden to the lowest ranks of the Justice Department and the media, the oligarchy had bet, in the name of national security, it could stonewall for the long run about who exactly did what on January 6. A forlorn bet, especially since the narrative on which the oligarchy rests its right to intimidate its opponents depends so much on affirming the virtuosity of its acts of oppression -- foremost of which was shooting and killing Babbitt. But if the killing was a salvific act, why hide the killer? Why not celebrate him? Most forthrightly Biden could award Lt. Byrd (or someone else) the Congressional Medal of Honor in a solemn Oval Office ceremony and read the citation to the American people. . . . . . Medal of Honor citations, however, consist of detailed descriptions of the act being celebrated. They detail the enemy, the circumstances, and the danger that the awardee took upon himself to save others. They explain to Americans as well as to the awardee why all of us should ever be proud of him. Hence, detail and transparency are essential to the ceremony. Who was the enemy on January 6? Who were the white supremacists, and who organized them? The U.S government has spent countless millions developing databases on white supremacists, whom it officially considers the principal threat to the American people's security. Surely, it can publish the list it has compiled that shows who endangered what. And if it refuses to do so because those on that list might sue for slander, perhaps that list is not one of facts but of political innuendo. . . . . . Because the government had such a hand -- big and unpalatable to Americans -- in the events of January 6, it is now impossible for the U.S. government to detail factually who "the enemy" was on January 6 without indicting itself. That is why the Biden [junta's] Justice Department is holding, without bail in solitary confinement, persons whom it unofficially accuses of "insurrection" but, officially, for the most part, can prove only that they trespassed and interfered with official proceedings. . . . . . More important, the effective admission that none of January 6's demonstrators willfully injured anyone, and that the only willful injurer was a government agent, enlivens the question of what all the other government agents involved in that day's events were doing. Not only the ones who were trying to manipulate organizations that exist largely because of government infiltrators, but also the Capitol Police who physically attacked and egged on peaceful demonstrators. There is a lot of video on that. Once the government admits that its most obvious January 6 actor is not worthy of a Medal of Honor, and that it has been covering up something indefensible, by what credible argument can it refuse to release videos of events -- and to provide witnesses under oath -- about who ordered whom to do what on January 6?
They're going to need a much bigger place than Gitmo to put not just the scores of political prisoners still rotting in jail but people like you and me who continue to make a stink about all of this insanity. With Joe Biden now 75% freezer-burned kohlrabi and 25% sentient tyrant, forcible brainwashing and indoctrination of our kids front and center, violent crime in the streets out of control, a wide open border, the realization that 2020 was indeed stolen/rigged, lockdowns, the military being trained to wear heels and point its guns on the American people, masks and panic-mongering over a novel virus no more deadly than flu, an economy plummeting to Zimbabwe, and general societal dissolution the order of the day, a growing number of citizens are fed up and are starting to turn their gaze Leftward - - to cast the blame.
Time for our tormenters in DC and their allies (if not paymasters and overlords) in certain foreign capitals to go to the well one more time.
Mark Twain is believed to have uttered this profundity about history, "History doesn't repeat itself, but it often rhymes." Are we catching a glimpse of [Chinese] COVID history beginning to rhyme with itself Today's story is, "Veterinarian dies in China from rare monkey virus." Substitute "ophthalmologist" for "veterinarian" and "bat" for "monkey" and see if you can hear the rhyme from early 2020. A year and a half ago, in February 2020, shortly after President Trump banned travel to the US from China, we learned of this story: "Li Wenliang: Coronavirus kills Chinese whistleblower doctor." He was a Wuhan hospital ophthalmologist who in December 2019 sent a message to fellow doctors through a chat group warning of seven cases he had seen of a virus causing symptoms resembling the SARS virus from 2003. Four days later he was summoned to the Public Security Bureau, coerced into signing a letter of confession for "making false comments" that had "severely disturbed the social order." A month later he was diagnosed with [Chinese] coronavirus and a week later he died. What a coincidence. . . . . . The Chinese veterinarian who recently died worked in, "A research institute that specialized in nonhuman primate breeding, the report from the Chinese Centre for Disease Control and Prevention said." He was infected with Monkey B virus, a nasty pathogen with a 70 to 80 percent mortality rate in humans. The good news is, "There has only been one known case where the Monkey B virus has been transmitted from human to human, in Florida in 1987." That rhymes with what the World Health Organization assured us of at the same time the Chinese ophthalmologist was "disturbing the social order". . . . . . Hopefully this monkeypox news is nothing, just a normal blip in the world of viruses. But given the track record of government officials and agencies in misleading at best, outright lying at worst, these news reports set off alarm bells, especially in a world recovering from a horrific viral pandemic and draconian government response. Was [Chinese] COVID a fluke of nature? Or was it a controlled and managed pandemic? Was it simply a means of getting rid of President Trump and his agenda or was it part of a "great reset"? Is the pandemic still working or is it losing steam, in need of a "booster shot" of sorts? Is it time for another scare? Could monkeypox be [Chinese] COVID part two, the booster shot? Hopefully not but time will tell.
Have a good weekend and whatever you do, don't watch
12 Monkey's
.

CIVIL WAR 2.0: LEFTIST PERSECUTIONS, CAPITOL HILL BLACK WEDNESDAY PROTEST AFTERMATH, DEMOCRAT PUTSCH, AMERICAN DISSOLUTION
NOTE: The opinions expressed in some links may or may not reflect my own. I include them because of their relevance to the discussion of a particular issue. ALSO: The Morning Report is cross-posted at CutJibNewsletter.com if you want to continue the conversation all day. Follow us on Twitter: @CutJibNews
Follow us on Instagram:@Cutjibnewsletter
Posted by: J.J. Sefton at
07:32 AM
MuNuvians
MeeNuvians
Polls! Polls! Polls!
Frequently Asked Questions
The (Almost) Complete Paul Anka Integrity Kick
Top Top Tens
Greatest Hitjobs
News/Chat