Supreme Court Rules That the NCAA Cannot Act as a Cartel to Deny Payments to Student Athletes; Notes That There Is No Anti-Trust Exemption for the NCAA
Oh, we're taking anti-trust law seriously now?
Any chance that tech monopolies who are clearly coordinating in a cartel will get a look-see anytime soon?
Anyway, now college players will be paid like professionals.
Which is basically what most of the Division I football and basketball players are. Now, as of
yet
, the ruling does not go so far as to say colleges can pay their moneymakers a salary. But it does open up the definition of what "educational expenses" schools can pay.
... Under current NCAA rules, students cannot be paid, and the scholarship money colleges can offer is capped at the cost of attending the school. The NCAA had defended its rules as necessary to preserve the amateur nature of college sports. ... The case doesn't decide whether students can be paid salaries. Instead, the ruling will help determine whether schools decide to offer athletes tens of thousands of dollars in education-related benefits for things such as computers, graduate scholarships, tutoring, study abroad and internships.
I don't really see how you can limit the payments to just "educational expenses." If the NCAA's decree is being struck down as the illegal actions of a cartel, how can you then say "Well they can't impose that decree, but they
can
act as a cartel to impose this slightly-less-restrictive one?" That makes no sense. If it can't act as a trust, then it can't act as a trust. Period.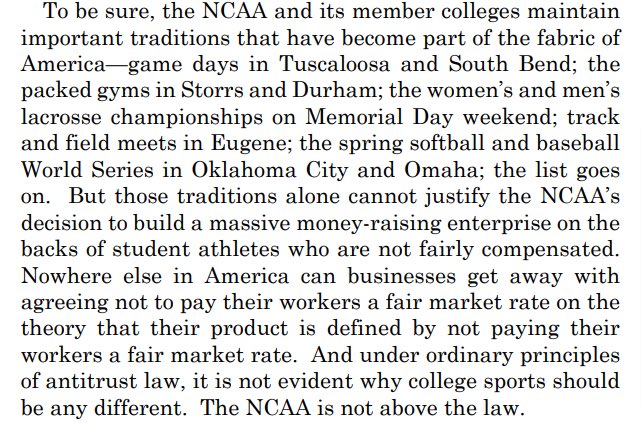 Well, if the Supreme Court thinks the NCAA is an illegal trust which cannot conspire to forbid payments to athletes, wait until they hear about the NCAA acting as a cartel to force schools to let men compete with women. Nah, just kidding. They'll probably claim there's no standing to press that suit. Meanwhile, this 42 year old will be competing at the Olympics, because it's perfectly normal for 42 year old
women
to still be of Olympic power in strength sports.
Ted Cruz asks the right question: If we've decided the woman's category is now intersex, why bother having segregated women's sports at all? Let them compete with the men generally.
Enjoy watching the Olympics at home, loser!