The Morning Rant: Thomas Paine and the Ongoing Problem of Hereditary Government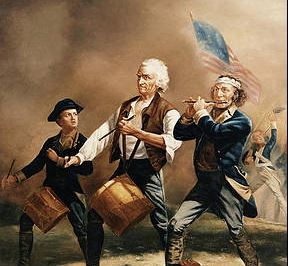 Happy Independence Day! On this sacred day, I'd like to briefly discuss Thomas Paine's thoughts on hereditary governmental power. Though we are blessed to be free of a hereditary monarchy, our government is infested with a ruling class who enjoy inherited powers. I doubt Mr. Paine would endorse America having a class of political royalty. Paine's pamphlet "Common Sense," published in early 1776, may be the most important document in our country's founding, outside of the Declaration of Independence and the Constitution. Paine published it anonymously, finding a brave printer who risked being "cancelled" for printing a work advocating for unapproved freedoms. Common Sense went viral in the buildup to the July 1776 meeting of the Continental Congress at which American independence was declared.
Common Sense sold 120,000 copies in its first three months, and by the end of the Revolution, 500,000 copies were sold. An estimated 20 percent of colonists owned a copy of the revolutionary booklet.
An important theme in Paine's advocacy for American independence was that the inherited power of the British government was an illegitimate way to choose who should lead government.
From a chapter of Common Sense titled "Of Monarchy and Hereditary Succession":
But it is not so much the absurdity as the evil of hereditary succession which concerns mankind. Men who look upon themselves born to reign, and others to obey, soon grow insolent; selected from the rest of mankind their minds are early poisoned by importance; and the world they act in differs so materially from the world at large, that they have but little opportunity of knowing its true interests, and when they succeed to the government are frequently the most ignorant and unfit of any throughout the dominions.
When I read those words I'm not thinking of British royalty, instead I start thinking about people named Romney, Kennedy, Cheney, Clinton, Bush, Gore, Landrieu, Murkowski, etc. Since 1976 there have only been two presidential elections in which neither of the tickets included the child or spouse of a former Senator, Governor, or President. (Those two elections were 2020: Trump-Pence-Biden-Harris; and 2008: Obama-Biden-McCain-Palin.) But don't forget that McCain was the child of a famous US Navy Admiral. And some years we even had two nepots on the tickets. (GHWBush / Gore in 1992; GWBush / Gore in 2000.) In addition, administration of the permanent bureaucratic state is littered with the offspring of the powerful and connected. After American independence, Thomas Paine continued to expound on the danger of inherited power, discussing the peril of political inheritance beyond monarchy to offices such as magistrate or legislator.
From "The Rights of Man":
All hereditary government is in its nature tyranny. An heritable crown, or an heritable throne, or by what other fanciful name such things may be called, have no other significant explanation than that mankind are heritable property. To inherit a government, is to inherit the people, as if they were flocks and herds. Do we need a stronger evidence of the absurdity of hereditary government than is seen in the descendants of those men, in any line of life, who once were famous? Is there scarcely an instance in which there is not a total reverse of the character? It appears as if the tide of mental faculties flowed as far as it could in certain channels, and then forsook its course, and arose in others. How irrational then is the hereditary system, which establishes channels of power, in company with which wisdom refuses to flow! By continuing this absurdity, man is perpetually in contradiction with himself; he accepts, for a king, or a chief magistrate, or a legislator, a person whom he would not elect for a constable.
I don't have a solution to propose today, other than the power we have at the ballot box to vote against heirs to family political dynasties. In a local primary race for my county's mayor, there were three Republican candidates, one of whom was the child of a former Congressman. For that reason alone, I ruled him out and then chose from the other two candidates. (Sadly, the former Congressman's child won by getting Democrats to vote in the GOP primary. The problem of Democrats choosing Republican candidates in primaries is a post for another day.)
In my ideal political world, having a famous political name would be a liability, not an asset. George P. Bush's recent loss in the Texas GOP primary for Attorney General is a hopeful sign. With talk of Joe Biden not running for re-election, and with Liz Cheney looking to run for President as something other than a Republican, I've got an idea for the Democrats' 2024 dream ticket: Liz Cheney / Hunter Biden. That might finally cure Americans of our addiction to political royalty.
*****
History Of The American Revolution In A Song
Okay, now let's celebrate American independence with a little Revolutionary-era music:
"Soldier's Joy"
My grandpa played Jimmie Driftwood music for me when I was a little child, including this old tune. As I learned American history, the lyrics of this song fell into place.
The girls in Boston are dancin' tonight
The gall-derned Redcoats are holding them tight
When we get there we will show them how
but that ain't a doin' us no good now.
There goes General Washington
He's got his horse in a sweeping run
The barefooted boys are a beggin' to fight, and
we're gonna cross the Delaware River tonight. Old Burgoyne in the wilderness
Got his army in an awful mess
The farmers got mad at the British and Huns, and
captured ten thousand son of a guns. John Paul Jones in an old tin can
Scoured the ocean like a fightin' man
The British said Paul are you ready to strike
and Paul said I'm just beginnin' to fight. General Washington and Rochambeau
Drinkin' their wine in the campfire's glow
Big Dan Morgan came a gallopin' in, and said
We got Cornwallis in the old Cowpens. Wake up buddy have you heard the news
Grandma Britain got an awful bruise
The Redcoats cried and cursed Yorktown, while the
band played The World's Turned Upside Down.
"Soldier's Joy" (Jimmie Driftwood)
The spirit of '76 still burns within us. Have a blessed and celebratory Independence Day. (buck.throckmorton at protonmail dot com)
Posted by: Buck Throckmorton at
11:00 AM