To the Leftwing Propaganda Media and NeverTrump:
You Installed This Dying-Brained Weakling in the White House. Stop Trying to Shift Blame to "The Right" By Claiming We're Responsible for Biden's -- and Your -- Failures.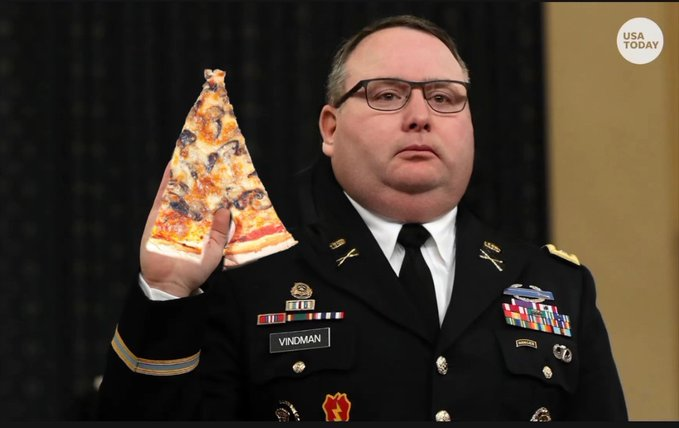 You're transparently attempting to shift blame from Biden and yourselves for supporting him to people who have zero influence over this. Fuck You. The media and NeverTrump foisted a weak, frail, brain-damaged leftist who has been wrong about every single foreign policy question of the last 40 years on us. Unsurprisingly, he failed in Afghanistan, and now has failed in Ukraine. The media and NeverTrump obviously do not want to admit their own responsibility for this -- why start now? -- so they're proposing an alternate villain:
You.
True, Biden is the "President" and therefore has all of the diplomatic and military power and responsibility for preventing the Russian invasion of Ukraine. But the media and NeverTrump are proposing: Isn't the real responsibility for this
Yours
? Because you... aren't
rooting hard enough for Ukraine?
That's literally the gist of their argument. That's what AllahPundit's arguing. That's what Ben Domenech argued on FoxNews last night -- sure, the candidate we supported for President failed catastrophically, as everyone could reasonably predict. But the real problem is everyone on "The Right" for not
waving their little plastic flags hard enough cheerleading the US.
The old saying is that to win a war, you need manpower, firepower, willpower, and staying power. But the Keyboard Warriors have never served in the military. All they do is watch war on TV. So they have concepted
watching war on TV
as a critical part of the war effort. They've added "spectating power" to the list of powers needed to win a war.
What possible fuck could it matter what Tucker Carlson says about Putin? Or whether or not "The Right"
cares
sufficiently about this? Do you really believe, Ben, that Putin is making his decisions based upon the Viewer Interest Level of the American TV Cable News Audience? By the way, John McCain and the McCain family (including yourself) supported Joe Biden for President. You put this miserable, weak, frail mass of corruption in the White House. Again, this is just an attempt to shift the blame from Biden -- and yourself, and your family -- to "the Right," which opposed Biden. Stop claiming that Tucker Carlson is responsible for what you did. Please explain to me how Tucker Carlson joining in the Coordinated Neocon/Neoliberal TV Pundit Messaging Campaign is going to change anything in Ukraine. Explain to me how scrunching down my brow to look Concerned on TV is going to make up for the fact that our Russia containment policy is down to Russiagate hoaxer and criminal Jake Sullivan. Is that my fault? Is that the fault of people "on the right?" Or is that
your
fault? Let me tell you something about your adulterous, corrupt father-in-law, Ben: John McCain was forever yammering about spreading American freedoms to everywhere
except
America, where he found them too dangerous. After all, if we're allowed to
debate
or even
discuss
American foreign policy, that would undermine our war effort (and in McCain's view, American's foreign policy is always, at its best, a war effort), and we cannot allow anything to undermine our war effort. So we're not allowed to discuss our foreign policy or our wars during periods of war, which is... forever.
OUT: Politics stops at the water's edge IN: Politics also stops within the water's edge, Traitor And Ben Domenech now picks up the mantle from his diseased, dishonorable hellbound father-in-law and starts claiming that anyone who dares question whatever War Product (TM) the neocons and the National Security State-aligned neoliberals have decided to sell us this week is spitting in the face of Ronald Reagan's ghost. It's all our fault. It's our fault for "not taking this seriously enough." For not "caring" enough. We're well past "sternly written letters" here now -- now, it's not even sternly written letters that shape the course of war and peace. Now it's just people sitting at home, watching TV intently, and "caring" enough about the pictures they're seeing. And "the Right," the people in the media have decided, just don't care enough about the current programming they're trying to get people to watch. Which is in turn
making Putin invade Ukraine.
So it's the fault of people on the Right for the invasion. And not the Biden Administration. Is it the fault of people "on the right" that we have this walking, talking Bart Simpson Book Report leading our Peace Summit in Europe?
Or would you say the blame lies more with the leftwing media and their NeverTrump co-conspirators? Is it Trump's fault that Biden undid Trump's Nord Stream 2 pipleline sanctions -- which he is only now, post-invasion, reinstating, while claiming, impossibly, that this does
not
constitute a "shift"?
Is that Trump's fault? Is that Trump supporters' fault? Or is that
your
fault, which you're straining to shift to Trump and Trump supporters? By the way, was it Trump who took donations from Nord Stream 2's top lobbyist? No, it was
one time Democrat Presidential candidate and Trump impeachment show trial manager Eric Swallwell.
Right now the leftwing Biden Media, including NeverTrump, is claiming that this is all Trump's fault, and "the Right's" fault, for "not taking Putin seriously." Oh? We're the ones who didn't take Putin seriously? How about you, when you put this rictus-grinning vegetable in the White House and told us that he would fix everything?
Was that our fault? Or was that
your
fault again? Who put this
ludicrous four hundred pound pile of comorbidities and anti-white racism in charge of our military,
and expected the world to tremble?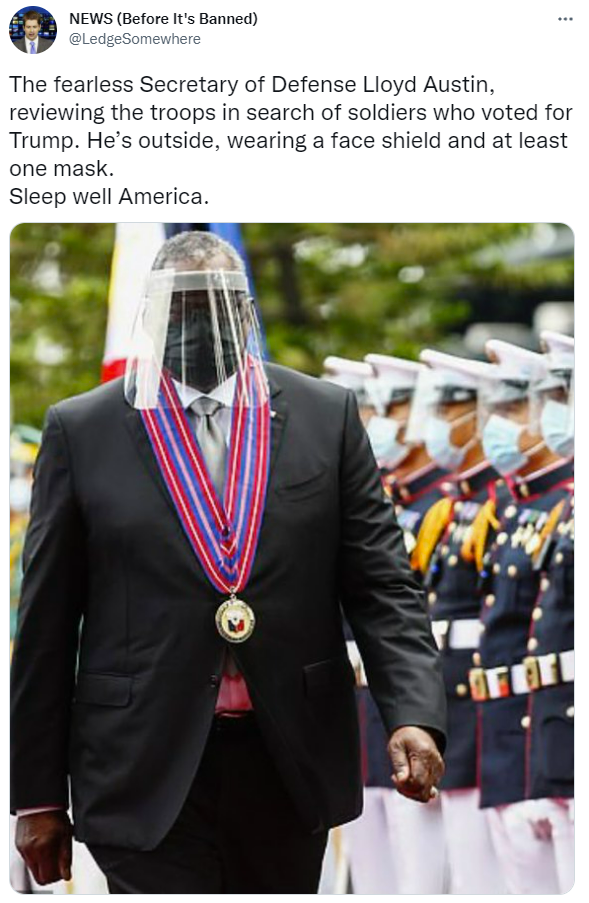 Jordan Schachtel @ dossier.substack.com
@JordanSchachtel Our secretary of defense is a fat idiot who travels around with a face shield on and recently purged our best warriors to accommodate a biosafety regime. Russia knows this.
Our Chairman of the Joint Chiefs of Staff is a fat idiot who cries about "white rage" and informs the Chinese government of our intentions. Russia knows this. The President of the United States is a cognitively compromised con artist who isn't in control of anything. Russia knows this.

Who are the people encouraging Putin, again? Who is it who installed a regime which is encouraging our enemies with provocative weakness? Is that "the Right"? Or is that the leftwing propaganda organs and their NeverTrump neocon grifter allies?
This is transparently an effort to shift blame from Biden -- and from yourselves -- on to others. Biden failed, but do you know who
The Real Villains Are?
All the people who "Stabbed Ukraine in the Back"
by not watching news segments about Ukraine hard enough (as Jennifer Griffin ranted).
I also don't understand why I have to wave my little plastic flag at all -- can't all the big strong men of NeverTrump just go over there and whoop up on Russia, given that they're all in the military? Oh wait, my error, not a single one of them every even considered serving in the military. Thus, their belief that "patriotism" and a sort of honorary military service consists of bloviating about matters of war on TV, and hectoring people that they're not taking the latest televised war programming seriously enough. Also wrapped up in this is the Eternal Neocon Treason Meme, that if we don't all put dissent or debate aside and present a "united front" -- a united front
dictated by the neocons, of course, in favor of whatever War Product (TM) they're pushing this week
-- then we're "sabotaging the war effort" and "indistinguishable from the enemy." Yeah... about that: Go fuck yourselves in the heart with a knife. You don't get to decide that we're now going to war and also, no one gets to even debate that, because that would undermine the war you've decided we're going to have. Also, we're not even involved in a war. We are spectators to the Russian invasion of Ukraine. No one is under any illusions that any American troops will be sent to Ukraine; we are talking, at most, about "severe" sanctions. So the neocons and the neoliberal National Security State allies have now decided that even in cases where America is
not
engaged in war, but merely debating sanctioning a foreign country for the invasion of a third country, there can be no debate or dissent, for that would encourage our enemies in the war we're not in and undermine our efforts in the war we're not fighting. The neocons and neoliberals never run out of reasons why any speech they disagree with must be stigmatized, punished, and censored, do they? I don't support Trump's or Tucker's NATO skepticism. (Though... NATO is starting to convince me!) But what I see is the claim that we can
never
debate NATO's role in the future, or how much NATO members should be expected to pay for their own defense, because anytime we debate these things, we "encourage Russia" and "undermine the (illusion of) solidarity in NATO." So, again, we can never debate something the neoliberals and neocons have decided on. They set the policy 40 years ago, and they've decided it's Too Dangerous to ever even discuss it again, so their preferred policy will be the Eternal Policy, forever. Again, isn't it terribly convenient for them that to even question their policies turns out to be such a dangerous thing that we must never dare it, and must instead just do whatever they tell us forever and ever and ever? Is anyone else getting a little
tired
of this perpetual hustle? And isn't it amusing that the one thing that we can all do to "fight Putin" is to...
support the candidate the lefwing propaganda media and NeverTrump supported.
We can all "get behind" Biden and really root for him to beat Putin, somehow. Or at least stop suggesting that the "President" is at all responsible for what happens under the "President's" watch.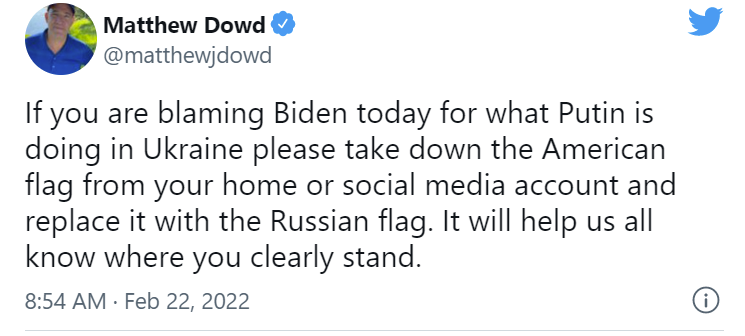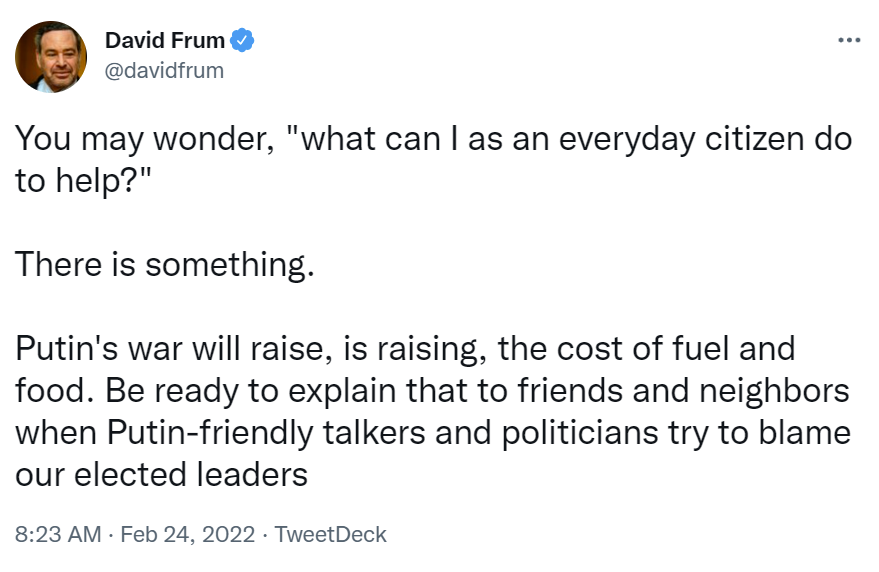 Well anything I can do to help "The War Effort," David. Gives the game away right there, doesn't it? All this bullshit about "supporting the war effort" is just the latest neocon/neoliberal hustle for supporting their leftwing politicians. Again, it's just so very convenient for the neocon/neoliberal alliance that controls the government that the Most Patriotic Thing We Can Do is support our leftwing political masters without question or quibble. They don't make arguments for their positions; they just make arguments about why it would be too dangerous to have any arguments about their positions. And why you're a traitor for even wanting to have an argument about their positions.
Final point: Remember -- none of this is Biden's fault, or the left's fault. Or NeverTrump's fault, which is really just the left. This is "the Right's" fault. You just aren't waving those little plastic flags hard enough, fellas. And so now, this is what happens to you: