Children Are Facing Learning and Speech Delays Due to Being Masked for Two Years

Speaking to Fox News Digital from her home in New Jersey, a mom of a 3-year-old boy who has developmental speech delays said of the mask mandates that still exist in her state as of now, "For speech therapy for a toddler, masking isn't exactly what you should be doing, at least in my opinion. It's against what you're trying to accomplish." She said, "It's like if a dentist required the patient to wear a mask, right? I think for speech therapy for a child, it's the same thing."
I personally realized the importance of seeing someone's mouth in communication as I got a bit older. I lost my ability to hear the verbal range of sound whenever I got into a bar-type setting -- my middle range of hearing just dropped out. The only time I can even halfway understand someone is if I'm looking right at their mouth, using lip-reading to fill in the gaps of what little I can hear of their voice. Obviously, blocking children from being able to see people's lips move through their most crucial language learning years is going to have an impact, both on their ability to understand speech, and their ability to produce speech. We learn by imitation, after all.
... The mom in New Jersey described a troubling scenario she and her family faced recently -- one that still gets her upset and angry. She said her young son, whose speech is delayed, was receiving regular speech instruction from a therapy practice. His therapy started, coincidentally, around the beginning of the COVID pandemic. At that time, he was not wearing a mask. But then, because of state mask mandates as well as continuing concerns about COVID transmission and infection in early 2022 -- and once a therapist in the practice became pregnant -- the mom was told by email that her little boy, out of an abundance of caution, would have to start wearing a mask during his sessions. "All patients, they told me, had to begin wearing masks in order to receive treatment," the mom said.
Though the mom protested -- how could a three-year-old child be masked during speech therapy? -- she got nowhere, even after she escalated her concerns to the owner of the therapy services firm. Again she was told that her son could no longer receive therapy at that location unless he was masked. She was told, "If you don't put a mask on him, we can't provide services anymore." So "they kicked us out" of that therapist's location, the mom said. She was shocked. ... She noted that her young son, like so many other kids, doesn't wear the mask properly all the time. "It slips off his nose. He's a little kid. It happens. So how much protection was the mask really providing anyway?"

Nobody wears the mask right. Ben Shapiro was on Megyn Kelly and said that his wife, who's a doctor, said that you need training to wear a surgical mask properly, and if you're wearing it properly, it's
uncomfortable
, because it's so tight on your face as to not have gaps which allow air to escape through. Literally no one wears masks like that. These are
cilices
-- religious garments like hairshirts designed to be uncomfortable or painful to "chastise the flesh" to punish the wearer for sin and purify him -- for godless Karens who crave some kind of religious structure and stricture. Karen has a very barren and empty life and fills it with making up rules to impose on other people. Especially children, whom she hates. Daniel Horowitz recently wrote of hearing from his sister, a speech therapist, that she and her colleagues are seeing speech pathologies like they've never seen before.

Daniel Horowitz
@RMConservative My sister who is a speech therapist in MD just texted me: "The speech issues I see with three and four year olds that have been masked I've never seen before in 22 years. So much low muscle tone, drooling, unusual articulation errors on early developing sounds..."
More from my speech therapist sister: "This kid's whole mouth area was chapped from the drool accumulated around the mask. She can't achieve lip closure for the B M and P sounds because her lips are so chapped." "Even if the kids were not masked, all of the adults are masked, and the children can't see the oral motor movements made by the adults. They don't know that to produce a B sound the lips have to come together. "One child today didn't realize that you have to put your tongue behind your teeth to produce a T sound. This is a typically developing child in all other areas. "These types of articulation errors are usually seen with children who have neurological impairments or syndromes with associated speech and language impairments. I've never had so many referrals in my life for young healthy children with such severe articulation impairments."
Boy you'd think with all those "Education Degrees," we'd have a lot of expertise in child education floating around the system, huh? But apparently -- no. Not so much. I'm starting to think the education degree is worthless as a credential, and its chief function is as a barrier to entry into profession that helps those within the profession set above-market prices for their labor.
Remember, "children are resilient."
That's what the teachers' unions said as they piled one impediment after another on to children. Children are resilient. They'll just snap back. But they're not snapping back. Will teachers be paying back any money they took under false pretenses, or nah?
Nearly two years into a pandemic that hobbled learning for millions of children, teachers are losing faith that they can lift their students to grade-level work by the end of this school year. "I can help them make great strides, but I'm not going to be able to catch them all up by the end of this year," said Rachel Bolas, who teaches 6th grade English/language arts and humanities at Limitless Learning Academy, a K-8 school in Escondido, Calif., that is designed to operate in hybrid mode. Some of her students are three to four grade levels behind, she said. "It's like saying to someone who's less than fit, 'Come to the Olympics. Can you be ready in two months?' You need time," Bolas said. "We need to look at this in the longer term, as work we'll need to do over the next several years." Hannah Bouchard, a 2nd grade teacher at Platte Valley Elementary in Kersey, Colo., said barely half of her students are reading on grade level now. Before the pandemic, that figure would have been closer to 75 percent at this time of the school year. Recent interim test results showed lackluster progress among her students, too, she said. And even though her administration is reassuring teachers to just do the best they can, she's plagued by feelings of failure. "It's heartbreaking. The pressure is overwhelming," Bouchard said. "I feel like a horrible teacher. I've been teaching 22 years, and this might be the lowest self-esteem I've had." Bouchard and Bolas are hardly alone. In a national survey of 630 teachers in December, the EdWeek Research Center found that 7 in 10 are less confident now than before the pandemic that they'll be able to help their students reach grade level by the end of the year.
In Loudoun, Virginia --
again
-- this fine specimen says that children are resilient and can handle all the impediments and cruelties the school boards and teachers throw at them. And if the children can't handle it -- well then, they're just pansies. And that's not me exaggerating. That's her word.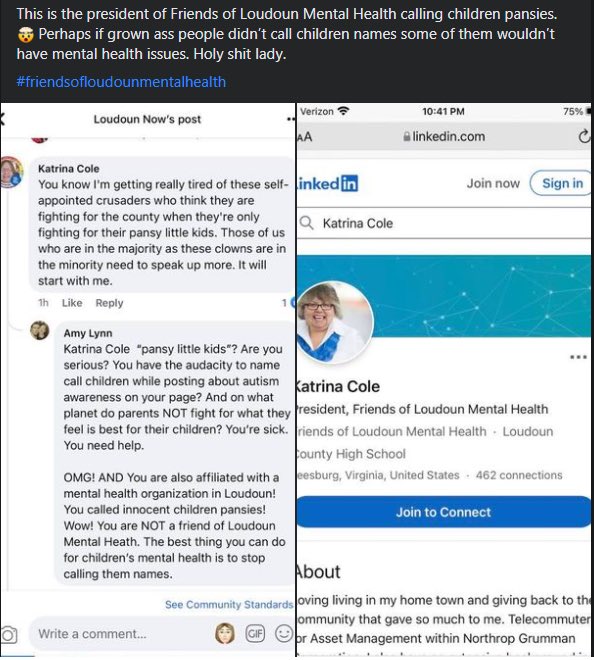 And
she identifies as "President,
Friends of Loudoun Mental Health.
" Oh, yeah, she's an expert in mental health, all right. Caveat: A lot of people gain an expertise in mental health... from the inside, if you know what I mean. And of course she looks as you'd expect. I think we should all take a solemn vow to each other to vote in our school board elections and fucking RAMPAGE through them like fucking barbarians searching for women and steel. I mean, we need to go THULSA DOOM on these motherfuckers. We need to make grown women cry.